You are here
Dangerous face-off
Apr 15,2017 - Last updated at Apr 15,2017
The US and North Korea could be heading for a military confrontation with incalculable consequences, not only for the two countries but for the rest of mankind as well, unless some effective mediation effort is undertaken soon under UN auspices.
Judging by the rhetoric emanating from the two countries, a war between them is no longer a far-fetched possibility.
Since his election as president of the US, Donald Trump has been saying that North Korea is a "problem", that it poses a threat to the national security of his country and that he aims to solve "this problem".
As recently as last week, Trump said that North Korea was "looking for trouble" and that "the US would solve the problem with or without China's help".
North Korea was no less bellicose.
Its official newspaper Rodong Sinmun wrote recently that "our revolutionary strong army is keenly watching moves by enemy elements with our nuclear sight focused on the US invasionary bases not only in South Korea and the Pacific operation theatre but also in the US mainland".
Pyongyang's ambitious and provocative nuclear programme that aims to develop a ballistic missile system capable of carrying nuclear bombs that can reach the US mainland is the irritant, the reason for the standoff between North Korea and the US.
It is believed that the North Korean leader, Kim Jong-un, is close to ordering a sixth nuclear bomb test.
It is time for a strong international intervention, through the UN, to defuse the conflict and find a formula to end the cycle of hostile rhetoric between the two countries.
The deployment of the "mother of all bombs" by the US in Afghanistan may have been intended as a stern message to North Korea, which conducts its nuclear progamme in deep bunkers.
The bomb is said to be the biggest and most powerful non-nuclear bomb ever developed or used, capable of taking out facilities dug deep under ground.
At the rate tension is escalating between the two countries, a major military showdown might not be so remote.
If it indeed happens, in danger will be not only North Korea, but its entire neighbourhood and farther afield.
The UN should step in and find a way to prevent another devastation conflagration from happening.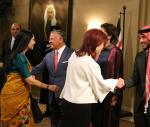 Newsletter
Get top stories and blog posts emailed to you each day.