You are here
Arab vigilance must continue
Jan 08,2018 - Last updated at Jan 08,2018
His Majesty King Abdullah met  Saturday with the Arab League ministerial taskforce that the Arab foreign ministers had appointed to conduct a follow-up on the Arab decisions to counter and frustrate  US President Donald Trump's last month recognition of Jerusalem as the capital of Israel and his decision to move his country's embassy from Tel Aviv to the holy city. 
The ministerial committee is composed of Egyptian Foreign Minister Sameh Shoukry, Palestinian Foreign Minister Riyad Al Malki, Saudi Foreign Minister Adel Jubair, Moroccan Foreign Minister Nasser Bourita, UAE Minister of State for Foreign Affairs Anwar Qarqash, and their Jordanian counterpart Ayman Safadi. Arab League Secretary General Ahmed Aboul Ghaith also attended the meeting. 
The King wanted the taskforce to maintain the momentum that was set in motion by the Arab world to combat the dire consequences of Trump's decision including campaigning effectively for the recognition of a Palestinian state with East Jerusalem as its capital. 
The Arab reaction to Trump's illegal decisions on Jerusalem cannot be only a one shot move but rather a continuous chain of additional follow-up measures in order to maintain their effectiveness and sustainability. 
Arab vigilance must continue especially in the wake of the recent Knesset decision making the ceding of any part of Jerusalem to the Palestinians virtually impossible. As Israel keeps on upping the ante on Jerusalem so should be the Arab response.  
The Arab world, said the King, cannot sit idly by while Jerusalem and its holy places become captives of Israeli designs. Jerusalem, added the King, is a final status issue for negotiations between the Palestinians and Israel. Jordan's historic role, the King pointed out, as the custodian of the Islamic and Christian shrines in East Jerusalem will be pursued with full vigour and determination. 
One of the key proposals submitted by Jordan to maintain Arab pressure on Jerusalem is to push for a UN recognition of a Palestinian state in the West Bank with East Jerusalem as its capital. That would be a powerful message to Israel and its few supporters that there can be no peace between Israel and the Arab world as long as the Palestinian inalienable right for a state of their own with East Jerusalem as its capital continues to be denied. 
The King is obviously anxious to pursue additional Arab measures for this end and that is the purpose behind the creation of the Arab taskforce.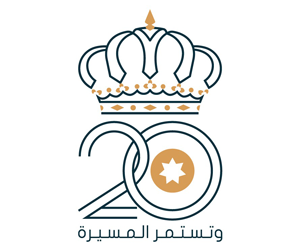 Newsletter
Get top stories and blog posts emailed to you each day.