You are here
Another disappointing meeting
Mar 19,2017 - Last updated at Mar 19,2017
The finance ministers of the world's major economies, the G-20, ended their meeting in Germany on Saturday rolling back their long-standing commitment to fight protectionism and support international efforts to control climate change.
Their annual meeting closed with no statement voicing the bloc's long-standing opposition to "all forms" of tariffs and rules that favour one economy over another, as they failed to find a suitable compromise with the Trump administration. 
The ministers chose to make a passing reference to strengthening trade in their statement, a change that surprised many countries that have been supportive of free trade, like EU members, Japan and China. 
The negative US position comes as no surprise, since US President Donald Trump was elected on an "America first" slogan and has repeatedly blamed US manufacturing job losses on free trade.
He already pulled out of a proposed agreement with Japan and other Pacific Rim countries and has started the process to renegotiate the North American Free Trade Agreement with Mexico and Canada.
His treasury secretary said opposing protectionism is "not really relevant" anymore and the US now gives priority to "balanced trade" not to low border tariffs. 
Besides the crumbling of the free trade agreement, the deal to prevent climate change was also undermined. 
But while the US administration said it did not want to start a trade dispute and that the US is not pursuing an isolationist policy, on climate change, which Trump has called a "hoax" and a "waste of money", there is less room for interpretation. A reference to the Paris deal of 2015 was, as a result, greatly watered down.
This alarming US position led the French minister of finance to say, at the end of the meeting, that regretfully, "our discussions today were unable to reach a satisfying conclusions on two priorities that are absolutely essential in today's world", namely to tear down protectionism and support the Paris Accord on climate change.
With the new proposed budget drawn up by Trump giving some $54 billion to defence and drastically cutting the budget for the US State Department and the US Environment Protection on Agency, there is little room for hope that things will change, as the EU economic affairs commissioner hoped when he said "in Hamburg the wording will be different. We need it. It is the raison d'etre for the G-20".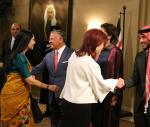 Newsletter
Get top stories and blog posts emailed to you each day.