You are here
'To manage the risk and reduce the threat'
Feb 26,2017 - Last updated at Feb 26,2017
The battles in the south of Syria are escalating, with Hay't Tahrir Al Sham clashing with the Syrian Free Army and other factions.
This has also led to groups affiliated with Daesh, such as the Khalid Bin Waleed brigades, to progress on the ground and march towards the Jordanian border.
The threat is not new. In his interview with the BBC, Chairman of the Joint Chiefs of Staff of the Jordanian Armed Forces Lieutenant General Mahmoud Freihat talked about the presence of the Khalid Bin Waleed brigades being close to the Jordanian border in the Yarmouk area.
Jordan has been closely watching the movements of the brigades, which are becoming an increasing security risk.
The escalation was expected. The Jordanian strategy is based on finding reliable partners inside Syria to combat terrorist groups and contain the threat within the Syrian borders.
Some analysts believe that the escalation is a reaction to the shift in the Jordanian position and its willingness to work with the Syrian army to reopen the borders.
The role Jordan is playing, working to protect the ceasefire in order to enhance stability, is being challenged by some players in Syria.
Jordan needs to develop efficient and effective strategies to counter the increasing risk.
Putting Jordanian troops north of the border is not an option, so effective alternatives are necessary.
Chaos in the border area will only increase pressure on Jordan, which cannot afford having terrorist groups set up logistics base in the border region or establish a new power base that would only lead to more instability and, in the long run, would drain Jordan's resources and increase pressure on the security systems, which thus risk making mistakes.
Jordan should adopt a two-track strategy: destroy the terrorist groups, which should be the primary objective of the international coalition; and enhance cooperation with Russian forces. 
At a time of serious crisis, political limitations should be minimised.
The stabilisation of southern Syria is both a military and a political issue, so Jordan should adopt a clearer and more open strategy towards Syria and the Russian coalition.
Meanwhile, this escalation should be a top issue on the agenda of the coming Arab Summit, as its potential impact will be felt across the region.
Politically, Arab countries should consider changing aggressive policies that keep the crises going in the region.
Fighting terrorism seems to be the priority of all countries in the region, and yet, it does not appear to be a common strategy.
As such, and in order to manage the risk and reduce the threat, Jordan needs to adopt more flexible policies towards all the protagonists in Syria.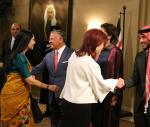 Newsletter
Get top stories and blog posts emailed to you each day.