You are here
Tourism stakeholders say country on speed track to fully tap potential
His Majesty's efforts to promote industry worldwide lauded
By Mohammad Ghazal - Mar 07,2018 - Last updated at Mar 07,2018
In this undated photo, tourists enjoy the sun at an Aqaba five-start hotel (Photo courtesy of www.ihg.com)
AMMAN—Wide-ranging activities and schemes are either under implementation or in the pipeline to boost the tourism sector, which His Majesty King Abdullah has greatly paid attention to, officials and industry stakeholders said on Tuesday.
The tourism sector, which contributes 11 per cent to the country's economy annually, has been a priority for the Monarch "who has never spared an opportunity to promote for the array of tourist attractions in Jordan and underline the sector's significance to the Kingdom", they said.
Authorities said they were working at full capacity to upgrade infrastructure, increase the number of hotel rooms, provide new tourism products and make available more affordable flights to Jordan to tap the great potential in the sector, which directly employs 51,000 individuals of whom 82.5 per cent are Jordanians along with tens of thousands of indirect jobs.
This year, several tourism facilities are to be inaugurated. Geocopters will start operating giving a great aerial view of the "Golden Triangle", the triumvirate of Aqaba, Petra and Wadi Rum, budget flights to Jordan from across Europe will start in two weeks and intensive marketing campaigns will be launched.
The interviewees made the remarks following an interview by His Majesty King Abdullah with the International tourism industry publication "Travel Weekly" in which he said: "Tourism's role in the economy is huge, and impacts many downstream industries."
"King Abdullah is aware to the great economic importance of the tourism sector to Jordan and has repeatedly issued directives to improve the sector and attract more tourists… Since His Majesty's accession to the Throne, several major achievements were accomplished in the tourism sector," Tourism Ministry Secretary General Issa Gammoh told The Jordan Times on Tuesday.
Projects are under way to increase the number of hotel rooms across the Kingdom, which is a key issue that will help increase the number of tourists, which has already been growing, Gammoh said.
Currently, there are around 28,000 hotel rooms in Jordan but they are insufficient to meet the demand and are unequally distributed, he said.
Around 92 per cent of the tourism facilities are located in Amman, Aqaba and the Dead Sea and around 90 per cent of those workers in the sector are present in these three locations, according to the official.
"There are plans to address this situation, including through attracting more investments in the sector and increasing the number of hotel rooms," he said.
By 2021, there will be additional 8,000 hotel rooms in various locations under various projects that will create 16,000 new jobs.
By the end of 2017, investments in hotels reached $280 million and the number will keep growing as the government is providing incentives for investors in the sector, especially those investing in the governorates other than Amman.
Work on improving the infrastructure is ongoing, he said.
In 2017 alone, 100 tourist restaurants opened and 56 travel agencies also started operating.
Several world-class hotels will be opened soon in Jordan.
With regard to the budget flights, Jordan signed a deal with Ryanair and positive results of the deal will start to be evident soon.
The European low-cost carrier Ryanair will conduct its first flight to Amman in the third week of March, the official said.
"The first flight from Paphos [Cyprus] to Amman and back to Paphos will start in the third week of this month."
The deal with the carrier stipulates operating nine new routes to Queen Alia Airport and four others to Aqaba's King Hussein International Airport, scheduled to begin in the last quarter of 2018.
In 2017, the tourism sector's revenues reached JD3.23 billion rising by 12.5 per cent compared to 2016. The number of tourist groups coming to Jordan rose by 43 per cent in the same year.
In the Red Sea port city of Aqaba, plans are also under way to provide a wide variety of new tourism products and upgrade infrastructure in line with international standards in line with His Majesty's vision to the field.
"His Majesty King Abdullah plays a key role in promoting for tourism to Jordan. He is fully aware of the tiniest details about the sector and constantly stresses on its importance to the Kingdom," Sharhabeel Madi, ASEZA commissioner for economic development and investment affairs, told The Jordan Times on Tuesday.
"In Aqaba, we constantly work on improving the sector to attract more tourists and accommodate larger number of visitors," he said.
There are 4,600 hotel rooms in Aqaba at present and by 2020 the number will rise to 7,000 to 8,000 and by 2025 there will be 12,000 hotel rooms in the Red Sea resort as several hotels and resorts are under construction there.
"We are working on improving and diversifying tourism products to make sure that tourists spend more in Aqaba and we have been extensively working on providing packages for all types of tourism including adventures and eco-tourism," he added.
A new project will be launched soon to give tourist aerial views of Aqaba, Wadi Rum and Petra.
Before the end of this year, ASEZA will introduce geocopters that will provide visitors with the opportunity to fly from Aqaba to Wadi Rum and to Petra.
"This project is in line with His Majesty King Abdullah's vision to introduce new tourism products to visitors and increase the time they spend in the Kingdom," Madi explained.
In addition, several activities are planned throughout the year with air shows conducted by the world-class Royal Falcons, he added.
ASEZA is constantly working with the Royal Film Commission to facilitate the filming of international movies in the area.
"We can see an increasing demand by international moviemakers in this regard," he said.
Jordan Tourism Board (JTB) Director General Abed Al Razzaq Arabiyat said Tuesday His Majesty's voice has far reaching consequences, that give the Jordanian tourism sector more credibility, and a wider outreach in terms of audience.
"There's no marketing or promotion activity that can deliver what a mention from His Majesty could, to an audience of such proportion," Arabiyat told The Jordan Times.
"The JTB has developed a new multi-year strategy, through which we have moved away from promoting Jordan on a destination basis, rather promoting tourism segments, or activities that were segmented into four categories; namely cultural, adventure, medical and wellness and religious tourism," he said.
"Now we target these segments across the entire globe, no matter where they may reside, which means we are more efficient in our marketing, and we reach the people most likely to come to Jordan with a message that is designed for them specifically. We also put a strong emphasis on digital and social media marketing and advertising," said Arabiyat.
Jordan has a plethora of unique experiences found nowhere else on earth, whether it's Petra, one of the seven wonders of the world, or the Dead Sea, the lowest point on earth and the world's largest natural spa, or the Jordan Trail that was classified as one of the best hiking trails in the world by NatGeo, or the Baptism Site, where Jesus was baptised.
"These are all unique experiences that no other place on earth has and in such close proximity, in other world we have the largest small country in world," Arabiyat said.
Director General of Jordan Hotel Association Reda Hisham said the King does not only promote tourism in Jordan, but has been always supportive of the sector.
"When the King sends a message to the world about Jordan, its safety and its people, there are certainly no better marketing campaigns than this to achieve this objective," he said.
"When he talks about the sector, he draws the whole attention to Jordan, which will greatly help us," Hisham told The Jordan Times.
King Abdullah intervened several times to support the sector, he noted.
"When the government increased electricity tariffs for the sector, the King intervened and cancelled the measure," he said.
"Who is a better voice than the king himself to talk about Jordan, its tourist locations and people?" the sector leader concluded.
Related Articles
Nov 05,2017
AMMAN — A Russian charter plane carrying 220 tourists on Thursday landed at King Hussein International Airport in Aqaba, the Jordan Tourism
Oct 22,2016
AQABA — Some 167 passengers arrived in Aqaba on Saturday on the first charter flight from Ukraine under a new agreement to boost tourism, th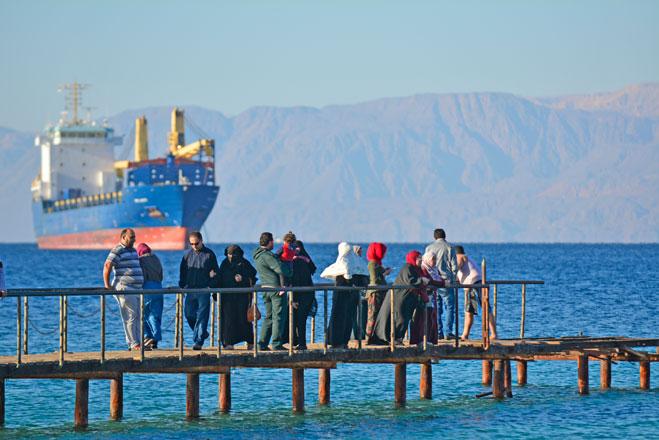 Jan 11,2018
AMMAN — The Jordan Tourism Board (JTB) will organise two tourist flights a week from Dubai to Aqaba, JTB said on Thursday. Director Gen
Newsletter
Get top stories and blog posts emailed to you each day.