You are here
Volkswagen Golf GTI: All-round ability
By Ghaith Madadha - Jan 29,2018 - Last updated at Jan 29,2018
Photo courtesy of Volkswagen
By
All the car that one could reasonably need for most motorists, the Volkswagen Golf GTI is at once a nimble and quick sports car, practical and accommodating family car, manoeuvrable and efficient compact, and is well-equipped, premium in finish and loaded with advanced systems to boot.
First launched in late 2013, the seventh generation Golf GTI is one of the most complete cars one could drive, and for 2017 has been updated with improved performance and more advanced infotainment systems, along with an ever-so-subtle aesthetic refresh.
Contemporary and classy
Built using Volkswagen's new modular MQB platform, the seventh generation Golf GTI features partial aluminium construction and is so larger and more spacious and, yet lighter, more efficient and dynamically superior to the car it replaced. The best-looking Golf GTI since the Giorgetto Giugiaro-designed original circa 1976, the contemporary GTI is a modern interpretation and evolution of a similarly sharp and angular design.
Shedding the rounded and softened surfacing of interval models, the latest GTI cuts a more urgent and athletic demeanour, that it is nonetheless understated and elegant.
Restrained and chiselled without being overtly aggressive, the Golf GTI has a sense of taut precision and striking presence, with sharp lines, thin grille, moody headlights and subtle bonnet and sill bulges.
A proper hatchback without coupe pretensions, it offers good visibility and a distinctly sporting stance, with reverse angled rear pillars creating visual momentum. Lightly yet deftly refreshed, the 2017 model receives new redesigned LED lighting elements and bumpers front and rear, including protruding side intake winglets framing a revised lower intake to emphasise a sense of width at the front.
Confident and quick
Powered by a direct injection 2-litre 4-cylinder engine with turbocharger integrated in the head and a water-cooled exhaust gas loop for performance and efficiency benefits, the Golf GTI develops an additional 10BHP, in standard guise, and returns 6.4l/100km combined fuel efficiency.
Equal to the outgoing GTI Performance model in its 227BHP at 4700-6200rpm, the standard GTI driven also now accelerates through 0-100km/h 0.1-seconds quicker to match the old Performance model, which in turn now receives an additional 15BHP.
Both variants also now receive an additional 15lb/ft torque for total of 273lb/ft available over a broad 1600-4300rpm plateau.
Responsive off the line with quick-spooling turbo and negligible turbo lag, the Golf GTI makes a brief scramble for traction through its driven front wheels, as it bolts away from standstill to 100km/h in 6.4-seconds — and capable of 248km/h — as driven with snappy and slick 6-speed automated dual clutch gearbox. Seamlessly smooth in delivery and subtly muscular in tone, the GTI's engine is refined when cruising, but remains charismatic with gruff low-end growls. Pulling hard from low-end to redline, the Golf GTI is eager and flexible, with a big punchy mid-range underwriting power accumulation in town and on highway.
Connected clarity
A grown up and sensible hot hatch that does not skimp on fun and feisty handling, the Golf GTI is refined and faithfully stable at speed, forgiving over road imperfections and bumps, and is settled and buttoned down over crests, dips and on rebound. Around town it is easy to manoeuvre and park, with good visibility and light but precise steering. Quick and engaging through successive corners, the GTI's steering is lively, direct and intuitive, but not twitchy. In fact, it inspires confidence at speed with its directional stability, while brakes are similarly capable and confident, with decent pedal feel.
At its most interesting when driving in its gearbox' paddle shift manual mode for more driver involvement, the Golf GTI pounces and weaves through corners with eager fluency. Agile through corners and crisply tidy turning in, the GTI features XDS+ selective braking based torque vectoring to tighten cornering lines and improve nimbleness, with scant sign of understeer. Leaning slightly through corners, the GTI's body control is good, and chassis is intuitive and balanced. Composed and committed, yet playful when provoked, the GTI is eager to trim its cornering line with a dab of mid-corner braking or lift-off, before darting out onto a straight.
Comfort and convenience
With old school charisma and engagingly fun on backroads, the GTI is, however, also a refined and mature daily driver with good cabin insulation and comfort. Delivering connectedness, clarity and confidence, it is a great all rounder. Its big glasshouse and supportive, comfortable, alert and upright and ideal driving position provide excellent road visibility and a feeling of being in control and at the centre of proceedings. Classy but not pretentious, its cabin features ergonomic and user-friendly design, quality material, fit and finish including sporty upholstery and thick steering wheel. Instrumentation is meanwhile clean, crisp and accessible.
A practical and accommodating car in five-door guise as tested, the Golf GTI well accommodated adult in the rear and front, and between 380- to 1,270-litre of cargo. Well-equipped, it features dual-zone climate control, adaptive cruise control, lane, blindspot and parking assists and numerous other convenience, comfort and safety features and systems.
Upgraded for the revised model, the GTI features a huge infotainment touchscreen system with high quality colour display responsiveness, two smartphone integration, one-shot voice recognition and highly intuitive menus, including sat nav, infotainment setting and individually-tailored driver settings.
TECHNICAL SPECIFICATIONS
Engine: 2-litre, turbocharged transverse 4-cylinders
Bore x stroke: 82.5 x 92.8mm
Valve-train: 16-valve, DOHC, variable timing, direct injection
Gearbox: 6-speed dual clutch automated, front-wheel-drive
Power, BHP (PS) [kW]: 227 (230) [169] @ 4700-6200rpm
Specific power: 114BHP/litre
Power-to-weight: 166.4BHP/ton
Torque, lb/ft (Nm): 273 (370) @ 1600-4300rpm
Specific torque: 186.5Nm/litre
Torque-to-weight: 271.2Nm/ton
0-100km/h: 6.4-seconds
Maximum speed: 248km/h
Fuel consumption, combined: 6.4l/100km
CO2 emissions, combined: 148g/km
Fuel capacity: 50-litres
Length: 4268mm
Width: 1799mm
Height: 1482mm
Wheelbase: 2626mm
Track, F/R: 1550/1521mm
Ground clearance: 133mm
Unladen weight: 1364kg
Headroom, F/R: 999/967mm (w/sunroof)
Elbow room, F/R: 1469/1440mm
Luggage capacity, min/max: 380/1270-litres
Steering: Variable electric-assisted rack and pinion
Turning circle: 10.9-metres
Brakes, F/R: Ventilated disc/disc
Suspension, F: MacPherson strut/multi-link
Tyres: 225/40R18
Related Articles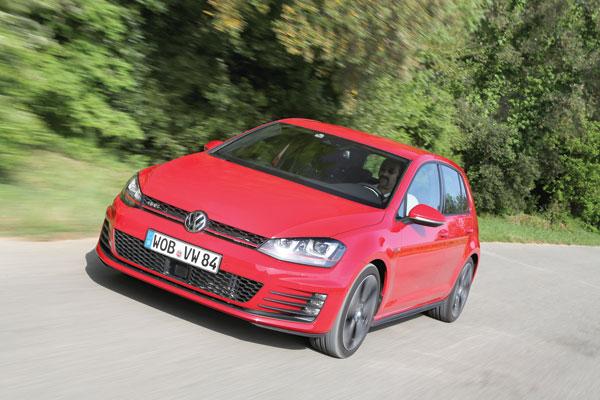 Mar 16,2015
The latest iteration of what is generally accepted as the first hot hatch when it first arrived in 1976, the Volkswagen Golf GTI is the car that has it all.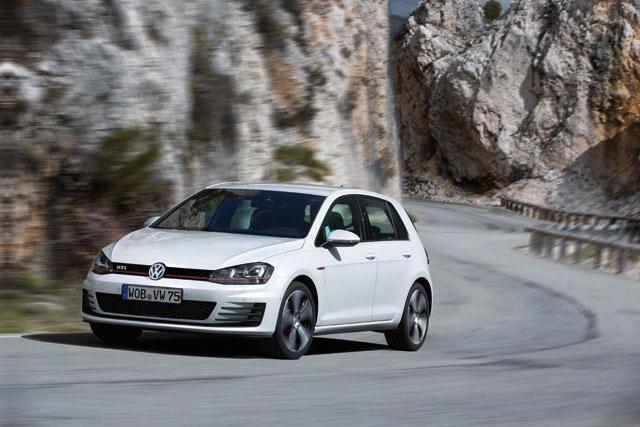 Jan 06,2014
The livelier and sportier version of Volkswagen's classy hot hatch, the Golf GTI Performance makes the best use yet of the Mk7 generation Golf's lighter partial aluminium construction with a 10BHP power hike over the regular Golf GTI. The more focused and driver-oriented edition of the new car, the Golf GTI Performance also features a mechanical limited-slip differential to complement the standard electronic XDS+ torque vectoring system.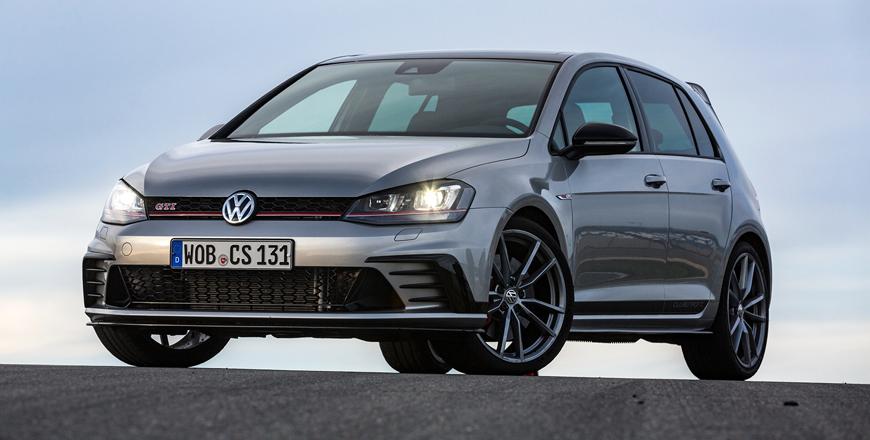 Nov 14,2016
Launched globally late last year and in the Middle East earlier this year, the Volkswagen Golf GTI Clubsport arrives 40 years after the icon
Newsletter
Get top stories and blog posts emailed to you each day.