You are here
City's quadruple dream starts to look possible
By Thomson Reuters Foundation - Jan 29,2018 - Last updated at Jan 29,2018
Manchester City's Sergio Aguero shoots at goal against Cardiff City in their FA Cup game in Cardiff on Sunday (Reuters photo by Rebecca Naden)
LONDON — For all Pep Guardiola's insistence that the quadruple represents an impossible dream, Manchester City have never been better placed to win all four trophies in one season.
A further boost to their chances should be delivered this week with British media reporting that City will break their own transfer record by paying Athletic Bilbao £57 million ($80 million) for Aymeric Laporte.
The Frenchman, who would be eligible for the Champions League, is considered one of Europe's most promising defenders and would provide cover at left back, where City have been weakened by injury, or at the heart of the back four.
Laporte's arrival ahead of Wednesday's transfer deadline would be a welcome boost for Guardiola as he ponders how to martial his resources on four fronts.
That task is made much easier by City's 12-point lead in the Premier League which they are on course to win in record time, well ahead of the Manchester United team of 2000-01 who did so with five games to spare.
City are also well placed on the other three fronts with a final berth secured against Arsenal in the League Cup, a comfortable-looking Champions League last-16 tie against Basel coming up and a place booked in the FA Cup fifth round.
The best measure of City's progress is that two years ago they also went into February contesting on four fronts, although six points adrift in the Premier League.
Weakened side
Determined to make up ground, and with a Champions league tie coming up, manager Manuel Pellegrini played a weakened side in the FA Cup fifth-round tie at Chelsea, which City lost 5-1.
Although Guardiola also rotated in City's fourth-round tie at Cardiff on Sunday, starting Sergio Aguero on the bench, City's side remained strong with man of the season Kevin De Bruyne directing operations in midfield and Raheem Sterling up front. Aguero was sent on when Leroy Sane was injured.
The Germany international faces a few weeks on the sidelines after limping off at halftime following a foul by Joe Bennett in City's 2-0 fourth round win.
Guardiola was clearly angered by Cardiff's physical approach and animatedly spoke to referee Lee Mason after the game.
Speaking about Sane in his post-match news conference, Guardiola said: "He will be out for a while, minimum two to three weeks or a month. We will see tomorrow exactly."
Guardiola wants referees to do more to protect the players, who he labelled as artists, from being repeatedly fouled.
"I have said many times, all the referees have to do is protect the players — not just the Manchester City players, all players," added the Spaniard.
Predictably, Guardiola used the German winger's likely absence over the next few weeks to deflect attention away from quadruple talk.
"I do not have enough players, I have players out injured. It is impossible," said the Spaniard, who twice won variations of the treble with Barcelona.
Only one British team, Celtic in 1967, have won all four major trophies in one season, but others have gone close.
Liverpool bagged the league, European Cup and League Cup in 1984 while Manchester United secured an even more illustrious treble of Champions League, Premier League and FA Cup in 1999.
Eight years later Chelsea competed on all four fronts until May 1 when Liverpool knocked them out in the Champions League semi finals. The Blues went on to win both domestic cups and finished second in the Premier League.
City look on course to better that and their former England defender Joleon Lescott is among those who think they can.
"If anyone can, they can," he told the BBC. "If they get some luck, they could do it."
Just do not mention it to Guardiola.
Related Articles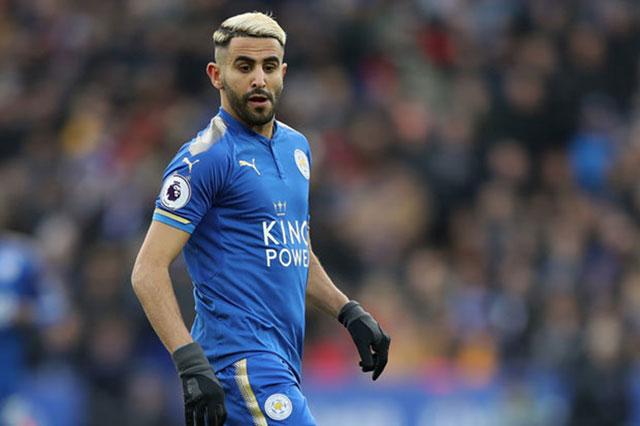 Jan 31,2018
Pep Guardiola has refused to deny Manchester City are considering a deadline day move for Leicester winger Riyad Mahrez.City broke their clu
Apr 26,2017
MANCHESTER, England — If the first Manchester derby of the season was excessively dominated by the focus on a fascinating coaching rivalry,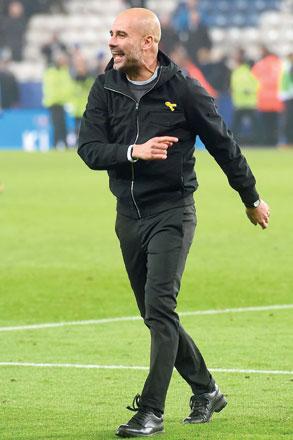 Dec 20,2017
Manchester City manager Pep Guardiola has been doing his best to keep a lid on the hoopla surrounding his rampant charges but even he could
Newsletter
Get top stories and blog posts emailed to you each day.