You are here
Brits care more about dancing and dragons than Brexit in 2017
By Reuters - Dec 08,2017 - Last updated at Dec 08,2017
Photo courtesy of makeuseof.com
Annual search results show how Brits kept calm and carried on; 17 per cent more Strictly Come Dancing-related searches than Brexit; 24 per cent more Game of Thrones-related searches than Brexit; 78 per cent more searches for "BBC weather" than all those related to Trump
Separation from the European Union and perceived nuclear threats may have dominated headlines in 2017, however, Brits appear to have been more interested in the outcome of their favourite television programmes, according to new data from Bing.com.
Microsoft's search engine analysed some of the most popular terms and related queries in 2017 in an effort to understand where people's interests and concerns lay. The results show that there were 17 per cent more Strictly Come Dancing-related searches than those linked to Brexit. Game of Thrones-related searches were even higher — there were 24 per cent more queries related to the fantasy show than Brexit.
There were also twice as many searches for "fidget spinner" than "Brexit". "We have well and truly observed the repercussions of last year's elections and events. In some ways the resulting headlines made this year feel hyper-real, but the data does show that in 2017 we have kept calm and carried on," said Kevin Stagg, head of Marketing at Bing.
Celebrities 2017: Kim still the queen of the Internet While Britain — and the world — recently celebrated a royal engagement, Kim Kardashian proved once again that she is the queen of the Internet, with more searches than most other celebrities. However it will remain to be seen whether Kim Kardashian's 43 per cent lead on Meghan Markle in 2017 can be maintained next year as the Suits star prepares to wed Prince Harry. The Kardashian was also searched for almost four times the amount as her North Korean namesake — Kim Jong-un.
Royal watch 2017: Anniversary rekindles interest
Interest in the Royal family remained as strong as ever with Prince Harry and Meghan Markle's engagement, Kate Middleton announcing her third pregnancy and The Queen and Prince Philip celebrating 70 years of marriage. However, one of the year's biggest royal events was "Princess Diana 20th anniversary", which far exceeded most other searches in the category.
Politics 2017: More interest in the elements than the president
For every search related to Trump there were six related to the weather in the UK, suggesting Brits were more concerned about rain and sunshine than the US president's comments or actions. Backing this is the fact that there were 78 per cent more searches for "BBC weather" than all searches related to Trump in 2017.
For those seeking to literally escape the year's political storms with a holiday, Tenerife and Benidorm received the most weather-related searches.
Turning to local politics, "Jeremy Corbyn" was searched for more than "Theresa May", but when it comes to related searches such as "Theresa May Priti Patel", May had more than two and a half times the volume of Corbyn, reflecting people's interest in topics around the prime minister.
Finally, fads out-ranked foreign affairs, with seven times the queries made for fidget spinners than Putin.
Tech 2017: Cab concern outweighs cyber fears
The attention of the British people when it comes to technology is clear, with 17 per cent more searches related to Uber's London licence ban than that for the NHS cyber attack — this is despite the former being specific to London commuters, and the latter a national issue that sparked a global fear.
Entertainment 2017: Fans look back and forward
Game of Thrones and Strictly Come Dancing were by far the UK's most searched-for TV programmes. There were almost twice as many searches for GoT topics than there were for Love Island.
Bake Off unfortunately failed to rise against its competitors. Not only did Strictly receive 16 times its search volume, almost one in every 10 of the cooking programme's searches was about judge Prue Leigh accidently revealing the winner via Twitter.
Amongst the top 10 Game of Thrones-related searches were "Game of Thrones season 1" and "Game of Thrones final season 2019", suggesting that there was a mix of people both looking to catch up on the fantasy series, and waiting in anticipation for its conclusion.
Sport 2017: The fight for search supremacy
Despite the huge interest in the Mayweather vs McGregor fight, Anthony Joshua was decisively the most searched-for UK fighter, with more than double the search traffic going to the Watford-born heavyweight champion than the Irish mixed martial artist. Joshua also fought off those outside the ring, with almost two-and-a-half times the traffic of British racing driver, Lewis Hamilton, and more than four times that relating to Mo Farah who this year ran and won his last ever professional race.
Without the Olympics or other global sporting events all eyes turned to Prince Harry's Invictus Games. However the public's gaze was not on the field, but the stands, with "Meghan Markle Invictus games" winning 39 per cent of the event's searches.
Top searched Celebrities were: 1. Kim Kardashian 2. Meghan Markle 3. Taylor Swift 4. Cheryl Cole 5. Holly Willoughby 6. Kylie Jenner 7. Beyonce 8. Lewis Hamilton 9. Liam Payne 10. George Clooney
Top searched on Brexit: 1. Brexit 2. Brexit news 3. Brexit latest 4. Sadiq Khan on Brexit 5. Brexit Germany economy 6. Martin Selmayr Brexit stupid 7. Brexit latest news 8. Brexit Andrea Leadsom 9. Michael Bloomberg Brexit 10. Theresa May Brexit defeat
Top searched movies: 1. Beauty and the Beast 2. Dunkirk 3. La La Land 4. Despicable Me 3 5. Beauty and the Beast 2017 6. Guardians of the Galaxy 2 7. Dunkirk movie 2017 8. The Boss Baby 9. Spider-Man: Homecoming 10. Lego Batman
"The significant role that search plays in our lives reflects our natural curiosity about the world around us. Observing trends therefore reveals a lot about our culture and where we place our attention. Some of the insights may surprise but ultimately, they demonstrate the connections we seek with other people, events, and generally the world around us," said Kevin Stagg, head of Marketing at Bing.
Related Articles
Nov 28,2017
LOS ANGELES — Meghan Markle says acting will take a back seat when she marries Prince Harry, following the example of screen icon Grace Kell
May 21,2018
LONDON — Prince Harry and his wife Meghan on Monday thanked all those involved in their wedding at the weekend as they released official pho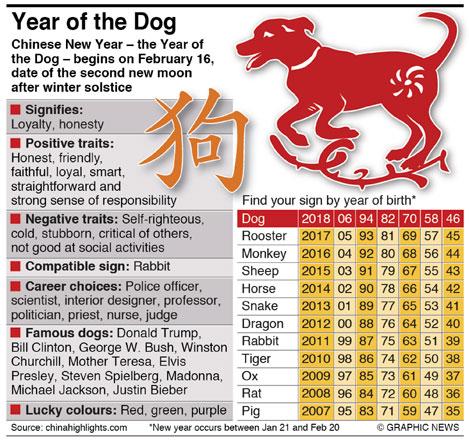 Feb 15,2018
HONG KONG — As the Chinese zodiac switches into the Year of the Dog later this week, Hong Kong feng shui experts predict anything but a walk
Newsletter
Get top stories and blog posts emailed to you each day.