You are here
Nissan Patrol V8 Platinum: Abundance of abilities
By Ghaith Madadha - Nov 27,2017 - Last updated at Nov 28,2017
Photos courtesy of Nissan
A big beast on the regional automotive scene, the Nissan Patrol is a rare car developed and pitched with Middle East customers foremost in mind. With large size, displacement and client base in many regional markets, the Patrol does things by big measures across the board, with abundant space, features, power, comfort and capability.
A more refined and luxurious full-size SUV than some rivals, yet more reliable and attainable than others, the Patrol is just as happy on the school run as it is in the rough and rugged great outdoors.
Towering presence
First introduced in 2010 and updated in 2014 in its current Y62 generation, the Patrol comes from a long line of ruggedly utilitarian off-roaders that grew in size, luxury and comfort over several generations since 1951. The most refined and road-friendly Patrol to date, the Y62 is a luxury body-on-frame luxury SUV with extensive off-road ability. And with the reliability to back it up, but without being overly "precious" or exotically priced, it is such an SUV that one is more willing to exploit its off-road abilities with greater peace of mind.
With vast proportions, high and level waistline and roofline, and aggressive disposition, the Nissan Patrol's road presence is simply hulking. Standing 5165mm long, 1995mm wide and 1940mm tall, the Patrol dwarfs most other SUVs, and features sculpted bumper and surfacing, muscular wheel-arches, huge chrome-laden grille, big chrome-ringed, clear-case rear lights, and a lower headlamp bulge which subtly enhances its sense of width and towering height. Blacked out front pillars and a massive D-pillar lend it a sense of forward motion, while sporty touches include a huge rear spoiler and side vents.
Confident and quick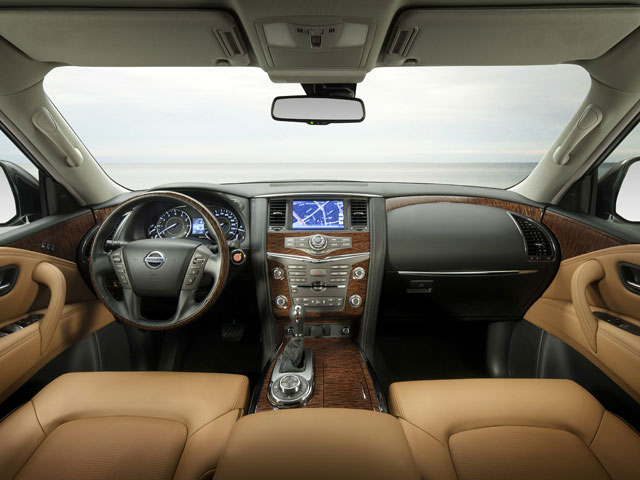 Lurking underneath its substantial bonnet, the range-topping Patrol V8 Platinum is powered by a similarly vast and capable naturally-aspirated direct injection 5.6-litre V8 engine mounted longitudinally and driving all four wheels with a rear-bias in default driving mode. Measured in more generous Gross, rather than Net ratings, it develops a mighty 400HP at 5800rpm and 413lb/ft torque at 4000rpm. With generous low-end torque and all four wheels digging into the road for traction, this allows for brisk 0-100km/h acceleration, estimated at 6.5-seconds, while fuel consumption is restrained for its class at an estimated 16.8l/100km city and 11.76l/100km highway.
Refined, smooth and with a distant and subdued thundering when revving — quite happily — towards its redline the Patrol's engine is generously progressive in delivery and eager off the line. With excellent throttle control allowing one to unleash exact increments of torque and power, the Patrol also benefits from a broad and healthy torque curve and flexibly muscular on the move acceleration. Its 7-speed automatic gearbox is slick and quick shifting, with well-judged ratios for performance and refinement, while sequential manual shifts are actuated through the gear lever, and allow more driver engagement.
Unexpected agility
Refined and quiet inside and reassuringly stable at speed, the Nissan Patrol rides on sophisticated double wishbone suspension with hydraulic dampers to provide level and firm body control through corners and to hugely curb brake dive and acceleration squat, for an SUV so tall and heavy.
Well suppressing unwanted vertical movement and body lean, the Patrol's Hydraulic Body Motion Control System suspension also keeps the Patrol buttoned down and flat over large bumps and smoothly irons out road imperfections, despite it riding on vast 20-inch alloy wheels with grippy 275/60R20 tyres.
At its best on straight and fast sweeping corners, the Patrol's hydraulic suspension's body control and tenacious traction four-wheel-drive are great for stability and reassurance but aren't naturally intended for narrow winding roads. Nonetheless, on recent test drive in Jordan, the Patrol proved that it can also do agility for its segment. The trick is to turn into corners early and with a crisp movement to shift weight to the rear and outside to tighten its cornering line, and prevent its natural inclination to under-steer. Driven so, the Patrol was unexpectedly nimble through narrow roads best suited for a hot hatch, while its steering even developed more feel for the road when loaded up through hard driven corners.
A huge city driving proposition, one also soon adapts to the Patrol's size in town, and aided by a reversing camera and good sightlines for something so tall and wide, parking and manoeuvring in tight confines soon become second nature. However, bigger side mirrors and enhanced night time camera clarity would be welcome, and optional blind spot warning system is highly recommended to spot lower cars overtaking on the right. Additional safety systems found on the top spec Platinum version also include forward and back-up collision warning, lane departure prevention, and braking and parking assistance.
Capable and comfortable
An authentic off-roader with extensive heritage and ability, the Y62 Patrol is of course at home at home over inhospitable and rugged terrain, and comes lockable four-wheel-drive with a low ratio transfer for especially challenging situations. The Patrol's locking rear differentia meanwhile ensures torque is evenly distributed along the rear axle at all times when engaged to deal with low traction surfaces, while its independent suspension allows long wheel travel. It also features generous 275mm ground clearance, 26.6° approach and 25.9° departure angles, and towing capabilities. Electonic off-road assistance includes hill start and descent control and automatically optimised driving modes for road, rock, sand and snow.
Most handsome in black or brown on the outside and with tan leather inside, the Patrol's cabin has a sturdy, welcoming and quality feel to it, and features extensive use of soft textures, sh
iny metallic accents and somewhat highly lacquered woods.
A comfortable and indulgent ambiance with well-adjustable and
commanding driving position, the Patrol's 8-seat cabin is hugely spacious for front and second row passengers, while the third row seating is even suitable for adults, with easy folding middle seats providing easy rear access.
Luggage volume and equipment levels are meanwhile generous, and include a Bose sound system and DVD screens, but additional USB ports would be useful.
TECHNICAL SPECIFICATIONS
Engine: 5.6-litre, in-line V8-cylinders
Bore x stroke (mm): 98 x 92mm
Valve-train: 32-valve, variable valve timing, DOHC, direct injection
Gearbox: 7-speed automatic, four-wheel-drive
Drive-train: Locking rear differential and low gear transfer case
Gear ratios: 1st 4.887:1 2nd 3.17:1 3rd 2.027:1 4th 1.412:1 5th 1:1 6th 0.864:1 7th 0.775:1
Reverse / final drive ratios: 4.041:1 / 4.357:1
Power, HP (kW): 400 (294) @ 5800rpm*
Torque, lb/ft (Nm): 413 (560) @ 4000rpm*
0-97km/h: 6.5-seconds (est.)
0-160km/h: 17.8-seconds (est.)
Fuel consumption, city / highway: 16.8 / 11.76 liters/100km (est.)
Fuel capacity: 100 + 40 liters
Height: 1940mm
Width: 1995mm
Length: 5165mm
Wheelbase: 3075mm
Tread: 1705mm
Minimum Ground clearance: 275mm
Approach / departure angles: 26.6° / 25.9°
Kerb weight: 2750-2800kg (est.)
Gross vehicle weight: 3500kg (est.)
Towing capacity: 2000kg
Seating capacity: 8
Steering: speed-sensitive power assisted rack and pinion
Turning radius: 12.1-metres
Suspension: Independent, double wishbone with active hydraulic damping
Brakes, F/R: Ventilated discs, 4- / 2-piston calipers
Tyres: 275/60R20
Price, as driven: JD98,000 (on-the-road, no insurance)
*Gross power and torque
Related Articles
Feb 07,2018
Logically introduced first in the Middle East markets, where Nissan's full-size SUV enjoys high levels of popularity and cache in general an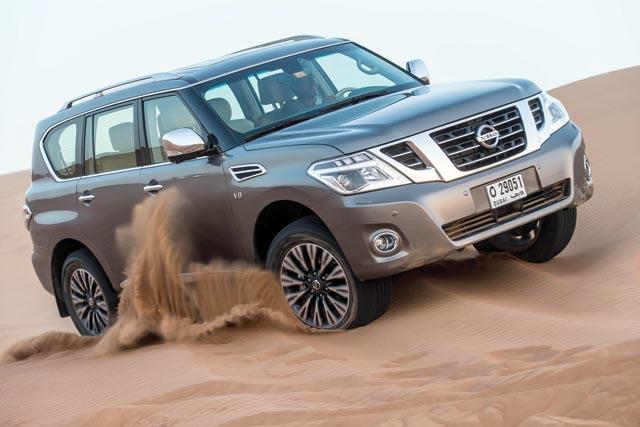 Jan 27,2014
With an indelible link to the Middle East and Gulf region in particular, the latest "Y62" generation Nissan Patrol was initially launched in Abu Dhabi back in 2010, while the latest face-lifted and updated 2014 version made its debut at the recent Dubai motorshow. First introduced in 1951, the first two Patrol generations were basic, rugged, capable and utilitarian off-roaders in the vein of the Land Rover or Willys Jeep, but by 1980 became bigger and better kitted; by 1987 adopted coil spring suspension for added refinement and off-road ability and has since become more luxurious.
Mar 20,2017
Tougher, more refined, capable, efficient and better equipped than ever, the latest generation Nissan Navara 2.5-litre turbodiesel double ca
Newsletter
Get top stories and blog posts emailed to you each day.