You are here
East Damascus 'de-escalation zone' sees civilians buried under rubble
Violence in Ghouta aims to further weaken rebels in their last stronghold near Damascus — analysts
By AFP - Nov 20,2017 - Last updated at Nov 20,2017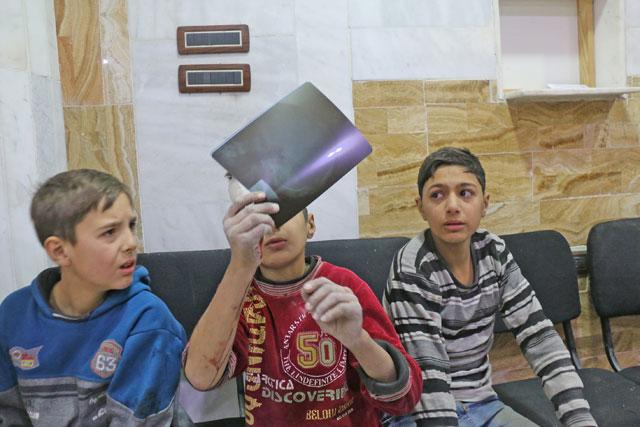 Wounded children get treatment at a hospital after government warplanes allegedly carried out air strikes over residential areas of the Eastern Ghouta region of Damascus in Syria on Sunday (Anadolu Agency photo)
DOUMA, Syria — Entire families have been buried under the rubble in a rebel-held enclave near Syria's capital, as government forces pursue a nearly week-long campaign against the area despite a de-escalation deal.
The violence aims to further weaken rebels in their last stronghold near Damascus, analysts said, as Russia, Iran and Turkey launch a diplomatic dash to resolve Syria's grinding six-year conflict.
The three countries agreed earlier this year to establish de-escalation zones aimed at reducing hostilities in four battleground areas across Syria.
One such zone came into effect in Eastern Ghouta in July, but after months of relative calm, intense artillery fire and air strikes have pummelled the region for the past week.
Residents of the opposition stronghold have described living in utter terror.
"We're forced to hide in parts of our home that aren't suitable for living, like the bathroom and the kitchen," said 28-year-old Majed.
"We even sleep there sometimes."
The father of two lives in Douma, one of the largest towns in Eastern Ghouta and a regular target of regime raids.
Despite his wife's efforts to create a normal life for their children, their four-year-old son has been left deeply scarred.
"When he hears the bombing, he runs to hide in the closet or behind the door, screaming, 'The plane, the plane is attacking'," Majed told AFP.
Since Tuesday, government bombardment of Eastern Ghouta has killed at least 80 civilians including 14 children, and wounded hundreds more, according to the Britain-based Syrian Observatory for Human Rights.
'Too close' to Damascus
In Douma on Sunday, an AFP journalist witnessed doctors rushing to treat wailing children lying on bloodstained hospital beds.
Their eyes wide with fear, children awaited life-saving care, many having had limbs pierced by shrapnel.
Nearby, two men mourned over the lifeless body of a child, wrapped in a red-and-white sheet on the floor.
An estimated 400,000 people live in Eastern Ghouta, where a four-year government siege has made food, medicine, and other basic necessities either unavailable or too expensive.
Regime forces began their bomb assault there last week, after hardline rebel group Ahrar Al Sham attacked a military base in the nearby town of Harasta.
Rebel rocket fire on Damascus has also killed at least 16 people since Thursday, the observatory said.
"Regime forces used the rebel offensive on Harasta as a pretext to target all of Eastern Ghouta," said observatory head Rami Abdel Rahman.
He said government troops were trying to "turn the rebels' popular base against them".
The presidents of rebel backer Turkey and of regime allies Iran and Russia will meet in the city of Sochi on Wednesday to discuss reducing violence and boosting aid deliveries.
But analysts say the Eastern Ghouta hostilities have marred the de-escalation deal touted by the three countries.
Nawar Oliver of the Turkey-based Omran Centre think tank said the Eastern Ghouta zone "is not over, but it's hit a big obstacle".
"Obviously, the de-escalation deal in the Ghouta isn't going too well," said Aron Lund, a fellow with The Century Foundation.
Syria's government had long eyed Eastern Ghouta, viewing the enclave as "too close to the capital to be left like this", he said.
Rebels had "little chance" of surviving the assault, said Lund.
'It's a child's leg'
In the rebel-held town of Madira on Sunday, volunteers from the White Helmets rescue force climbed through the rubble of a building after a recent air strike.
Flashlights in hand, they scrambled over concrete blocks and metal rods to try to find the bodies of the family that had been living there.
"They're six people. We found three, and three are left," one volunteer said.
One volunteer dug into the rubble with a wooden stick and uncovered a limb, which he placed carefully in a white bag.
"It's a child's leg," his colleague said.
Another volunteer said the air strike had hit "a bomb shelter that residents were hiding in since the evening call to prayer".
"There are a lot of body parts," he added.
According to the observatory, the six-member family — a man, his wife, and their four children — all died in the bombardment.
After regime shelling on Douma earlier that week, paramedic Firas Al Kahhal said he had witnessed a haunting scene.
The 22-year-old was dispatched to the bombed-out home to search for any survivors.
"As soon as we entered I saw a baby girl, no more than eight months old, trying to crawl out of the rubble," Kahhal told AFP.
The infant had suffered wounds to her head, but survived.
"What we saw was heartbreaking. She lived under shelling and terror. Her brain can't even absorb what's happening."
Related Articles
Feb 07,2018
DOUMA, Syria — Fresh regime strikes killed 23 civilians Wednesday in a rebel-held enclave near Damascus where overwhelmed medics were still
Feb 05,2018
ARBIN — Regime air strikes killed 28 civilians in a rebel enclave near Damascus on Monday as Syria's seven-year-old conflict raged on severa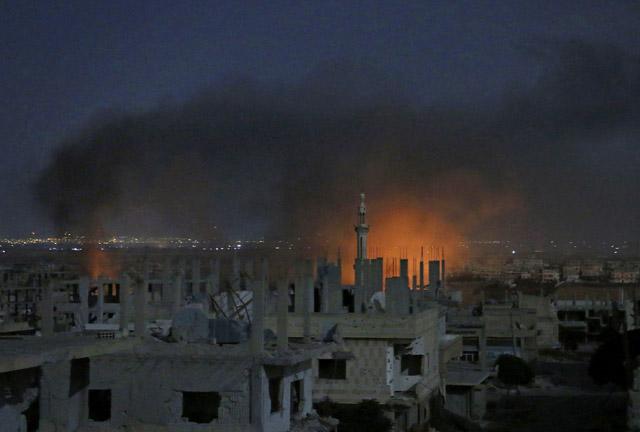 Jul 04,2017
ASTANA, Kazakhstan — Powerbrokers Russia, Iran and Turkey on Tuesday focused on shoring up a plan for safe zones in Syria at a fifth round o
Newsletter
Get top stories and blog posts emailed to you each day.