You are here
US unemployment rate hits 16-year low in May
By AFP - Jun 03,2017 - Last updated at Jun 03,2017
An advertisement for employment is displayed on a window of a McDonald's restaurant in Lower Manhattan in New York City on Friday (AFP photo)
WASHINGTON — US unemployment fell to a 16-year low in May, but monthly job creation has slowed sharply in the past three months, creating a mixed picture of the labour market.
The contrasting data could muddy the waters ahead of a Federal Reserve decision on interest rates later this month.
The economy added just 138,000 net new jobs in May, well below analyst expectations, and average job creation for the last three months slowed to 121,000, after the payrolls data for April and March were cut by a combined 66,000, the Labour Department reported on Friday.
However, the jobless rate decreased by a tenth of a point to 4.3 per cent.
But while that drop looks like good news, it also reflects the fact that some workers left the labour force, with the closely-watched labour force participation rate falling 0.2 points to 62.7 per cent.
As it has done in recent months, the White House once again hailed the good news in the labour market.
White House Press Secretary Sean Spicer said the employment report showed "Americans seeking jobs are having more success finding them than at any point in the last 16 years".
"There's a lot of positive signs coming out of the job market," he told reporters.
US President Donald Trump has vowed to add 25 million new jobs to the economy over a decade, but economists say this goal is unrealistic and the latest data may bolster that view, especially with increasing reports that firms are struggling to fill open positions.
The employment report came a day after Trump announced he was withdrawing the United States from the 2015 Paris climate agreement in a bid to preserve US jobs.
However, analysts say the US stands to gain more by participating in the development of renewable energy. One in every 50 new jobs added in the United States in 2016 was in the solar industry.
Implications for Fed
Jim O'Sullivan of High Frequency Economics was among those who said the weakness in job creation last month likely was due to volatility and distortions from seasonal adjustments applied to the data.
"Through the volatility, we believe the trend in employment growth remains more than strong enough to keep unemployment trending down and the trend in wage gains upward," he said in a research note.
Most analysts still expect the Fed to increase the benchmark lending rate later this month, but expectations for another increase in September could be in doubt.
The falling jobless rate may support the views of Fed policymakers who say the economy has reached full employment, but weak job creation and weak wage gains may support those who want to be cautious about removing the stimulus of low interest rates.
Elise Gould of the left-leaning Economic Policy Institute said a June rate increase by the Fed would be "unfortunate", adding that prematurely declaring full employment would be far more costly than tolerating some wage growth and price inflation.
Still, the jobless rate has fallen 0.5 percentage points since the start of the year, and anecdotal reports in the Fed's own surveys increasingly suggest employers are having difficulty finding qualified workers, which raise concerns that wages will begin to rise, possibly stoking inflation.
And layoffs are at 40-year lows, which analysts say is because companies fear they may not be able to replace workers they let go.
Meanwhile, the time needed to fill a job is now the longest in 17 years, Nariman Behravesh of IHS Markit said.
"Companies may be taking a more cautious approach to hiring, not because they are worried about sales, but because they are trying to assess whether the president and Congress will be successful in passing pro-growth policies," Behravesh wrote in a client note.
Tepid wage gains
Despite steady hiring, low unemployment and reports that firms are having difficulty filling positions, wage gains have been tepid.
Average hourly earnings rose 0.2 per cent for the month, and are up 2.5 per cent for the year, but this more or less keeps pace with inflation, with the Consumer Price Index for urban consumers up 2.2 per cent over the 12-month period.
Job creation in the healthcare sector continued, with 24,000 new positions added. The mining sector, which includes oil and gas, added 7,000 positions and restaurants and bars gained another 30,000 new employees.
But some sectors were shedding positions, with the struggling retail sector employing 6,100 fewer workers, and automakers losing 1,500, amid declining new car sales.
Total manufacturing employment fell by 1,000 in the month.
Related Articles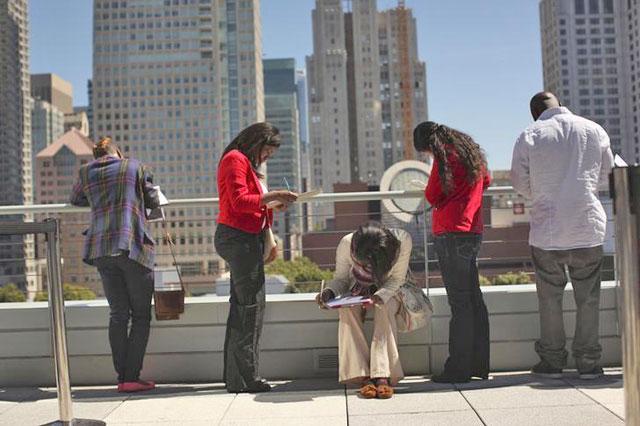 Feb 08,2018
WASHINGTON — The number of Americans filing for unemployment benefits unexpectedly fell last week, dropping to its lowest level in nearly 45
Aug 16,2017
LONDON — Britain's unemployment rate has struck a new 42-year low, official data showed on Wednesday, as the uncertainty of Brexit boosts te
Jul 23,2017
WASHINGTON — After tightening monetary policy last month for the second time this year, the US central bank is expected to pause for t
Newsletter
Get top stories and blog posts emailed to you each day.