You are here
Zelensky huddles with G-7 as Ukraine wins access to F-16s
By AFP - May 20,2023 - Last updated at May 20,2023
HIROSHIMA, Japan — President Volodymyr Zelensky made a landmark visit to Hiroshima for talks with G-7 leaders Saturday, after securing long-sought access to advanced US fighter jets for Ukraine's war effort.
Zelensky's surprise summit appearance — he had been expected to appear by video call — is his furthest foray from Kyiv since Russia's invasion began 15 months ago.
He arrived significantly buoyed by what he called a "historic" White House decision to allow Ukraine access to F-16 jets, among the most sophisticated materiel yet supplied by the West.
The group of seven rich democracies were huddled in Japan to discuss issues including the need for "constructive and stable" relations with China, which the bloc accused Saturday of "economic coercion".
But it was Zelensky's arrival, and debate about the future of the war in Ukraine, that has dominated the summit.
On landing, Zelensky said the summit would bring "increased cooperation for our victory", and he declared that "today, peace will be closer".
After a bloody winter of fighting that saw Russian gains in the eastern city of Bakhmut, Ukraine's forces have regrouped for a counteroffensive but they remain dependent on the flow of Western weaponry.
Military experts say the aircraft would be a significant upgrade from Ukraine's ageing Soviet-era fleet, offering greater ability to eventually strike targets in the air or on the ground.
They are also a potent symbol of Western support for Ukraine, forestalling any talk of waning interest as the conflict grinds on.
Mick Ryan, a strategist and retired Australian major general, called the decision "very significant".
"F-16s have the sensors and weapon systems that are either equal to, or overmatch, Russian fighters," he told AFP, saying the jets would make life "more difficult" for Russian missile-launching aircraft operating in and around Ukraine.
'Deter and defend'
Until now, US President Joe Biden had effectively vetoed the transfer of US-made F-16s, with officials citing long pilot training times and the risk of escalating the conflict with Russia.
US National Security Adviser Jake Sullivan insisted there had been no about-turn in US policy, and the decision was based on the "exigencies of the conflict".
"We've reached a moment where it's time to look down the road and to say, 'What is Ukraine going to need... to be able to deter and defend against Russian aggression?'"
He added that Ukraine had committed to not using US military equipment to hit targets inside Russia.
"We are going to do everything we can to support Ukraine in its defence of its sovereignty and territorial integrity, and we are also going to proceed in a way that avoids World War III," he said.
With the US veto lifted, Prime Minister Rishi Sunak quickly announced that Britain would "work together with the USA and The Netherlands, Belgium and Denmark to get Ukraine the combat air capability it needs".
Zelensky's trip offers a chance to confer with allies, but perhaps more importantly to woo key unaligned powers also joining the summit, including India and Brazil.
Photos posted online by Prime Minister Narendra Modi's staff showed the pair shaking hands and holding their first meeting since the invasion, which India has declined to condemn.
"There is an opportunity for Zelensky to engage with these non-Western actors, to try to bolster support, or at least weaken what may be seen as ambivalence towards the conflict," Ian Lesser, vice president of the German Marshall Fund think tank, told AFP.
"And they do matter. They matter especially in terms of sanctions, of course," he added.
Zelensky also met separately with the Italian and British prime ministers, and talks with the French and US presidents are expected.
'Militarisation'
Ahead of Zelensky's arrival, G-7 leaders issued a joint statement Saturday denouncing efforts to "weaponise" trade and supply chains, saying they would "fail and face consequences" — a thinly veiled warning to China.
The bloc said it would also address vulnerabilities in supply chains for "critical goods" like minerals, semiconductors and batteries.
"What we have done over 20 years with China, encouraging development, was right, but maybe we should have been more careful on critical material, supply chains and those elements," an EU official said.
The grouping also warned China against its "militarisation" in the South China Sea and urged Beijing to press Russia to end its invasion of Ukraine.
The bloc insisted however it still seeks "constructive and stable relations" with China.
Related Articles
May 21,2023
MOSCOW/ WASHINGTON — The head of Russia's Wagner mercenary group on Saturday claimed the complete capture of the east Ukrainian town of Bakh
Jun 11,2022
KYIV — The European Commission will provide a clear signal next week on Ukraine's EU candidate status bid, its chief Ursula von der Leyen sa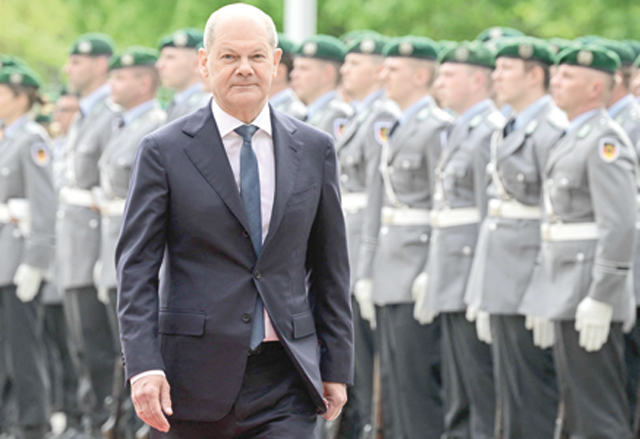 May 14,2023
BERLIN — Germany will support Ukraine as long as needed, Chancellor Olaf Scholz said Sunday as President Volodymyr Zelensky visited Berlin f