You are here
Trump threatens to send military against immigrant 'onslaught'
By AFP - Oct 18,2018 - Last updated at Oct 18,2018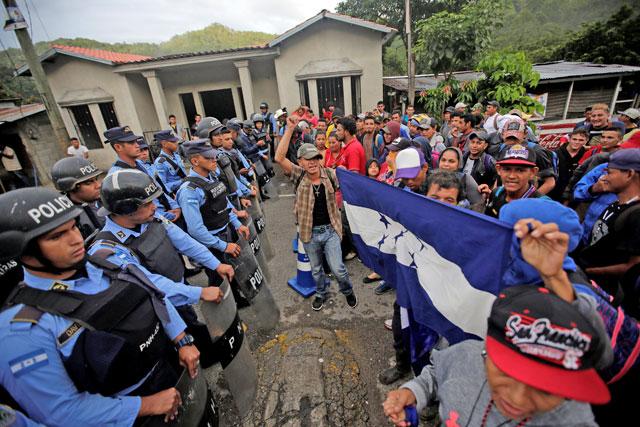 Honduran immigrants stand in front of Honduran police officers blocking the access to the Agua Caliente border with Guatemala as they try to join a migrant caravan heading to the US, in the municipality of Ocotepeque, Honduras, on Thursday (Reuters photo)
WASHINGTON — US President Donald Trump threatened on Thursday to send the military to the Mexican border and to imperil a trade deal in an intensification of his anti-immigrant rhetoric ahead of congressional elections.
Trump has made security on the southern border one of the signature issues of his two-year presidency, calling for a "wall" and frequently railing against what he describes as a flood of rapists, gangs and "bad hombres".
Even by those standards his Thursday morning Tweet storm — coming less than three weeks from midterm legislative elections where the Democrats may take the lower house from Trump's Republicans — was especially fierce.
Referring to a so-called caravan of several thousand Hondurans that has departed in hopes of reaching the United States, Trump claimed Democrats were to blame for an "assault on our country by Guatemala, Honduras and El Salvador" with a caravan "including many criminals".
Trump Tweeted that he would stop aid to the Central American states and said: "I must, in the strongest of terms, ask Mexico to stop this onslaught — and if unable to do so I will call up the US Military and close our southern border!"
Even the recently renegotiated North America Free Trade Agreement (NAFTA) between Mexico, the United States and Canada, which is now known as USMCA, could be under threat, Trump said.
"The assault on our country at our Southern Border, including the Criminal elements and DRUGS pouring in, is far more important to me, as President, than Trade or the USMCA," he said.
The row comes as US Secretary of State Mike Pompeo prepares to embark on a tour of the region that will see him visit Mexico ahead of its December inauguration of President-elect Andres Manuel Lopez Obrador, as well as Panama.
But Marcelo Ebrard, who has been picked as Mexico's next foreign minister, downplayed the comments and said Trump was appealing to his domestic political base.
"The position of President Trump is the one he has always raised, I do not see him as anything surprising, I would be surprised by a different position," Ebrard told local radio station Radio Centro.
"It was predictable and also the election process is very close, so he is making a political calculation," he added.
Controversial caravan
The president's message was part of a broad strategy to crack down on illegal immigrants and tighten rules for legal migrants.
Barely a week goes by without Trump warning about the danger posed by ultra-violent central american gangs like MS-13, while chants of "build the wall" are a staple element of his pre-midterms campaign rallies.
The latest focus is on more than 2,000 Hondurans who left last Saturday from the city of San Pedro Sula.
On Wednesday, an advance group of exhausted migrants reached Guatemala City where they took refuge in a church-sponsored shelter. Their objective now is to regroup and press on towards the border with Mexico.
The migrants say they organised for the long and difficult journey on social media, but Washington suspects the group has been organised as a deliberate provocation.
"This caravan did not appear organically," a senior Trump administration official told journalists.
"There's a political aspect and an organisational aspect which frankly seeks to sow chaos and dissent and that needs to be dealt with," he said, speaking on condition of anonymity.
Whether any military deployment to the border will take place is unclear.
The president announced plans in April to send thousands of national guard troops to the border, where they could remain until his promised wall is constructed.
But at least five US states later refused to send the troops amid an outcry over a since-abandoned White House policy to separate migrant children from their parents at the border.
Newsletter
Get top stories and blog posts emailed to you each day.