You are here
Trio wins physics Nobel for illuminating electrons
By AFP - Oct 04,2023 - Last updated at Oct 04,2023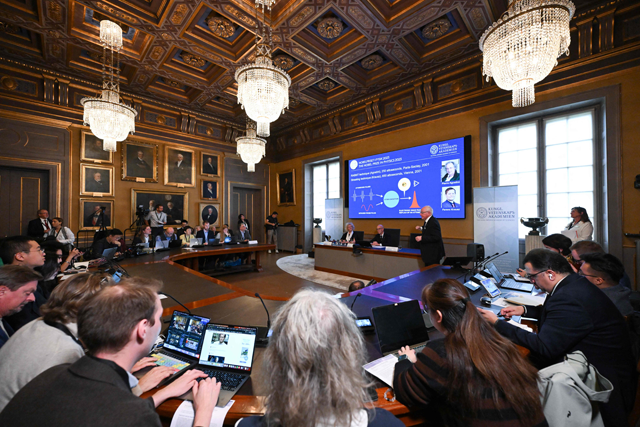 Member of the Nobel Committee For Physics Mats Larsson speaks to the media during the announcement of the winners of the 2023 Nobel Prize in Physics at Royal Swedish Academy of Sciences in Stockholm on Tuesday (AFP photo)
STOCKHOLM — France's Pierre Agostini, Hungarian-Austrian Ferenc Krausz and Franco-Swede Anne L'Huillier won the Nobel prize in physics on Tuesday for research using ultra quick light flashes that enable the study of electrons inside atoms and molecules.
Their technique employs pulses measured in attoseconds, a unit so short that there are as many in one second as there have been seconds since the universe's birth over 13 billion years ago, the jury said.
The laureates' research has made it possible to examine moves or changes so rapid that they were previously impossible to follow, with potential applications in both electronics and medical diagnostics.
The Royal Swedish Academy of Sciences likened the process to how the flapping wings of a humming bird turn into a blur for the human eye, but can be slowed and examined using high-speed photography.
"We can now open the door to the world of electrons. Attosecond physics gives us the opportunity to understand mechanisms that are governed by electrons," Eva Olsson, chair of the Nobel Committee for Physics, said in a statement.
'Not so many women'
In 1987, L'Huillier "discovered that many different overtones of light arose when she transmitted infrared laser light through a noble gas", the Nobel Committee noted, adding that she has continued to explore this phenomenon, "laying the ground for subsequent breakthroughs".
In the early 2000s, Agostini and Krausz worked on experiments that made it possible to isolate light pulses that lasted only a few hundred attoseconds.
Agostini is a professor at Ohio State University in the United States, while Krausz is a director at the Max Planck Institute in Germany.
L'Huillier, only the fifth woman to be awarded the Physics Prize since 1901, is a professor at Lund University in Sweden.
L'Huillier told reporters she was in the middle of teaching a class when she received the call from the Academy, making it "difficult" to finish the class, to whom she told nothing.
"I am very touched... There are not so many women that get this prize so it's very, very special," she said.
Before L'Huillier, Marie Curie (1903), Maria Goeppert Mayer (1963), Donna Strickland (2018) and Andrea Ghez (2020) are the only women to have won the award.
Speaking later at a press conference, she encouraged young women interested in a career in science to "go for it".
The laureate, who is married and has two sons, stressed it was possible to combine a research career with an "ordinary life, with a family and children".
French President Emmanuel Macron congratulated the trio, noting that "two of our brilliant French researchers" had been honoured.
"What a source of pride for our nation!" Macron said in a post to X, formerly known as Twitter.
L'Huillier and Krausz had been seen as contenders for the honour, having been awarded the prestigious Wolf Prize last year together with Canadian physicist Paul Corkum.
Fellow Hungarian
However, Krausz said he had not been expecting a call.
"I was not sure whether I was dreaming or whether it was reality," he told the Nobel Foundation in an interview.
Speaking at a press conference a few hours later, he said: "There are signs that it could be reality."
The physics award is the second Nobel of the season after the Medicine Prize on Monday, awarded to messenger RNA researchers Katalin Kariko, a Hungarian like Krausz, and Drew Weissman for their groundbreaking technology that paved the way for mRNA Covid-19 vaccines.
Krausz said he had actually been listening to an interview with his compatriot when he received the call, adding he was especially impressed with Kariko's determination as she toiled away at her research despite struggling to achieve recognition and even secure funding for it.
"That's the most important lesson for me, that's what I would like to convey to future generations, that if you believe in something and are convinced it's the right thing to do... the important thing is to keep believing in it," Krausz said.
The Physics Prize will be followed by the Chemistry Prize on Wednesday, with the highly watched Literature and Peace Prizes to be announced on Thursday and Friday.
The Economics Prize — created in 1968 and the only Nobel not included in the 1895 will of Swedish inventor and philanthropist Alfred Nobel, which founded the awards — closes out the 2023 Nobel season on Monday.
Related Articles
Oct 10,2023
STOCKHOLM — The Nobel prize in economics was on Monday awarded to American economist Claudia Goldin for her research that has helped underst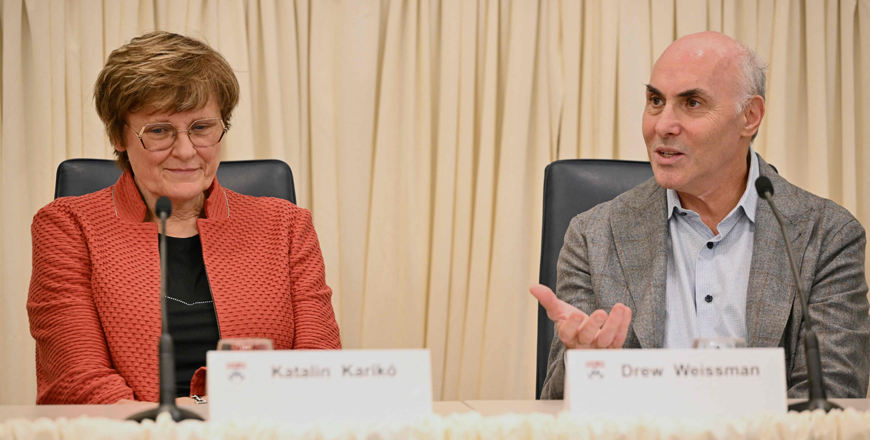 Oct 02,2023
STOCKHOLM — Researchers Katalin Kariko and Drew Weissman won the Nobel Medicine Prize on Monday for work on messenger RNA (mRNA) technology
Sep 30,2015
AMMAN — For the first time a Jordanian scientist, Shaher Momani, has been nominated for the Nobel Prize in physics for 2016.Momani, a profes