You are here
Paris knife attacker was French citizen born in Chechnya
By Reuters - May 13,2018 - Last updated at May 13,2018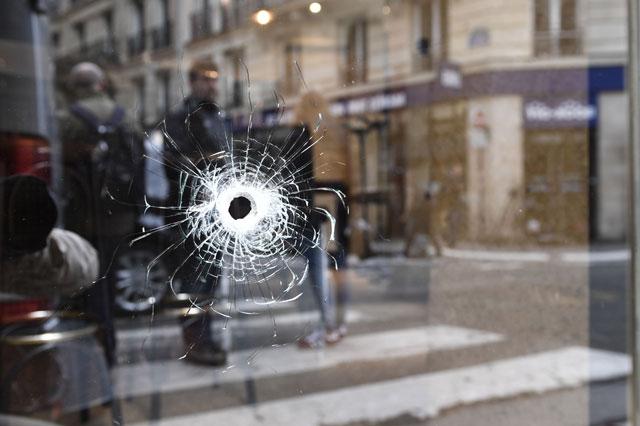 A bullet hole, seen in the window of a cafe located at the crossroads between the streets Saint-Augustin and Monsigny, is pictured in Paris, on Sunday, the day after a knifeman killed one man and wounded four other people (AFP photo)
PARIS — Police on Sunday scoured the background of a Chechnya-born Frenchman who killed a man in a knife attack in Paris, questioning the parents and a friend of the 21-year-old, who had been flagged previously as a potential security risk.
Late on Saturday, the assailant shouted "Allahu akbar" (God is greatest) as he began his stabbing rampage. He fatally knifed a 29-year-old man and wounded four others, among them a Chinese and a Luxembourg citizen, before police shot him dead.
A judicial source named the attacker as Khamzat A, without giving his full name, which BFM TV and other French media said was Azimov.
The attack took place in the bustling Opera district, known for its many restaurants, cafes and the Palais Garnier opera.
It was the latest in a succession of attacks in France since January 2015 in which more than 240 people have died.
The attacker had since 2016 been on a counterterrorism watchlist of suspected radicals who may be a threat to national security, government spokesman Benjamin Griveaux said.
The stabbing exposed once again the difficulty European intelligence services face keeping track of suspected extremists and countering the threat posed by homegrown and foreign militants.
France has participated in a US-led coalition battling the terror group Daesh in Iraq and Syria, and it also intervened in Mali to push back an extremist rebellion in the West African state.
Its military interventions overseas have exposed it to attack by militants at home.
The assailant became French when his mother obtained citizenship in 2010, Griveaux said in a joint interview with broadcasters LCI and RTL and newspaper Le Figaro.
He rejected criticism from opponents of President Emmanuel Macron that the government was not doing enough to stem such attacks, saying: "Zero risk does not exist."
Daesh claimed responsibility for the attack, but provided no proof. Griveaux said the claim had not yet been fully authenticated.
Judicial sources said the assailant's parents as well as a friend of his were being held for questioning. The friend, arrested in the eastern French city of Strasbourg, was born in 1997, a source said.
BFM TV said the attacker had long lived in Strasbourg before moving to Paris last year.
Related Articles
Dec 22,2014
A Frenchman who ploughed into pedestrians shouting "Allahu Akbar" had been to psychiatric hospital 157 times and had no known links to jihadist groups, a prosecutor said Monday, easing concerns the attack was inspired by Islamic extremism.
Dec 23,2014
French Prime Minister Manuel Valls stepped-up security nationwide Tuesday following three successive, apparently unrelated attacks that left one man dead, in a bid to ease growing unease in the country.
Jan 04,2018
PARIS — Female French extremists arrested in Kurdish-held parts of Syria should face justice there so long as they can be guaranteed a fair
Newsletter
Get top stories and blog posts emailed to you each day.