You are here
Moscow, Kyiv accuse each other of nuclear plant strikes
Ukraine envoy addresses Arab League, weeks after Russian minister
By AFP - Aug 11,2022 - Last updated at Aug 11,2022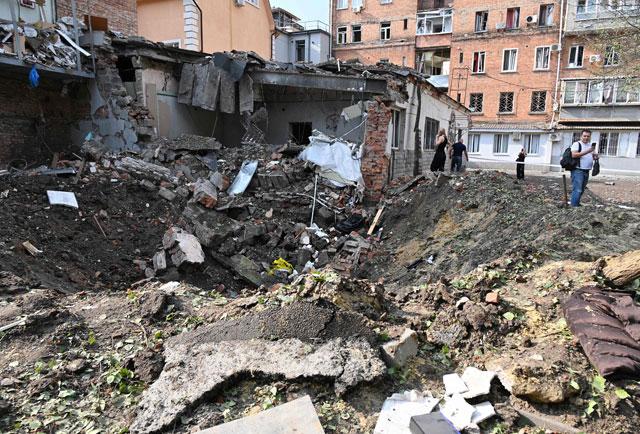 Local residents stand next to a crater after shelling in the centre of Kharkiv on Thursday, amid the Russian military invasion of Ukraine (AFP photo)
KYIV/CAIRO — Russia and Ukraine accused each other on Thursday of shelling the Zaporizhzhia nuclear plant ahead of an emergency meeting of the UN Security Council to address global concerns over the facility.
Zaporizhzhia is the biggest nuclear power plant in Ukraine and in Europe. It has been controlled by Russian troops since March.
Vladimir Rogov, a member of the Moscow-installed regional administration, said Ukrainian forces "once again struck the Zaporizhzhia nuclear power plant" in southern Ukraine on messaging app Telegram.
According to Rogov, Ukrainians used multiple launch rocket systems and heavy artillery to carry out the strikes.
But Ukraine's nuclear agency Energoatom said "the Russians shelled the Zaporizhzhia nuclear power plant again".
The situation at the station is "currently under control", Energoatom said.
In a later statement, Energoatom ensured that radiation levels at the plant were "within normal limits".
A pro-Moscow official also later said the levels were "normal".
"No contamination has been recorded at the station, radiation levels are normal," the head of the Moscow-installed regional administration, Yevgeny Balitsky, said on Telegram.
There were five strikes on the plant itself, near the command post and near a radioactive substance storage unit, according to the Russian and Ukrainian statements.
Fears of a nuclear disaster grew last week after renewed shelling near the nuclear plant.
UN Secretary General Antonio Guterres warned of a "disaster" on Thursday ahead of the UN Security Council meeting later on Thursday.
Meanwhile, Ukraine's special envoy for the Middle East on Thursday accused Moscow of preventing Ukrainian wheat deliveries to the region, addressing the Arab League just weeks after the group hosted Russia's foreign minister.
"Ukraine today has 20 million tonnes of grain ready to be exported, principally to Arab and African states," Maksym Subkh told the pan-Arab bloc by video conference, saying "the siege of our ports by the Russian invaders" had blocked deliveries.
The increase in global food prices is "a direct result of Russian aggression", he added.
The Ukraine war has severely hampered grain supply from the country, leading to an international food crisis as it is one of the world's biggest producers.
Some ships have been able to leave Ukrainian ports in recent days after a deal with Russia brokered by the United Nations and Turkey.
Several members of the Arab League are heavily dependent on wheat imports from both Russia and Ukraine, and have been reeling from food insecurity since Moscow's invasion of its neighbour.
But while the United States has sought to isolate Russia on the global stage over the war, it has faced less success in the Arab world, where many countries are hesitant to strain relations with Moscow.
In late July, Russian Foreign Minister Sergei Lavrov praised Arab countries' and the League's "balanced, fair, responsible position" on not siding with either Russia or Ukraine.
Lavrov at the time said Western sanctions on Moscow had "aggravated" the global food crisis, but Subkh on Thursday called the measures "the only way of returning Russia to reason".
Subkh warned Arab countries against "Russian meddling in regional affairs", accusing Moscow of sending mercenaries to the region in order to plan "coups" and "plunder these countries' wealth".
He told the Arab League that his own appointment last month was "proof of Ukraine prioritising its political dialogue with Arab states".
Moscow ally Damascus, which was suspended from the pan-Arab bloc after civil conflict broke out in Syria in 2011, said in July that it was severing ties with Ukraine in support of Russia, saying the move was a response to a similar move by Kyiv.
Subkh said Thursday that Syria had tried to "legitimise Russia's illegal occupation" of Ukraine.
Newsletter
Get top stories and blog posts emailed to you each day.