You are here
More protests as Venezuela leader calls for talks with US
By AFP - Feb 22,2014 - Last updated at Feb 22,2014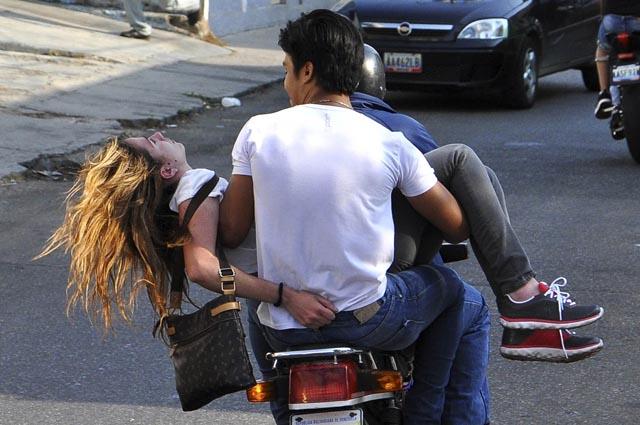 CARACAS — Opponents of Venezuela's leftist government prepared for a mass protest rally in Caracas Saturday, a day after President Nicolas Maduro issued a surprise call for direct talks with the United States.
The risk of violence was high as a march of pro-government "Chavista women" was also scheduled for Saturday in Caracas.
Henrique Capriles, governor of Miranda state and the main opposition leader, has called on marchers to focus their demands on disarming pro-government civilian groups blamed for attacking demonstrators.
At least nine people have been killed in the past two weeks in the wave of protests shaking the Maduro administration, its biggest test since the death of leftist icon Hugo Chavez last year.
At least 137 people have also been injured and 104 have been arrested, according to government figures.
Maduro says the protests are part of a "coup d'etat in development" instigated by Washington and conservative ex-Colombian president Alvaro Uribe.
Venezuela has the world's largest proven oil reserves, but under Maduro and Chavez the economy has tailspinned, street crime has soared and corruption has risen.
There have been near-daily protests in Caracas as well as cities like San Cristobal, the state capital of Tachira, as well as Valencia, in the north-central state of Carabobo.
Maduro's government warned it would cut off gasoline supplies to restless areas.
Capriles, who lost last year's presidential election to Maduro by a razor-thin margin, is again in the limelight following the Tuesday arrest of another opposition leader, 42 year-old Leopoldo Lopez, on charges of instigating violence, property damage and criminal association.
Renewed ties?
On Friday, Maduro challenged Obama to meet him for talks. "I call a dialogue with you, President Obama... between the patriotic and revolutionary Venezuela, and the United States and its government," he said.
"Accept the challenge and we will start a high-level dialogue and put the truth on the table," Maduro told a news conference with foreign reporters.
Caracas and Washington have not exchanged ambassadors since their respective envoys were withdrawn in 2010. Venezuela has expelled eight US diplomats over the past year, including three on February 16.
Oil rich Venezuela's main customer for its key export is the United States, yet Venezuela's relations with the United States, long strained under Chavez, have worsened under Maduro.
Maduro, who lashed out at Obama earlier in the week, proposed to restore ties to the ambassadorial level and said he had given his foreign minister "special powers" to handle bilateral dialogue.
US Secretary of State John Kerry late Friday chastised Caracas for its crackdown and said nothing about the call for direct talks.
"The government's use of force, and judicial intimidation against citizens and political figures... is unacceptable, and will only increase the likelihood of violence," Kerry said in a statement.
He criticised Venezuela's arrest of protesting students and a key opposition figure, as well as its crackdown on the freedoms of expression and assembly.
"This is not how democracies behave," Kerry said.
In his statement, Kerry urged the government to release jailed opposition members and launch a "genuine" dialogue.
Venezuelan Foreign Minister Elias Jaua said during a visit to Nicaragua on Friday that his government was "open to dialogue" with the opposition, but gave no timeline.
Obama earlier called on Venezuela's leftist government to address the "legitimate grievances" of its people — comments that Maduro dismissed as US meddling in Venezuelan affairs.
Washington has also expressed concern over the jailing of Leopoldo Lopez, a Harvard-educated economist, and insisted that any charges against him be handled in an "impartial and transparent" manner.
'We love the American people'
In a move filled with anti-US sentiment, Maduro has threatened to block US broadcaster CNN, accusing the network of inciting "civil war".
CNN said several of its journalists working in Venezuela, on both Spanish-language and English-language programmes, had seen their press credentials revoked or refused.
Related Articles
Feb 24,2014
Anti-government demonstrators set up barricades and started fires in Venezuela's capital on Monday despite calls from within the opposition to rein in protests in which at least 12 people have died in the OPEC nation.
Mar 20,2014
Venezuela upped pressure on the opposition Wednesday after weeks of protests, arresting two mayors including one in the town where they started and seeking a probe of a prominent anti-government lawmaker.
Mar 06,2014
Venezuela marked the first anniversary of Hugo Chavez's death Wednesday with a blend of solemn ceremonies, clashes and a break in relations with Panama over protests dogging his successor's presidency.
Newsletter
Get top stories and blog posts emailed to you each day.