You are here
Macron presents vision for post-Brexit Europe
By AFP - Sep 26,2017 - Last updated at Sep 26,2017
French President Emmanuel Macron delivers a speech on the European Union at the amphitheater of the Sorbonne University on Tuesday in Paris (AFP photo)
PARIS — French President Emmanuel Macron set out his vision Tuesday for a "profound transformation" of the European Union, unveiling a series of proposals to deepen the bloc politically and harmonise rules across the continent.
"The Europe that we know is too weak, too slow, too inefficient," he said as he began the closely-watched address at the prestigious Sorbonne University in Paris.
"But Europe alone can give us the ability to act in the world faced with big contemporary challenges."
Macron's proposals for a post-Brexit shake-up include plans to give the 19-member eurozone a finance minister, budget and parliament, as well as creating a Europe-wide "rapid reaction force" to work with national armies.
He also called for a new tax on technology giants like Facebook and Apple — accused of paying too little corporate tax on their businesses in Europe — and an EU-wide asylum agency to deal with the migrant crisis.
He even raised the prospect of major changes to the Common Agricultural Policy, the EU's giant farm subsidy programme, which has historically been defended by France and its powerful agricultural lobbies.
Macron is desperate for German Chancellor Angela Merkel's endorsement of his reform agenda, but his plans were dealt a blow by shock election results that saw the anti-immigration, eurosceptic Alternative for Germany emerge as the country's third-largest party.
Merkel must now try form a government that is likely to include the Free Democratic Party (FDP), whose leader is an outspoken critic of Macron's European agenda and has said a eurozone budget would be a "red line".
Macron appeared to respond to FDP chief Christian Lindner directly on Tuesday, saying: "I don't have red lines, I only have horizons."
Macron used the Sorbonne speech to argue the case for institutional changes, initiatives to promote the EU, and new ventures in the technology, defence and energy sectors.
Along with Brexit and the German elections, Macron's proposals are likely to top the agenda at a two-day summit of all 28 EU members in Estonia from Thursday.
Cooperation from Germany — the other half of the so-called "Franco-German motor" at the heart of the bloc — is essential, though Macron will also need to convince other European partners.
Over the next few months, analysts say they expect Merkel will try to form a coalition led by her conservative CDU/CSU with the pro-business FDP and the ecologist Greens.
French officials considered that now was the best time to intervene in the German debate, before a coalition contract is drawn up between the different parties setting out their roadmap for the four-year term.
"It's an opportunity we can't afford to miss," an official from the French presidency told a briefing on Monday.
The closest attention will be paid to the most sensitive parts of his plans from Berlin's perspective — his desire for a common eurozone budget to which Germany would be one of the main contributors.
Macron proposed introducing a tax to finance the budget.
Merkel has given tentative backing for a small common budget, but the FDP is staunchly opposed to German taxpayers sending any more money abroad to support weaker members of the eurozone such as Greece or Italy.
Macron's past support for common eurozone bonds enabling the bloc to raise money collectively — member states currently raise their own cash — is also a highly sensitive issue in Germany.
"The debate launched by the French president is being followed with some exasperation in the chancellor's office," the conservative Frankfurter Allgemeine Zeitung newspaper wrote at the weekend.
"He talks about solutions before the question has even been properly discussed," the paper added, accusing him of "putting the cart before the horse".
Related Articles
Apr 17,2018
STRASBOURG, France, — French President Emmanuel Macron warned on Tuesday that divisions between democracy and authoritarianism in Europe wer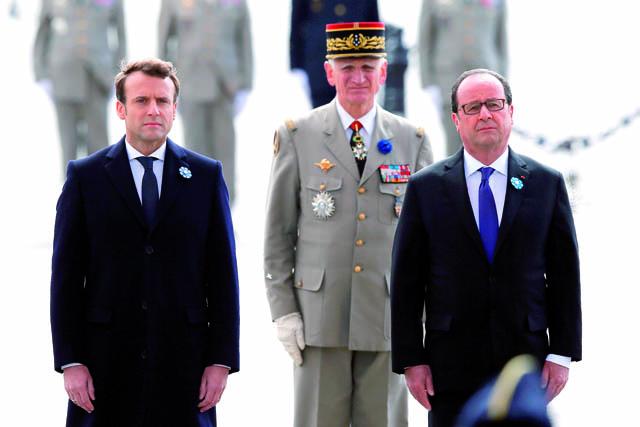 May 08,2017
BERLIN — The election victory of French pro-EU centrist Emmanuel Macron has raised hopes among liberal democrats that the populist and anti-
Oct 08,2017
BERLIN — Two weeks after winning elections with a reduced majority, German Chancellor Angela Merkel took a first step on Sunday toward formi
Newsletter
Get top stories and blog posts emailed to you each day.