You are here
Lukashenko says Russia has begun moving nuclear weapons to Belarus
By AFP - May 26,2023 - Last updated at May 26,2023
MOSCOW — Belarusian strongman Alexander Lukashenko said Thursday that Russia had begun moving nuclear weapons to its ally Belarus, after Russian leader Vladimir Putin announced plans to transfer them in March.
"The transfer of nuclear munitions has begun," Lukashenko said in an official video, adding it was "possible" that the weapons were already in his country.
Meanwhile, the head of Russia's Wagner mercenary group said on Thursday his troops had started transferring their positions in the flashpoint eastern Ukraine city of Bakhmut to the Russian military.
His announcement comes days after Moscow's military said it had deployed jets and artillery on Russian soil against a "sabotage" group that crossed from Ukraine.
The Kremlin said, meanwhile, that China's special envoy for Ukraine would be visiting Russia on Friday as part of a tour of European capitals including Kyiv.
The battle for Bakhmut has raged for nearly one year, levelling the city and decimating waves of Wagner recruits who have led Russia's assault on the industrial hub.
"We are withdrawing units from Bakhmut today. We are handing over positions to the military, ammunition and everything," Wagner boss Yevgeny Prigozhin said in a video released on social media.
"We pull back, we rest, we prepare and then we will get new tasks," added Prigozhin, who was dressed in tactical body armour and a military helmet.
Earlier this week, he conceded that around 10,000 prisoners he had recruited to fight in Ukraine had been killed on the battlefield.
The 61-year-old Kremlin ally toured Russian prisons last year to persuade inmates to fight with Wagner in exchange for a promised amnesty on their return, should they survive.
Drone barrage
Prigozhin's announcement came shortly after Ukrainian President Volodymyr Zelensky accused Russia of again terrorising Ukrainians by launching a wave of Iranian-made attack drones at targets across his country.
"The enemy continued to terrorise Ukraine by launching 36 Shaheds. None reached their target," Zelensky said in a social media post.
"I'm grateful to our air defence forces for the 100 per cent result."
The Ukrainian military said Russia was probably targeting key infrastructure and military facilities in the western regions of Ukraine.
Russia subjected Ukraine to a campaign of aerial bombardments on infrastructure including energy facilities during the winter months but these attacks diminished recently.
And Kyiv has become increasingly adept at taking down waves of Russian cruise missiles and drones after appealing to Western allies for greater air defence capabilities.
Russian-installed authorities in the Crimean peninsula meanwhile announced their air defence systems had intercepted several drones targeting various parts of the territory annexed from Ukraine in 2014.
"Six drones were shot down or blocked... in different parts of Crimea," Governor Sergei Aksyonov announced on social media, adding that no-one had been injured in the attack.
Separately, Russia's FSB security service said it had arrested two Ukrainians who had allegedly planned to target nuclear power plants in the country.
The aim was to cause "serious economic harm to Russia and damage its reputation", the FSB alleged in a statement carried by Russian news agencies.
Also on Thursday, Russia's foreign ministry announced a visit to Moscow by China's special envoy for Ukraine, Li Hui, who has been touring European capitals.
His visit to the Russian capital, where he is expected to meet Foreign Minister Sergei Lavrov on Friday, comes after Li met Zelensky in Kyiv.
Li has said there is "no panacea to resolve the crisis".
Russia and China have close relations.
President Xi Jinping visited Moscow in March and said ties were "entering a new era".
And while China says it is a neutral party in the Ukraine conflict, it has been criticised for refusing to condemn Moscow for its offensive.
Related Articles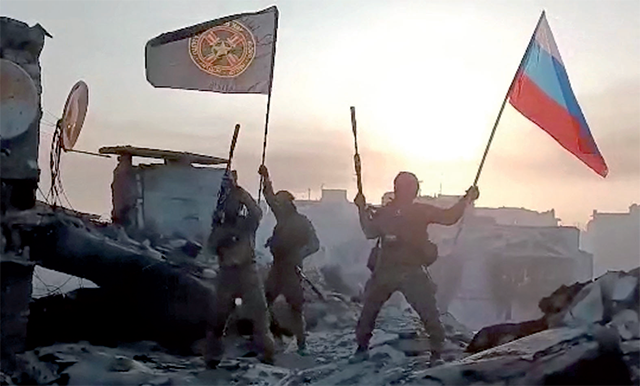 May 22,2023
KYIV — Ukrainian President Volodymyr Zelensky said Sunday that Bakhmut was "not occupied" by Moscow, while the head of Russia's Wagner group
Jun 25,2023
MOSCOW — The rebel Wagner mercenary force threatened to march on Moscow on Saturday before announcing a stunning pull-back, as Kyiv seized o
Mar 07,2023
KYIV — The Russian army on Tuesday vowed to capture the east Ukrainian town of Bakhmut, a symbolic prize in months of fierce combat, as a pr