You are here
Japan PM Abe begins new term with vow to increase North Korea pressure
Japan's 'twin crises' are North Korea and shrinking birth rate — Abe
By AFP - Nov 01,2017 - Last updated at Nov 01,2017
Japan's Prime Minister Shinzo Abe bows at a news conference after deciding on his Cabinet following parliament reconvening after the general election, at his official residence in Tokyo, Japan, on Wednesday (AFP photo)
TOKYO — A newly reelected Japanese Prime Minister Shinzo Abe on Wednesday pledged increasing pressure on North Korea to force the nuclear-armed country to the negotiating table, days before a visit by US President Donald Trump expected to be dominated by the threat from Pyongyang.
Kicking off a fresh term in office after he was formally re-elected by parliament, Abe hailed his recent thumping election victory as a means to further squeeze a North Korean regime that has alarmed the region with missile launches and a sixth nuclear test in recent months.
"A strong mandate from the people is a source of strong diplomacy," Abe told a press conference on Wednesday, adding that a tough line could persuade Pyongyang to ask for negotiations.
"When President Trump visits Japan, we will spend sufficient time analysing the latest North Korean issues and discussing ways to deal with them," Abe said.
Signs of any message by Trump to the North will be closely watched during his Asian tour, which begins at the weekend and will see him visit Tokyo from Sunday through Tuesday. Trump will also visit South Korea, China, Vietnam and the Philippines.
During his election campaign Abe, a staunch conservative, stressed the need for strong leadership to deal with what he called Japan's "twin crises": a shrinking birth rate and the actions of a belligerent and nuclear-armed North Korea, which has sent missiles over northern Japan in recent months.
Abe's super majority
Abe's conservative Liberal Democratic Party swept to a two-thirds "super majority" in the 465-seat lower house on October 22. He was reinstated as premier by a huge majority on Wednesday and then reappointed all of his Cabinet ministers.
The 63-year-old is now on track to become Japan's longest-serving premier.
Abe now has the parliamentary numbers to start a process to change Japan's pacifist constitution — an ambition he has long cherished.
But he told reporters he will move cautiously on the divisive issue, saying that he will first seek an open discussion on the subject.
Abe also said he will improve the nation's productivity, offer free early childhood education and expand childcare support.
Despite his October poll victory, Abe's popularity ratings are relatively low and most observers attribute his election success to a weak and fractured opposition.
The main opposition party, the Democratic Party (DP), effectively disbanded after Tokyo Governor Yuriko Koike launched a new conservative group and vowed to do away with "old school politics".
Several DP lawmakers defected to Koike's new "Party of Hope" and the more left-leaning MPs formed a new party, the Constitutional Democrats.
In the end, Koike's support imploded, mainly because she failed to stand herself in the election — confusing voters who did not know who would be premier if she won.
The Party of Hope finished with a mere 50 seats while the Constitutional Democrats won 55.
They were both dwarfed by Abe's conservative coalition, which secured 313 lower house seats, obtaining the "super majority" required to change the constitution.
Related Articles
Oct 22,2017
TOKYO — Japanese Prime Minister Shinzo Abe swept to a resounding victory in a snap election Sunday and immediately vowed to "deal firmly" wi
Mar 08,2017
TOKYO — Rattled by North Korean military advances, influential Japanese lawmakers are pushing harder for Japan to develop the ability to str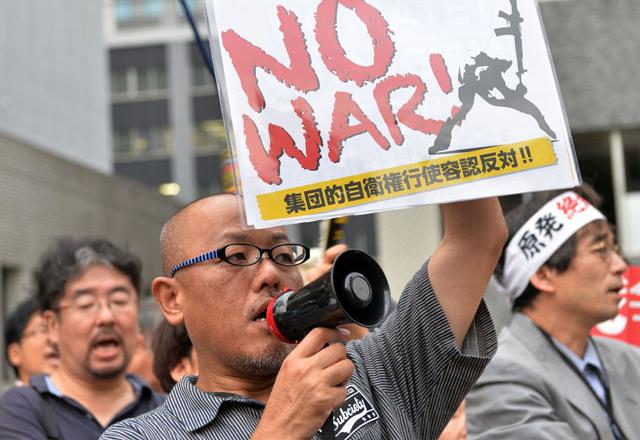 Jun 30,2014
Pacifist Japan is pressing ahead with divisive plans to loosen restrictions on its military, a top government spokesman said Monday, despite widespread public anger and a protester's horrific suicide bid.
Newsletter
Get top stories and blog posts emailed to you each day.