You are here
India becomes 1st country to land spacecraft on Moon's south pole
By JT - Aug 24,2023 - Last updated at Aug 24,2023
A view of India's Chandrayaan-3 spacecraft (Photo courtesy of the Indian Embassy in Amman)
AMMAN — India's Chandrayaan-3 spacecraft successfully soft-landed on the Moon's south pole on Wednesday, August 23, 2023, becoming only the fourth country to achieve the feat of soft landing on the moon and the first ever country to reach the lunar south pole.
The Lunar south pole is considered an area of key scientific interest for spacefaring nations, as scientists believe the region could hold vital reserves of frozen water. India's lunar mission, which was launched on July 14, 2023 from Sriharikota (Andhra Pradesh), consists of a lander, a rover, and an orbiter.
The rover is expected to explore the lunar surface for up to 14 days, providing vital data to the scientific community on various properties of Lunar soil and rocks, including chemical and elemental composition, according to a statement from the Indian Embassy in Amman.
In a statement, Prime Minister of India Narendra Modi congratulated the Indian Space Research Organisation (ISRO) on the successful mission, stressing that science and technology are the foundation of a bright future for India. He noted that the historic achievement was not India's alone, and instead represents a shared success which belongs to all of humanity. Modi noted that the achievement will help future moon missions by other countries, including those from the global south.
Related Articles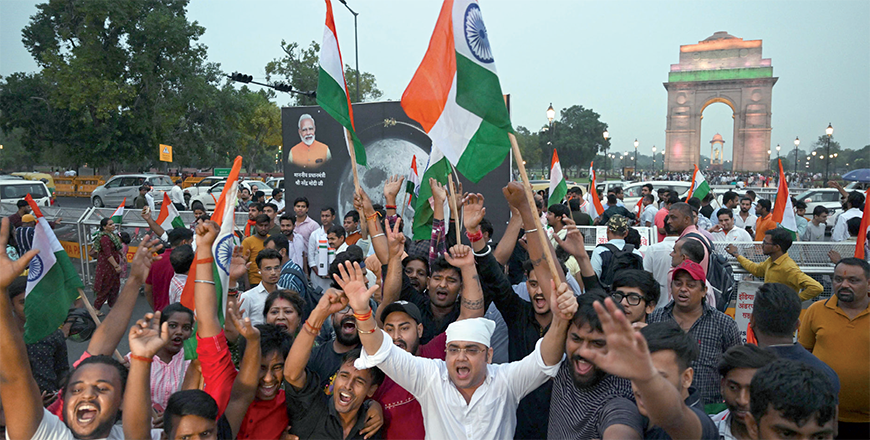 Aug 24,2023
BENGALURU, India — India on Wednesday became the first nation to land a craft near the Moon's south pole, a historic triumph for the world's
Aug 28,2023
NEW DELHI — Days after becoming the first nation to land a craft near the Moon's largely unexplored south pole, India's space agency said on
Jun 30,2014
Newly elected Prime Minister Narendra Modi made a pitch for India to be the world's low-cost space technology supplier after witnessing the launch of a rocket carrying five satellites from France, Singapore, Germany and Canada on Monday.