You are here
Giuseppe Conte approved for Italian prime minister
By AFP - May 23,2018 - Last updated at May 23,2018
Newly appointed Italy Prime Minister Giuseppe Conte arrives to speaks with media after the consultation with the Italian President Sergio Mattarella at the Quirinal Palace in Rome, Italy, on Wednesday (Reuters photo)
ROME — Italy's president on Wednesday approved little-known lawyer Giuseppe Conte's nomination to be prime minister of a government formed by far-right and anti-establishment parties.
Conte's appointment could herald an end to more than two months of political uncertainty in the eurozone's third-biggest economy — but the coalition's eurosceptic and anti-immigrant stance has alarmed senior European officials.
President Sergio Mattarella met on Wednesday afternoon with Conte, "to whom he gave the mandate to form a government", said Ugo Zampetti, general secretary of the Italian presidency.
The talks with the president had been delayed amid a furore over claims that Conte had exaggerated his academic experience on his CV.
He must now finalise his cabinet, which has been the subject of days of tough negotiations between the anti-establishment Five Star Movement and the far-right League.
The list of ministerial candidates must then be endorsed by head-of-state Mattarella before it can seek parliamentary approval.
Italian media reported that League chief Matteo Salvini would become interior minister while Five Star leader Luigi Di Maio will be in charge of the economic development ministry.
EU concerns
Mattarella was reportedly concerned about the plan to name Paolo Savona as economy minister.
Minister for industry between 1993-94, Savona, 81, was staunchly opposed to the signing of the Maastricht Treaty and has said he considers the euro currency a "German cage".
The joint government programme unveiled by the parties on Friday pledges significant anti-austerity measures such as drastic tax cuts, a monthly basic income and pension reform rollbacks, which Di Maio and Salvini claim will boost growth.
But it poses a headache for EU officials who are nervous about the prospective coalition government's eurosceptic stance.
EU officials have voiced concern that Italy could trigger a new eurozone crisis by refusing to stick to public spending and debt targets set by Brussels.
Pierre Moscovici, the EU Economic Affairs Commissioner, said on Wednesday that Italy must deliver a "credible" response on how it will reduce its debt, the eurozone's second largest in proportion to GDP.
The Milan stock exchange lost 1.31 per cent on Wednesday.
The difference in yield on Italian ten-year sovereign bonds compared to Germany's has increased 60 base points to 191 in just eight days — a sign of increasing investor concern for Italy's financial stability.
The government programme also plans to speed up expulsions of illegal immigrants and crack down on trafficking.
Nearly 700,000 people have landed in Italy since the migrant crisis exploded in 2013.
European Commission President Jean-Claude Juncker told reporters in Brussels: "We judge governments as governments not on what they announce but on what they will do. But we remain attentive to safeguard the rights of the Africans who are in Italy."
Related Articles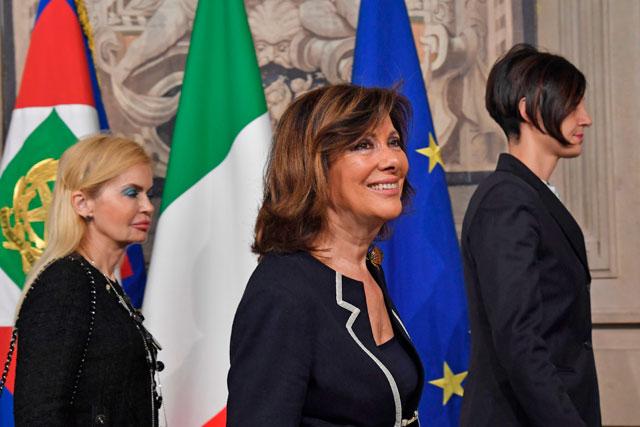 May 22,2018
ROME — Italy's president was tasked on Tuesday with deciding whether to approve little-known lawyer Giuseppe Conte as prime minister of a co
May 28,2018
ROME — Italy's president set the country on a path back to fresh elections on Monday, appointing a former International Monetary Fund offici
May 15,2018
ROME — Italy's far-right League, struggling to stitch together a coalition deal with the anti-establishment 5-Star Movement, said on Tuesday
Newsletter
Get top stories and blog posts emailed to you each day.