You are here
German prosecutors file for extradition of ex-Catalan leader Puigdemont
By Reuters - Apr 04,2018 - Last updated at Apr 04,2018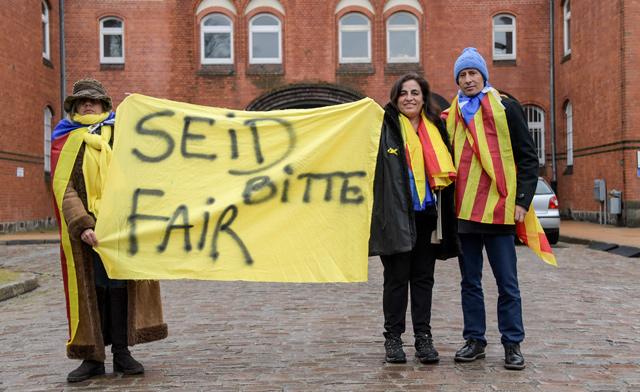 Protesters wearing Catalan pro-independence Estelada flags hold a banner reading 'Please be fair' in front of the prison in Neumuenster, northern Germany, where former Catalan regional president Carles Puigdemont is detained, on Tuesday (AFP photo)
BERLIN — German prosecutors filed a request to a regional court on Tuesday for the extradition of former Catalan president Carles Puigdemont to Spain, where he faces charges of rebellion over the region's campaign for independence.
The move is a further blow to Puigdemont, who has been held in prison in the northern German town of Neumuenster for just over a week after being arrested in Germany on March 25 soon after crossing the border from Denmark.
Puigdemont is being held in normal prison conditions, along with other suspected criminals, according to people who have visited the former Catalan president.
His detention leaves the independence movement weaker than it has been in years, with almost all its leaders behind bars before trial or in exile.
Prosecutors in the state of Schleswig-Holstein said Spain's extradition request was admissible because accusations of rebellion included carrying out an anti-constitutional referendum which could cause violent clashes.
"This has a comparable equivalent in German law," said the prosecutors in a statement, adding that in Germany this counted as high treason.
They said the Spanish charge of misuse of public money — for an unconstitutional referendum — could also be punished in Germany.
Prosecutors argued that Puigdemont, 55, should be detained as there was a danger he would try to escape.
He fled Spain five months ago for Belgium after Spanish Prime Minister Mariano Rajoy dismissed his regional administration and imposed direct rule from Madrid in response to the Catalan parliament declaring independence.
The charges, made via a European arrest warrant issued by Spain, over the organising of an illegal referendum on independence in October, could lead to 25 years behind bars. Asked about the decision at a news conference in Algiers, Rajoy said Spain would respect the decision of German courts.
"We are countries that deeply respect the rule of law... and the separation of powers," he said.
German government stays out
The German government has rejected calls from Puigdemont's lawyer to get involved. "It is in the hands of the courts," a justice ministry spokesman said.
Puigdemont's lawyers argue that a referendum is not a criminal offence.
"Carles Puigdemont and his lawyers are confident there will be an independent and appropriate assessment by the regional high court to which they will present detailed objections to the extradition," his lawyer, Till Dunckel, said in a statement.
On Monday, Puigdemont appealed against the charge of rebellion in Spain's supreme court, saying he did not commit any acts of violence to justify this. He also appealed against the charge of mis-use of public funds.
A spokeswoman for the Higher Regional Court in Schleswig said work had started on the case. She declined to put a time on its decision, but said she did not expect it to take months.
Initially, the court will decide on whether to issue an extradition arrest warrant.
"If the two criteria are fulfilled — that an extradition does not immediately appear inadmissable and that there is reason for arrest — that is a danger of flight — then the conditions for an arrest warrant are met," she said.
The Spanish court aims to try a total of 25 Catalan leaders for rebellion and other charges. International arrest warrants are active against four other politicians who fled abroad last year, including Clara Ponsati, a former Catalan education minister who is fighting extradition from her home in Scotland.
Five separatist leaders are in jail in Spain pending trial. They all deny any wrongdoing.
The Catalans say they will not get a fair trial in Spain and are being prosecuted for their political beliefs. Spain denies this and says their actions violated the Spanish constitution.
Related Articles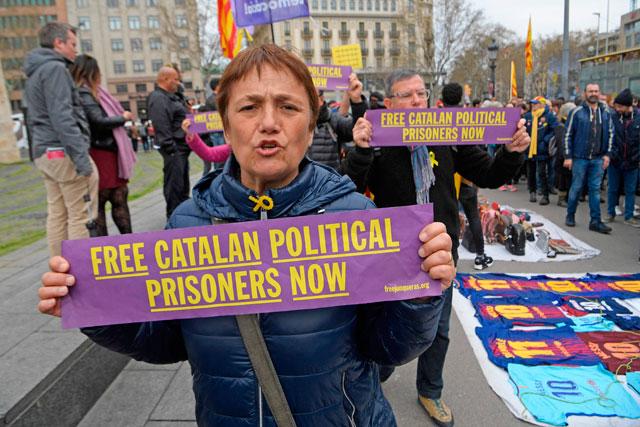 Mar 25,2018
BERLIN — German police on Sunday arrested Catalonia's former president Carles Puigdemont, as he crossed the border to Denmark by car after S
Nov 07,2017
MADRID — Catalonia's deposed leader Carles Puigdemont urged the region's political forces on Tuesday to unite against Spain, as a window for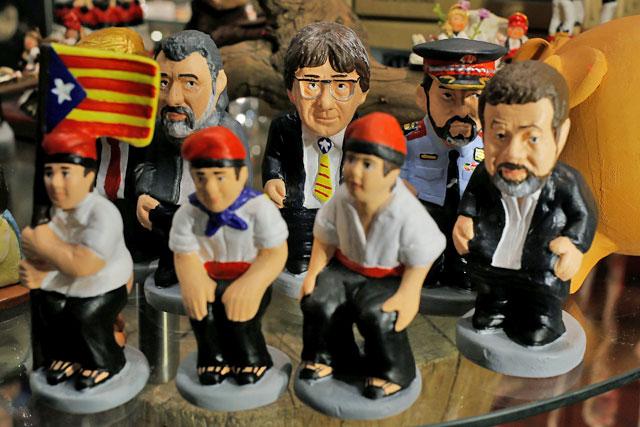 Dec 23,2017
BARCELONA — Ousted Catalan president Carles Puigdemont was weighing up whether to return to the region, where he faces arrest, close aides s
Newsletter
Get top stories and blog posts emailed to you each day.