You are here
Daesh claims deadly attack on Karachi Shiites
By AFP - May 13,2015 - Last updated at May 13,2015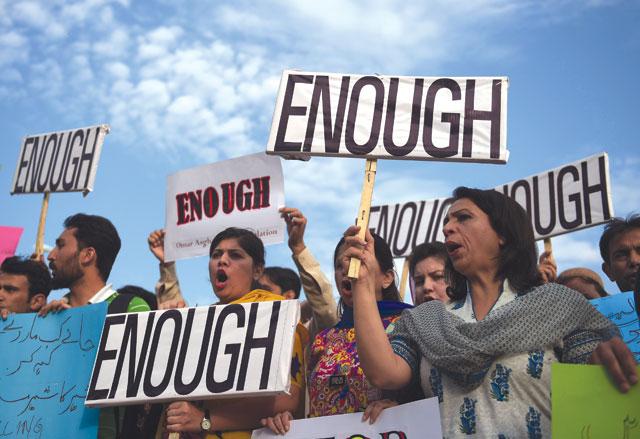 Karachi, Pakistan — Pistol-wielding gunmen in Pakistan's biggest city Karachi Wednesday stormed a bus carrying members of the Shiite Ismaili minority, killing at least 43 in the first attack in the country officially claimed by the Daesh terror group.
Daesh claims, posted on Twitter, are set to raise fears over the Middle East-based jihadists' growing influence after they announced in January the creation of a branch in what they called "Khorasan province", encompassing Afghanistan, Pakistan and parts of surrounding countries.
"Thanks be to Allah, 43 apostates were killed and around 30 were wounded in an attack carried out by Daesh soldiers on a bus transporting Shiite Ismaili infidels in the city of Karachi," the extremist group said in an Arabic statement, citing a higher number of injured than Pakistani officials.
Pakistani police also found leaflets claiming Daesh responsibility at the scene of the attack in the city's eastern Malir district, while the homegrown Jundullah militant faction which some analysts suspect of having ties to Daesh made a separate claim of responsibility to AFP.
Pakistan has experienced a rising tide of sectarian violence in recent years, particularly against Shiites, who make up around 20 per cent of the country's predominantly Muslim population of 200 million.
"According to the initial information which we have received from hospitals, 43 people have been killed and 13 wounded," Ghulam Haider Jamali, police chief of Sindh province told reporters at the site in the eastern district of Malir.
"Six terrorists came on three motorcycles, they entered the bus and began firing indiscriminately. They used 9mm pistols and all those killed and injured were hit by the 9mm pistols," he said.
Prince Karim Aga Khan, the spiritual leader of the world Ismaili community, confirmed the toll in a statement sent by his office in France.
"This attack represents a senseless act of violence against a peaceful community," the philanthropist and business magnate said.
The killings were also condemned by Prime Minister Nawaz Sharif, while the provincial government announced a day of mourning Thursday.
Daesh threat
There have been concerns recently about the Daesh group tapping support in Pakistan, a country awash with dozens of militant groups.
Leaflets calling for support of Daesh jihadists have been seen over recent months in parts of northwest Pakistan and pro-Daesh slogans have appeared on walls in several cities, but Wednesday's claims are the first to be made by the group on an official level.
A spokesman for the Jundullah militant faction, which has claimed several major attacks in the past including one on a church in Peshawar that killed 81 Christians in 2013, also said his group was responsible for storming the bus.
Speaking over the phone from an undisclosed location, Ahmed Marwat said: "Shiites and Ahmadis are unbelievers, they are apostates and deserved death."
Little is known about Jundullah, its strength, or its organisational structure, but it is believed to be based out of the country's tribal areas and parts of Karachi.
According to security analyst Amir Rana, the shadowy group has pledged its allegiance to Daesh in the past.
"Jundullah is the group who at the very initial state had shown its allegiance to Daesh, or Islamic State, and it has a lot of inspiration from the group.
"And this was the same group who had claimed that they were going to be setting up an IS-style caliphate in the country."
'Kill them all'
At the city's Memon Hospital Institute, where most of the wounded were rushed, crying relatives formed a human chain outside the main building to keep onlookers away.
A sobbing middle-aged man told AFP: "I have come to collect the body of my young son. He was a student preparing for his first year exams at college."
The bus itself, which had been driven after the attack to the hospital, was blood-drenched and riddled with bullet holes.
One female survivor who asked to remain anonymous described the attackers as being clean-shaven and dressed in Western attire, according to a male nurse who spoke to her.
The passengers were instructed to bow their heads as one attacker shouted 'Kill them all', the nurse quoted the survivor as saying.
"One attacker mentioned there were two kids on board and the other told them to let them live," she told the nurse.
Wednesday's attack was the second deadliest in Pakistan this year after 62 Shiite Muslims were killed in a suicide bombing in late January.
Karachi, a sprawling city of roughly 20 million, has long had a reputation for high crime rates as well as ethnic, political and sectarian violence.
But the violence has fallen significantly since 2013 after police and paramilitary rangers launched a crackdown that rights activists say has led to extra-judicial killings of suspected criminals and militants.
up
6 users have voted, including you.
Related Articles
Feb 03,2014
At least 85 people were killed in 24 hours of Syrian regime air raids on the city of Aleppo, a monitoring group said Sunday, after 10 days of inconclusive peace talks.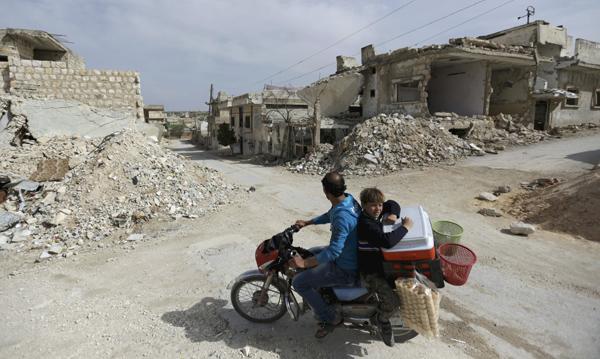 Mar 19,2016
BEIRUT — A wave of air strikes killed at least 39 civilians on Saturday in Raqqa, the main stronghold of the Daesh terror group in Syria, a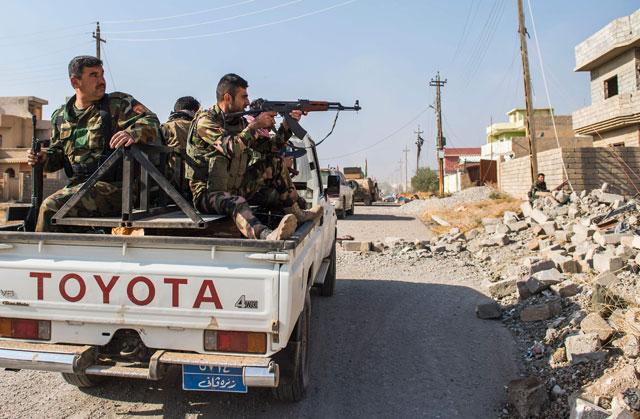 Nov 10,2016
AIN ISSA, Syria — US-backed forces pressed offensives Wednesday on Daesh strongholds in Syria and Iraq, as an air strike by the American-led
Newsletter
Get top stories and blog posts emailed to you each day.