You are here
Boko Haram says kidnapped schoolgirls 'married off'
By AFP - Nov 01,2014 - Last updated at Nov 01,2014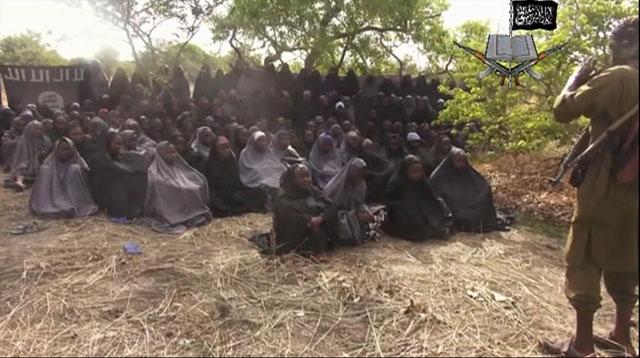 KANO, Nigeria — Boko Haram has claimed that the 219 schoolgirls it kidnapped more than six months ago have converted to Islam and been "married off", shocking their families and confirming their suspicions about a supposed ceasefire and deal for their release.
The Islamist group's leader, Abubakar Shekau, made the claim in a new video obtained by AFP on Friday in which he also denied government assertions of an agreement to end hostilities and peace talks.
The mention of the girls, who were abducted from the remote northeastern town of Chibok on April 14, is the first by Shekau since May 5, when about 100 of the teenagers were shown on camera.
Then, the girls were seen wearing the hijab and reciting verses from the Koran. The militant leader said then that not all had converted.
But he indicated that all of those held had now become Muslims and married, chiming with testimony from former hostages who say forced marriage and conversion is commonplace in Boko Haram camps.
"Don't you know the over 200 Chibok schoolgirls have converted to Islam? They have now memorised two chapters of the Koran," he said.
Shekau previously threatened to sell the girls as slave brides and also suggested he would be prepared to release them in exchange for Boko Haram prisoners.
In the latest message, he said while laughing: "We have married them off. They are in their marital homes."
The head of the Chibok Elders Forum, Pogo Bitrus, said on Saturday: "It [the claim about marriage] is shocking to us, although we know that Boko Haram is not a reliable group."
"We were sceptical about the talks to release our girls and we never took the ceasefire seriously because since the announcement, they have never stopped attacking communities.
"Therefore the information that our girls have been married off is not surprising to us," said Bitrus, whose four nieces are among the hostages.
"We are only hoping the government will step up whatever efforts it is making to quell the insurgency."
Nigeria's government said on October 17 that they had reached a deal to end five years of deadly violence in the country's far northeast, as well as agreement to release the Chibok girls.
But violence has continued unabated, including a triple bomb attack on a bus station in the northern city of Gombe on Friday, which killed at least eight and injured dozens more.
Last weekend, about 30 children — some of them girls as young as 11 and boys aged 13 upwards — were abducted from another village in Borno state.
At least 40 women were abducted the previous weekend not far from Chibok.
Human Rights Watch said in a report published this week that upwards of 500 women and girls had been abducted since 2009, although some put the figure at more than 1,000.
Forced conscription of boys and young men is also a common tactic.
Shekau's claim about the girls will give little cheer to supporters around the world, who mobilised for a social media campaign and street protests calling for their release.
But back channel talks are stalled and he appeared to also rule out any negotiations.
"We have not made ceasefire with anyone," he said in Hausa in the 12-minute video, flanked by 15 armed fighters in an undisclosed scrubland location.
"We did not negotiate with anyone... It's a lie. It's a lie. We will not negotiate. What is our business with negotiation? Allah said we should not."
He also said he did not know Ahmadu Danladi, whom the government claimed was a Boko Haram envoy and had been present at supposed talks in the Chadian capital, Ndjamena.
German hostage
The latest video also saw Boko Haram claim responsibility for the kidnapping of a German national from the northeastern state of Adamawa on July 16.
Armed gunmen seized the man, who was said to be a teacher at a government school, after apparently lying in wait outside his house.
The German foreign ministry in Berlin said it did not want to comment.
Kidnapping for ransom by armed gangs is common in Nigeria's wealthier, oil-producing south and just this week, another German national working for a construction was released after being seized.
His colleague, also German, was shot dead.
In the Adamawa kidnapping, suspicion immediately fell on Boko Haram, whose name translates roughly from Hausa as "Western education is forbidden".
They have previously attacked students, teachers and schools perceived to have a Western-style curriculum.
Related Articles
Apr 14,2015
Nigeria's president-elect Muhammadu Buhari on Tuesday cautioned he could not make promises on the return of 219 schoolgirls kidnapped by Boko Haram, as the country marked the first anniversary of their abduction.
May 12,2014
Boko Haram's leader said in a new video obtained by AFP on Monday that more than 200 abducted Nigerian schoolgirls would only be released if the government freed militant fighters from custody.
May 13,2014
Manned US aircraft were flying over Nigeria on Tuesday, searching for over 200 schoolgirls abducted by Boko Haram Islamists after Abuja dismissed a prisoner-swap offer from the militants.
Newsletter
Get top stories and blog posts emailed to you each day.