You are here
Biden urges UN to authorise international security mission in Haiti
By AFP - Sep 20,2023 - Last updated at Sep 20,2023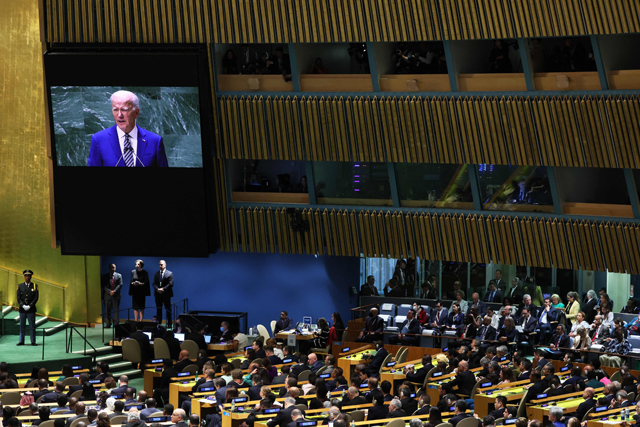 US President Joe Biden is seen speaking on a screen during the United Nations General Assembly at the United Nations headquarters on Tuesday in New York City (AFP photo)
UNITED NATIONS — US President Joe Biden urged the United Nations on Tuesday to authorise a multinational "security support mission" led by Kenya to deal with gangs in strife-torn Haiti.
"I call on the Security Council to authorise this mission now. The people of Haiti cannot wait much longer," Biden told the UN General Assembly in New York.
Haitian authorities and UN Secretary-General Antonio Guterres have been pleading for months for a deployment to the Caribbean country, which is sinking under compounding humanitarian, political and security crises that have overwhelmed its weak government and security forces.
Many countries have been hesitant to step in, partly out of fear of finding themselves in a bloody quagmire.
In late July, however, Kenya announced it was willing to head a multinational police intervention to train and assist the Haitian police, with Nairobi pledging 1,000 officers.
The mission would need a greenlight from the Security Council, even though it wouldn't be deploying under the flag of the UN.
The Security Council began negotiations on the issue earlier this month.
More than 2,400 people have been killed in Haiti since the start of 2023 amid rampant gang violence, the UN said earlier this month.
Gangs control roughly 80 per cent of the capital, and violent crimes have soared, including kidnappings for ransom, carjackings, rape and armed theft.
Related Articles
Oct 04,2023
UNITED NATIONS — The United Nations Security Council on Monday approved a Kenyan-led mission aiming to bring stability to Haiti, a year afte
Jul 01,2023
PORT-AU-PRINCE — UN Secretary-General Antonio Guterres arrived in Haiti on Saturday for a lightning visit, saying "this is not the tim
Oct 09,2021
PORT-AU-PRINCE — Haiti has denounced what it said were "racist" remarks from former US president Donald Trump that migrants from the island