You are here
Armenia, Azerbaijan leaders meet in Brussels as tensions simmer
By AFP - May 14,2023 - Last updated at May 14,2023
BRUSSELS — Armenia and Azerbaijan's leaders met Sunday for talks in Brussels amid heightened tensions on the tense border between the two countries over control of a contested enclave.
The talks between Armenian Prime Minister Nikol Pashinyan and Azerbaijani President Ilham Aliyev are being hosted by European Council President Charles Michel.
The meeting, the fifth of its kind under European mediation, began shortly after 1:00 pm (1100 GMT), Michel's spokesman said.
Michel held bilateral talks with Pashinyan on Saturday evening and with Aliyev on Sunday morning.
The talks come a day after fresh clashes erupted on the border between the two Caucasus countries.
On Friday, the Armenian government announced that one Armenian soldier had been killed and two others wounded by Azerbaijani forces.
On Thursday, an Azerbaijani soldier was killed and four Armenian soldiers wounded in other clashes.
Pashinyan accused Azerbaijan of seeking to "undermine the talks" in Brussels and said there was "very little" chance of signing a peace accord with Aliyev during the meeting.
The neighbours fought two wars in the early 1990s and 2020 over control of Nagorno-Karabakh, a mountainous region mostly populated by Armenians that seceded from Azerbaijan more than three decades ago.
After a brief war that saw Azerbaijan retake territory in the separatist region in the autumn of 2020, Baku and Yerevan agreed to a ceasefire brokered by Russia.
Russian peacekeepers have since been deployed in Nagorno Karabakh, but Armenia has complained for several months that they are ineffective.
Tensions flared recently when Baku announced on April 23 that it had set up a first road checkpoint at the entrance to the Lachin corridor, the only route linking Armenia to the separatist enclave.
It is already under a blockade that has caused shortages and power cuts.
Related Articles
Sep 14,2022
YEREVAN — Armenia said on Tuesday that nearly 50 of its soldiers had been killed in the worst clashes with Azerbaijan since their war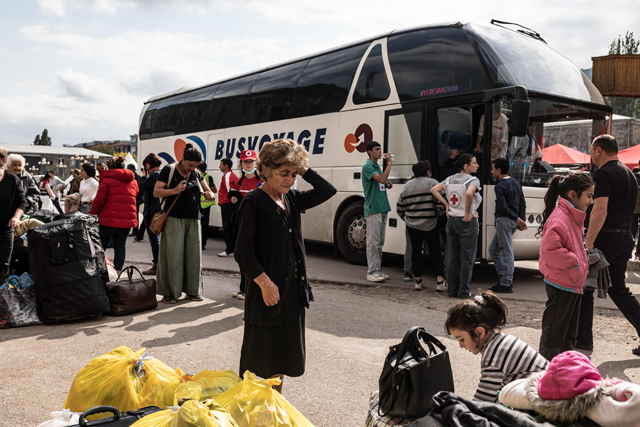 Oct 01,2023
LACHIN, Azerbaijan — A United Nations mission arrived in Nagorno Karabakh on Sunday, Azerbaijan said, after almost the entire ethnic-Armenia
Sep 15,2022
YEREVAN — Azerbaijan on Wednesday offered to return the bodies 100 Armenian troops killed in the worst clashes between the historic rivals s