You are here
'Syrian refugee crisis poses major threats to world security'
By Laila Azzeh - May 23,2015 - Last updated at May 23,2015
Panellists take part in the 'Responding to the Refugee Crisis' session at the World Economic Forum on the Middle East and North Africa on Saturday (Reuters photo)
DEAD SEA — Jordan is witnessing a "serious demographic shift" with Syrians now constituting nearly 20 per cent of the population, a government official said Saturday.
With more than 92 per cent of the 1.4 million Syrians in Jordan residing outside refugee camps, the challenges are "peaking" in a country that was already struggling economically before the start of the Syrian refugee influx, Planning and International Cooperation Minister Imad Fakhoury said at the World Economic Forum (WEF) on the Middle East and North Africa.
Taking part in the "Responding to the Refugee Crisis" session, Fakhoury added that at least 120,000 Syrians are working in Jordan, less than 4 per cent of whom have legal work permits.
Panellists at the session agreed that the Syrian refugee crisis is no longer a humanitarian matter, but a multifaceted issue that is posing serious threats to world security.
"We are witnessing a crisis that represents the worst humanitarian drama since World War II. The number of registered Syrian refugees reached 4 million in the neighbouring countries with much more unregistered in Jordan and Lebanon," said UN High Commissioner for Refugees António Guterres.
Noting that the refugee issue is no longer a humanitarian matter, but a structural problem in health, education and overall infrastructure, he said about 40 per cent of the basic needs of refugees in the region were not met last year.
"Development mechanisms in the world do not consider middle-income countries like Jordan and Lebanon to be worthy of their support. That means that these host countries do not benefit from the development system," Guterres noted.
Fakhoury said Jordan is being "penalised" for its development gains over decades that allowed it to become an upper-middle income country.
It is a matter of self-interest for the international community to stand in solidarity with Jordan, Guterres stressed.
Struggles in refugee host countries like Jordan, Lebanon and Turkey are destined to endure will deepen if no international intervention is available, the UN official warned.
Former UK prime minister Gordon Brown noted that 2 million Syrian children are currently out of school, making them vulnerable to trafficking, child-marriage and child labour.
"A generation of young people has lost out. This builds problems that have to be dealt with in the future," noted Brown, who chairs the WEF Global Strategic Infrastructure Initiative.
"Rich countries should be persuaded to do more… there is a sense that no matter what is being done, it is not enough and we have to awaken the world and put pressure on governments and agencies to release their resources to solve the refugee issue."
Guterres highlighted that the one way to address the problem of education of refugees is not to create a parallel educational system, but invest in the national one.
Meanwhile, Elaine Weidman-Grunewald, vice president of Sustainability and Corporate Responsibility at Ericsson, spoke about the role the private sector can play in mitigating the impact of the refugee crisis.
"The role of the private sector is largely underutilised in the area of humanitarian response. Its role is seen as philanthropy and donation, but we can bring some solutions to many challenges," she said, citing a project implemented by the company in cooperation with Zain Jordan to use mobile technology to help refugees find each other.
Related Articles
May 23,2015
DEAD SEA — Much more solidarity with refugee-hosting countries like Jordan is needed from the international community as they are facing eno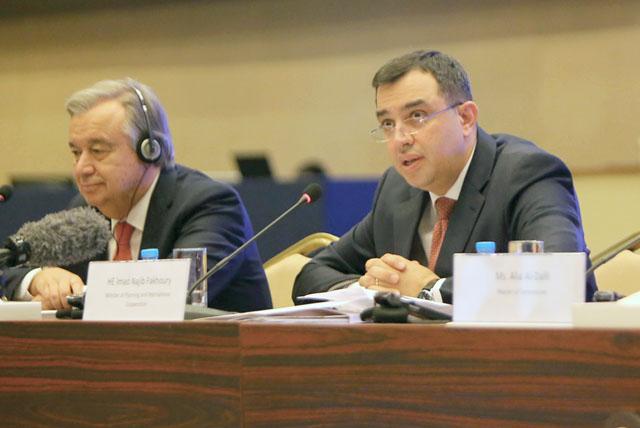 Mar 03,2015
The government has taken the lead in responding to the consequences of the Syrian crisis in order to help the international community coherently and effectively support the Kingdom, Planning Minister Imad Fakhoury said Tuesday.
Jul 05,2016
AMMAN — Jordan will host over 1,000 government and business leaders for the World Economic Forum (WEF) on the Middle East and North Africa i
Newsletter
Get top stories and blog posts emailed to you each day.