You are here
World Economic Forum opens with call to support youth
'Arab youth want a fair chance, to be heard and to make a difference' — Crown Prince
By Mohammad Ghazal - May 20,2017 - Last updated at May 20,2017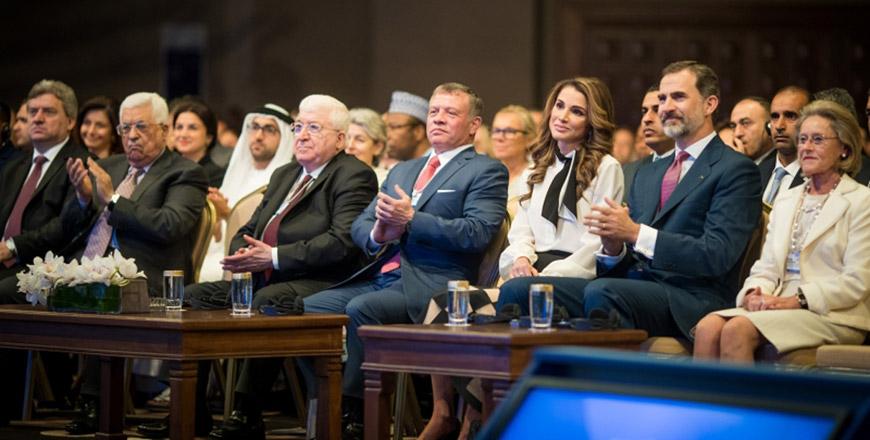 Their Majesties King Abdullah and Queen Rania attend the World Economic Forum, along with world leaders, at the Dead Sea on Saturday (Photo courtesy of Royal Court)
DEAD SEA — HRH Crown Prince Hussein on Saturday said Arab youth want a fair chance to be heard and to make a difference, stressing the need for financially and morally supporting young entrepreneurs in the region.
Addressing the World Economic Forum, which was inaugurated by His Majesty King Abdullah in the presence of Her Majesty Queen Rania, the Crown Prince highlighted the uniqueness of young people in the region, and their swift adoption of new technologies that contributed to successful start-ups.
"What Arab youth want is what youth everywhere wants: a fair chance, a chance to be heard, a chance to make a difference. What is unique to Arab youth, though, is a yearning and thirst that I have not seen anywhere else. Perhaps, that's because our dire circumstances make us cling more tightly to hope," Crown Prince Hussein said at the forum, which attracted over 1,100 political and business leaders from more than 50 countries.
"Our young people need a region-wide support system for opportunity, access, and hope. That is why your partnership — all of you in this hall — is so vital," he stated.
"For young people everywhere, including those who form the large majority in my region, transformation is the reality we were born into. For us, continuous innovation is part of the rhythm of life. We grew up embracing new technologies, apps, and processes that give us new ways to connect, learn, and work. Constant change is our status quo," he said.
Speaking at the forum, King Felipe VI of Spain and Iraqi President Fuad Massoum also stressed on the need for continued support to the youth, which they referred to as the "engine for growth and development".
"Like young people everywhere, the youth of the Middle East is living in this vast sea of change, but the region's particular waters are characterised by two opposing currents," the Crown Prince said, adding: "Both are forceful and potent, but each is pulling us towards drastically different shores".
"On one side is a treacherous tide, luring our youth towards a dark reality — one that sinks us deeper into violence, intolerance, and regression, through the corrosive power of an extremist ideology; the other transporting us to sunnier shores, where moderation sees our Muslim and Arab identities at peace with modernity and progress, a reality where we can be productive and positive contributors to the world around us," he added
"We are not drifters. When it comes to where the tide will take us, the choice is ours to make," Prince Hussein said.
Highlighting the tech-savvy aspect of the youth in the Middle East, the crown prince said: "Young people in our region are the heaviest users of social media and the Internet. We are the most likely to have smartphones. We are the gamers and the texters. We are the medical students who use the web to connect to global knowledge. We are the young entrepreneurs who build markets and scale up using digital tech."
He added that young people in the region are not solely adopters of technology.
"The youth of our region are not satisfied just to adopt and adapt global technology. Beyond being mere consumers, I am proud to say that — especially here in Jordan — you will meet young men and women who are spearheading innovation and change. They have produced new-era products and services, new Arabic-language web content, new ideas that can serve our region and our world. During the course of this forum, you will hear some of these innovators talk about their work and challenges," he said, referring to the participation of 21 Jordanian start-ups who were named in this forum among the 100 best in the region.
As everything, including markets, professions, trade and industry, technology and the skills needed to harness these changes are transforming, there is a need for people to keep pace, the Crown Prince said.
"Instant gratification can be a dangerous and false expectation for my generation. Making it to the top takes time, dedication, and a great deal of diligence," he added.
In his address to the audience, King Felipe VI of Spain said one of the constant ambitions of Spanish foreign policy has been to foster the cooperation between Europe and both Middle Eastern and North African countries, highlighting the forum as a unique opportunity to advance this cooperation.
"We are facing a very serious crisis that challenges the very foundations of a world order that is, with no doubt, in need of improvements and transformations. But that is also based on highly valued principles: the sovereignty and independence of states, the respect of human rights, the benefits of free trade and the mobility of people," the Spanish King noted.
Stressing the need to join forces in a determined manner to achieve the desired objectives, he said Jordan sets an example and "shows us the way" in this regard.
"First, by behaving with generosity in hosting such a huge number of refugees that have been tragically obliged to leave their homes because of war and despair…Also, by acting with bravery, leading the fight against those whose only argument is terror and who represent the common enemy for us all. And, finally, by persevering in its message of peace, dialogue and the pursuit of an inclusive and sustainable development," the Spanish monarch said.
Jordan is also an example of constructive engagement with the whole international community, he said.
Regarding security, he stressed it as a "shared need", saying: "We cannot isolate the threats nor the challenges we face, nor can we deal with them on our own, since they are more pervasive and agile than ever, travel faster and ignore all national or regional boundaries."
He stressed on the key role of education in addressing challenges, calling for working together with the whole world and friends in the region to rise up to the challenges and seize the opportunities.
For his part, Iraqi President Fuad Massoum referred to recent successes by the Iraqi army in defeating Daesh in Mosul, saying that combating terrorism and alleviating poverty and unemployment should go hand in hand.
"Education, I believe, is the best way to combat poverty….The reconstruction of Iraq should also go through social and economic development," the Iraqi president said at the forum.
He stated that investments and development were key to realising the sustainable development goals.
Speaking at the forum, President of Niger Mahamadou Issoufou called for coordinated efforts and increased collaboration in the fight against terrorism and criminal activities.
He highlighted the need for increased aid by the donor community, stressing that education is key for addressing the plethora of challenges facing the region.
Creating jobs, he said, is necessary to limit the number of migrants, thousands of whom die while trying to leave to other countries via the desert and across the Mediterranean.
Related Articles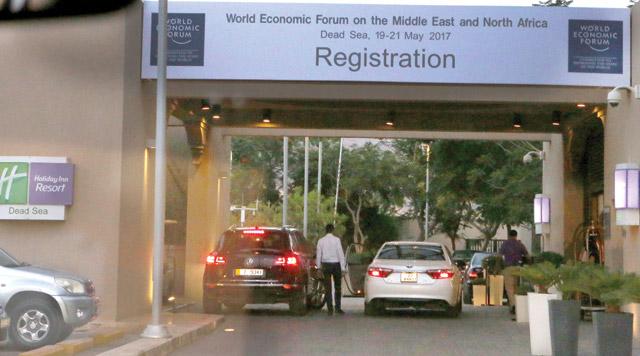 May 19,2017
AMMAN — His Majesty King Abdullah will on Saturday open the World Economic Forum (WEF) on the Middle East and North Africa at the Dead
Jun 29,2017
AMMAN — Wednesday marked the 23rd birthday of HRH Crown Prince Hussein.The eldest son of Their Majesties King Abdullah and Queen Rania, His
Oct 29,2016
AMMAN — HRH Crown Prince Hussein on Friday said Jordan will be hosting the Arab States Regional Workshop on Peacebuilding in December, accor
Newsletter
Get top stories and blog posts emailed to you each day.