You are here
King to open World Economic Forum today
Crown Prince to address array of world leaders in keynote speech
By Mohammad Ghazal - May 19,2017 - Last updated at May 19,2017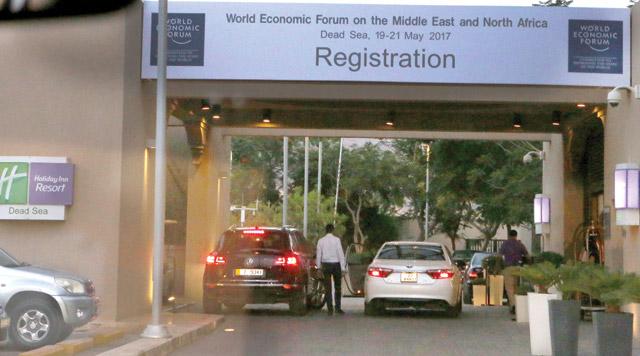 Participants in the World Economic Forum arrive at the Dead Sea's King Abdullah Conference Centre for registration on Friday. His Majesty King Abdullah will open the meeting on Saturday (JT photo)
AMMAN — His Majesty King Abdullah will on Saturday open the World Economic Forum (WEF) on the Middle East and North Africa at the Dead Sea.
HRH Crown Prince Hussein is expected to deliver the keynote speech at the opening session of the event, which is organised by WEF in cooperation with the King Abdullah II Fund for Development, a Royal Court statement said.
More than 1,100 political and business leaders from more than 50 countries are expected to attend the forum. Among the attendants are King Felipe VI of Spain, who arrived in Amman Friday, Iraqi President Fuad Massoum, Palestinian President Mahmoud Abbas, Macedonian President Gjorge Ivanov, President of Kosovo Hashim Thaci, President of Niger Mahamadou Issoufou, Cypriot President Nicos Anastasiades and Georgian Prime Minister Giorgi Kvirikashvili along with ministers from Arab and foreign countries.
Jordan hosts the WEF regional meeting for the 9th time, out of a total of 16, since it first hosted the global gathering in 2003.
Empowering women and the youth, creating jobs for the unemployed, addressing the needs of refugees and host communities and e-extremism will be some of the topics to be discussed during the sessions.
The forum, which will attract business, government and civil society leaders, as well as representatives from international organisations, youth and media, will witness the launch of several initiatives and projects.
The Sustainable Development Investment Partnership (SDIP), a collaborative initiative managed by the Organisation for Economic Co-operation and Development (OECD) and the World Economic Forum, will be launching its MENA Hub with the support of Jordan to address specific financial challenges to projects in the Middle East and North Africa.
Seeking to scale up sustainable infrastructure investments throughout the region, the initiative brings together 36 governments, banks, pension funds and philanthropic organisations committed to mobilising $100 billion in blended finance for sustainable and climate-resilient infrastructure in developing countries. Jordan is the first country in the region to join SDIP as a member.
"Enabling a Generational Transformation" is the theme of the forum, whose pillars include building inclusive economies, enabling collaborative innovation, empowering youth and supporting humanitarian efforts and diplomatic dialogue.
The forum brings together social entrepreneurs from the Schwab Foundation, who are using modern business methods to achieve system change for marginalised communities, a high-level delegation of Iraqi faith leaders and religious experts from Sunni Islam, Shiite Islam and Christianity, as well as minority groups. With more than 80 per cent of the region's population adhering to a religion, faith communities represent a powerful drive to help rebuild a war-torn Iraq, organisers said.
The forum will also witness the participation of refugees from the Zaatari camp, who will meet with the forum's Regional Business Council to find innovative ways to build on the success of free trade zones, allowing refugee-made products to reach markets, along with major Jordanian providers who are part of the Internet for All initiative, which will be launched during the forum, aiming at ensuring Internet access for all.
The WEF meetings will also attract 100 start-ups from the Arab world — many of which have been founded under the most challenging circumstances — including Arabic voice-recognition software developed in Syria, the first e-mobile-wallet in Libya, a labour marketplace in Yemen and mobile games produced by a team in Gaza Strip, according to a statement posted on the WEF's website.
Participants will also include young people, whose role will be crucial in moving the region forward, including a record number of Global Shapers (under 30 years old) and Young Global Leaders (under 40).
According to the forum's agenda, participants will look into what is needed to achieve a more inclusive future in the region and will explore the causes and consequences of the Middle East's infrastructure development now and through time.
How technology can be harnessed to provide quality and affordable and prevention-focused care for all are also among the issues to be discussed during the forum, along with the gap between humanitarian assistance and unmet needs and the needs of refugees and host communities alike.
As extremist groups have become increasingly adept at using the Internet and social media to recruit a generation that has grown up online, the participants will also look into how to deal with e-extremism.
"The current reform momentum in the Middle East and North Africa is promising, but success is not guaranteed. Together with our long-term partner Jordan, the World Economic Forum is hosting its biggest-ever meeting of entrepreneurs and start-ups in the region. We're inviting them to advise leaders on new growth strategies that will bring prosperity and bolster peace efforts throughout the region," said Mirek Dusek, head of Regional Strategies of the Middle East and North Africa at the World Economic Forum.
Other public figures attending the event include Prime Minister Hani Mulki, Egyptian Prime Minister Sherif Ismail, President of the Kurdistan Regional Government Masoud Barzani, Princess Beatrice of York, the United Kingdom, Deputy Prime Minister of Lebanon Ghassan Hasbani, Federal Councillor of Foreign Affairs of Switzerland Didier Burkhalter, Minister of Planning and International Cooperation Imad Fakhoury, Minister of Immigration, Refugees and Citizenship of Canada Ahmed Hussen, Minister of Social Affairs and Labour and Minister of Economic Affairs of Kuwait Hend Al Sabeeh, Minister of Economy and Commerce of Qatar Ahmed Bin Jassim Bin Mohamed Al Thani, Turkish Minister of Economy Nihat Zeybekci, Director General of United Nations Educational, Scientific and Cultural Organisation Irina Georgieva Bokova, Deputy High Commissioner for Refugees Kelly Clements, President of the International Committee of the Red Cross Peter Maurer, High Representative of the European Union for Foreign Affairs and Security Policy and Vice-President of the European Commission Federica Mogherini and Director General, International Organisation for Migration William Lacy Swing.
Related Articles
May 21,2017
DEAD SEA — The World Economic Forum (WEF), which witnessed several discussions on pressing regional issues and the launch of several p
Jul 05,2016
AMMAN — Jordan will host over 1,000 government and business leaders for the World Economic Forum (WEF) on the Middle East and North Africa i
Mar 22,2017
AMMAN — The World Economic Forum (WEF) has enabled the registration for the Middle Eastern and North African media who want to cover the WEF
Newsletter
Get top stories and blog posts emailed to you each day.