You are here
Westbrook leads Thunder past Spurs, for 3-2 lead
By AP - May 11,2016 - Last updated at May 11,2016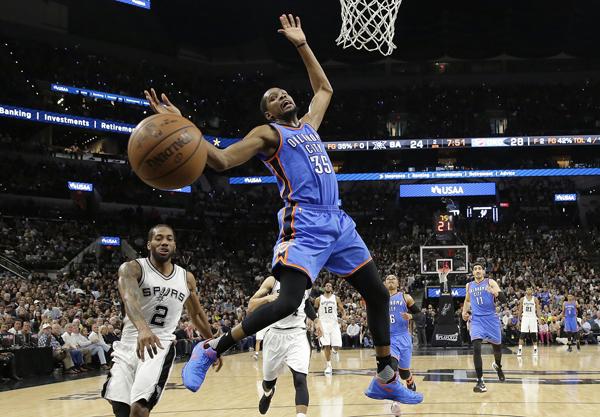 Oklahoma City Thunder forward Kevin Durant is fouled by San Antonio Spurs forward Kawhi Leonard as he drives to the basket during their Game 5 of a second-round NBA basketball play-off series in San Antonio, Texas, on Tuesday (AP photo by Eric Gay)
SAN ANTONIO — Oklahoma City's Russell Westbrook finished just one assist short of a triple double as he led the Thunder to a come-from-behind 95-91 win at San Antonio on Tuesday, taking a 3-2 lead in their NBA Western Conference semifinal series.
Westbrook had 35 points, 11 rebounds and nine assists to steer the team to an impressive road victory that meant they can now close out the series with a win at home on Thursday.
"Russ was a maniac tonight, keeping us in it," Oklahoma City forward Kevin Durant said.
Durant added 23 points as the Thunder won for the second time in San Antonio in the series, and the Spurs had lost only once at home throughout the regular season.
The Spurs have rallied from a 3-2 deficit only once in their prolific playoff history, winning the final two games in 2008 to defeat the then New Orleans Hornets.
"I hope we respond a little angry with a chip on our shoulder," Spurs guard Danny Green said. "If you want to be a championship team you have to win on the road. Simple as that."
There were a couple of referee calls the Spurs felt did not go their way in the final minutes, but it was Westbrook who left no question of the outcome.
He sealed the victory with a three-point play with 6.3 seconds remaining, scoring after Kawhi Leonard was not able to foul him intentionally, enabling him to drive for a lay-up while being fouled by LaMarcus Aldridge. Leonard said he "definitely fouled him" on the initial attempt, but Westbrook continued turning the corner and attacking the rim.
"He got away, attacked the rim and got an and-one," Spurs guard Manu Ginobili said. "Very tough outcome. I didn't watch the replay. I don't know how emphatic the foul was, but it's not the point. We should have arrived to that point in a better situation. For most of the game we were up. We had couple of opportunities to get a good lead. They made some tough shots and we couldn't capitalise."
San Antonio led 88-82 with 4 minutes remaining when Westbrook took over. He had seven points, two rebounds and an assist in the final 4 minutes.
"He dictated how we wanted to play," Durant said. "He was getting to the rim, knocking down the jump shot, knocking down the 3. So he had all levels working tonight. Once he does that, he's too dangerous because they play back on him not wanting him to get to the rim and he's knocking the jump shot down."
The Thunder took a 92-90 lead with 54 seconds remaining on a pair of free throws by Durant after Green fell into his legs when he appeared to be tripped on an attempted screen.
Oklahoma City outrebounded San Antonio 54-36.
"The key was physicality," Thunder forward Enes Kanter said. "Me and Steven just went and tried to get every rebound. It worked out well for both of us."
Westbrook settled in after an erratic first half in which he committed six of the Thunder's 13 first-half turnovers. He only had two turnovers after half-time.
"I was overthinking the first half, overpassing trying to find ways to get my guys involved, making some bad mistakes," Westbrook said. "In the second half I was trying to do a better job of taking care of the basketball, especially with the game on the line."
Besides scoring at least 28 points for the fourth time in the series, the electrifying point guard had four offensive rebounds and two steals in 39 minutes.
Related Articles
May 09,2016
Kevin Durant tied a playoff career high with 41 points, leading the Oklahoma City Thunder to a 111-97 victory over the San Antonio Spurs on
May 07,2016
ATLANTA — Channing Frye scored 27 points and the Cavaliers kept up their 3-point barrage Friday, dominating down the stretch for a 121-108 v
Jan 04,2016
SAN ANTONIO — San Antonio hit a season-high 13 three-pointers to beat state rival Houston 121-103 on Saturday, as all four NBA divisional le
Newsletter
Get top stories and blog posts emailed to you each day.