You are here
Warriors pound Blazers to end skid
By Reuters - Nov 24,2018 - Last updated at Nov 24,2018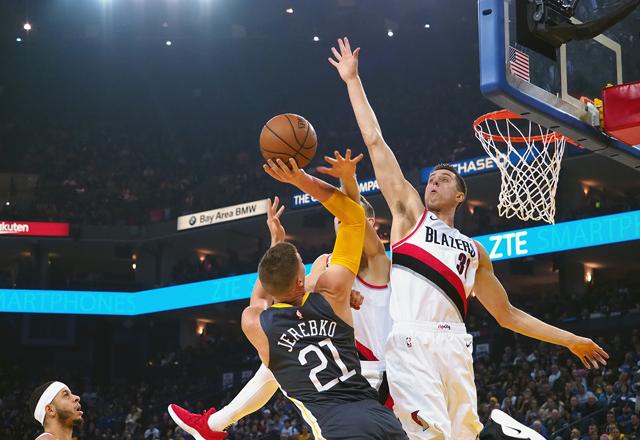 Golden State Warriors Jonas Jerebko shoots the ball against Portland Trail Blazers' Nik Stauskas and Zach Collins (right) during their NBA game in Oakland, California, on Friday (Reuters photo by Kelley L Cox)
Kevin Durant scored 14 of his game-high 32 points in a second-quarter run-away Friday night, as the Golden State Warriors snapped a four-game losing streak with a 125-97 victory over the Portland Trail Blazers in Oakland, California.
Klay Thompson was right behind with 31 points as the Warriors, who shot 56.5 per cent overall and 53.1 per cent on 3-pointers, beat the Trail Blazers for the eighth consecutive time at home.
Suns 116, Bucks 114
Jamal Crawford connected on a free-throw line jumper with 0.8 seconds left to give Phoenix a victory over Milwaukee for their first road win of the season in nine attempts.
Crawford's clutch basket capped a game-ending 8-0 run for the Suns, who snapped a three-game overall losing streak. Devin Booker registered 29 points and seven assists as one of seven Phoenix players in double digits.
Giannis Antetokounmpo scored 35 points for the Bucks, who had a three-game winning streak halted.
Lakers 90, Jazz 83
Brandon Ingram scored 24 points, and LeBron James added 22 points and 10 rebounds as Los Angeles defeated visiting Utah to win its third straight game.
Ingram canned a pair of free throws with 19.7 seconds to play to cement the win. The Lakers (11-7) have won seven of their past eight outings.
Pistons 116,
Rockets 111 (OT)
Reggie Jackson scored 10 points in overtime, Blake Griffin supplied 28 points for the game and host Detroit topped Houston.
Jackson finished with 22 points and six assists. Griffin added nine rebounds and four assists and Andre Drummond powered for 23 points, 20 rebounds and five blocks.
James Harden led the Rockets, who had a five-game winning streak snapped, with 33 points and eight assists. Clint Capela had a career-high 29 points and 21 rebounds and Chris Paul supplied 20 points and nine assists for Houston.
Cavaliers 121, 76ers 112
Rodney Hood scored 25 points, and Tristan Thompson scored 18 points and grabbed 13 rebounds as Cleveland defeated Philadelphia.
Philadelphia went nearly five minutes midway through the fourth period without a field goal, and the Cavs took advantage. A Jordan Clarkson 27-foot jumper gave the Cavs a double-digit lead at 109-97, and Cleveland cruised to their first road win of the season.
Philadelphia had their four-game winning streak snapped and lost for the first time at home this season. The Sixers had won 20 straight at Wells Fargo Centre dating to last season.
Thunder 109,
Hornets 104
Russell Westbrook narrowly missed a triple-double with 30 points, 12 rebounds and eight assists, and Oklahoma City held on down the stretch for a victory over visiting Charlotte.
Westbrook hit four free throws in the final 11.2 seconds, after the Hornets got within one point on two different occasions.
The win was the Thunder's 12th in the last 14 games and came after a 28-point win at Golden State on Wednesday night. It also gave the Thunder (12-6) a season's sweep over the Hornets after they rallied from a 19-point deficit to win in Charlotte three weeks ago.
Raptors 125,
Wizards 107
Kawhi Leonard had 27 points and 10 rebounds, and Toronto pulled away for a victory against visiting Washington for their fourth straight win.
Bradley Beal led the Wizards with 20 points. John Wall had 11 points and 11 assists but turned the ball over seven times, as Washington was unable to build on their stirring come-from-behind win over the Clippers on Tuesday.
Clippers 112,
Grizzlies 107 (OT)
Montrezl Harrell recorded 22 points and 11 rebounds off the bench, and Danilo Gallinari added 20 as Los Angeles rallied to earn a victory and end visiting Memphis' five-game winning streak.
The Clippers trailed by eight points with two minutes remaining in regulation, capping their game-tying comeback when Gallinari made three free throws with 0.8 seconds remaining after he was fouled by Marc Gasol on a 3-point attempt.
Gasol had 27 points and 13 rebounds while Mike Conley scored 19 points with 11 assists for the Grizzlies, who had just moved atop the Western Conference after a victory at San Antonio on Tuesday.
Celtics 114, Hawks 96
Aron Baynes led six double-figure scorers with 16 points, and visiting Boston broke a three-game losing streak with a win over Atlanta.
The loss was the 10th straight for the Hawks (3-16), who have the NBA's worst record and have not won since November 3. The Celtics (10-9) won in Atlanta for the third straight time.
Baynes was 5 for 7 from the field and added nine rebounds and four assists.
Marcus Smart had a team-high seven assists and three steals.
Spurs 111, Pacers 100
LaMarcus Aldridge scored a game-high 33 points and added 14 rebounds for San Antonio, which never trailed in beating host Indiana.
The Spurs snapped a two-game losing streak with just their third win in the last 10 games. The Pacers have lost two straight.
The double-double was the 11th of the season for Aldridge. Rudy Gay also had a double-double for the Spurs with 11 points and 12 rebounds. DeMar DeRozan (16 points), Patty Mills (15 points) and Bryn Forbes (13 points) also scored at least 10 points apiece for San Antonio.
Nuggets 112, Magic 87
Trey Lyles scored a season-high 22 points off the bench, Nikola Jokic finished four points shy of a triple-double, and host Denver beat Orlando.
Terrence Ross led the Magic with 18 points and made his first seven shots — four from 3-point range — before missing. Nikola Vucevic had 16 points for Orlando (9-10).
Timberwolves 112,
Nets 102
Derrick Rose scored 11 of his 25 points in the fourth quarter, while Karl Anthony-Towns shook off early foul trouble and scored 17 of his 21 points in the third as Minnesota picked up their first road win with a victory over Brooklyn.
Rose led the Wolves in scoring for the fifth time and produced his eighth 20-point game by hitting 11 of 17 shots, including 5 of 7 in the fourth.
Towns made 9 of 18 shots, while Taj Gibson added 16 and 11 rebounds. Jeff Teague contributed 15 points as the Wolves ended their season-opening eight-game road losing streak by shooting 47.8 per cent.
Knicks 114, Pelicans 109
New York rallied from a late seven-point deficit by scoring 12 consecutive points, overtaking visiting New Orleans for the win.
Emmanuel Mudiay got the New York flurry rolling with a 3-pointer, and capped it with a hoop with 34.1 seconds left that put the Knicks up five, 108-103. The Pelicans got within two on two subsequent occasions. But Mudiay made one free throw, and Tim Hardaway Jr. hit a pair to close out New York's second straight win after six consecutive losses.
Heat 103, Bulls 96
Josh Richardson scored 12 of his 27 points in the fourth quarter to lead Miami to a win over host Chicago.
Justin Holiday led the Bulls with 27 points and 13 rebounds, both season highs. Zach LaVine added 24 points and a game-high nine assists for Chicago, which was trying to win two straight games for the first time this season.
The Heat had their advantage cut to just four in the fourth but snapped a three-game losing streak.
Newsletter
Get top stories and blog posts emailed to you each day.