You are here
Warriors hitting stride, Wizards stop Hawks
By AFP - Nov 12,2017 - Last updated at Nov 12,2017
Golden State Warriors guard Stephen Curry shoots the basketball against Minnesota Timberwolves guard Jimmy Butler during their NBA game in Oakland, California, on Saturday (Reuters photo by Kyle Terada)
LOS ANGELES — The Golden State Warriors delivered a message yesterday that the defending league champs are back on form with a dominating 135-114 victory over the Philadelphia 76ers.
Philadelphia had won five of its last six, but found itself hopelessly outgunned in the second half against the Warriors, who extended their winning streak to six games.
All six wins have been by 17 or more points, the longest such streak in franchise history.
Forward Kevin Durant returned from a one game absence to lead all scorers with 29 points. Klay Thompson had 23 and Stephen Curry 22 for the Warriors, who shot 58.5 per cent from the field. Durant sat out Wednesday's game against Minnesota with a sore left thigh.
JJ Redick finished with 17 points, French guard Timothe Luwawu-Cabarrot came off the bench to score 15 and forward Dario Saric added 14 for the 76ers.
The 76ers have now lost nine straight against Golden State.
They had a chance to take a lead at the end of the second quarter, but Kevon Looney blocked Ben Simmons underneath the rim. Looney got the ball which led to a three-pointer from Thompson to put Golden State up 65-64
at the half.
The Warriors had a scare in the first 24 minutes when they lost Curry for a few minutes after Simmons' knee banged into Curry's right thigh.
Curry headed to the locker room after a few seconds, but was only gone a brief time. Once back, he wasted no time getting on the scoresheet again.
Elsewhere, Bradley Beal and Markieff Morris combined for 37 points as the Washington Wizards defeated the Atlanta Hawks 113-94.
Beal tallied 19 points and Morris 18 as the Wizards improved to 7-5 on the NBA season.
Kelly Oubre also had 18 points for the Wizards, who won back-to-back games for the first time since opening the season 3-0.
Morris said he is now looking forward to the next couple of weeks when they face teams like Toronto and Miami that are higher in the standings.
"Not to take credit away from the [Los Angeles] Lakers and the Hawks, but they're not the best offensive teams. Once we get to those good teams, then we'll be able to measure what we have," Morris said.
Washington shot 53.8 per cent from the floor and led by as many as 25 points in the first meeting with Atlanta since winning last season's first-round play-off series.
Strong defence
Washington's defence kept the Hawks' at bay. Atlanta shot 41 per cent from the field and had 24 turnovers, resulting in 39 points for the Wizards.
Taurean Prince scored 19 points and Marco Belinelli 15 for the Hawks, who dropped their third game in a row and second in as many days.
Dennis Schroder, who was superb against Washington in the playoffs, missed all eight of his field goal attempts in the first half Saturday and finished with seven points on two-of-16 shooting.
"It wasn't my night," said Schroder.
John Wall skipped the team's morning practice due to illness, but dressed for the game and scored 10 points in the first half as Washington led 49-42.
In Houston, James Harden scored 38 points as the Houston Rockets beat the Memphis Grizzlies 111-96.
Harden made 11 of 25 shots, including six three-pointers. Eric Gordon also hit six three-pointers and added 26 points for the Rockets.
Reserve Tyreke Evans led the Grizzlies with 22 points. Marc Gasol added 15 while Mike Conley was held to 12 points.
Related Articles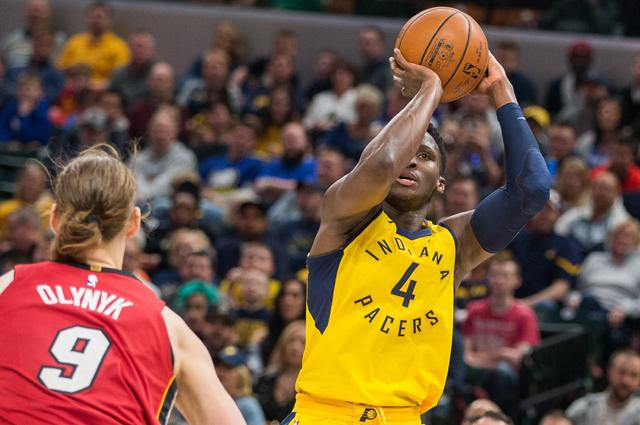 Mar 26,2018
Victor Oladipo scored 23 points, including a key overtime 3-pointer, to lead the Indiana Pacers to a 113-107 victory over the Miami Heat on
May 12,2015
Stephen Curry scored 21 of his 33 points by halftime as the Golden State Warriors ended their two-game losing streak Monday by routing the Memphis Grizzlies 101-84 to level the NBA Western Conference semifinal at 2-2.
May 14,2015
Atlanta's Al Horford swooped in to snatch an offensive rebound and dropped in a shot from right under the basket with 1.9 seconds remaining to give the Hawks an 82-81 victory over Washington on Wednesday and a 3-2 lead in the NBA Eastern Conference semifinals.
Newsletter
Get top stories and blog posts emailed to you each day.