You are here
Raptors beat Pelicans, tie franchise record
By AP - Mar 27,2016 - Last updated at Mar 27,2016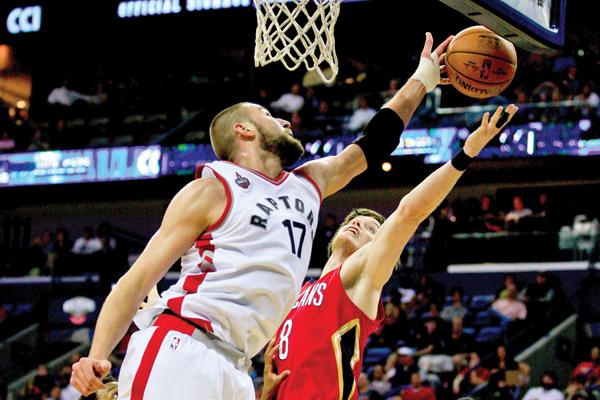 Toronto Raptors centre Jonas Valanciunas and New Orleans Pelicans forward Luke Babbitt battle for a rebound during their NBA game in New Orleans on Saturday (Reuters photo by Derick E. Hingle)
NEW ORLEANS — DeMar DeRozan scored 23 points and Patrick Patterson had 16 as the Toronto Raptors ended a two-game losing streak, beating the New Orleans Pelicans 115-91 on Saturday to tie a franchise record with their 49th victory of the season.
Toronto were never pushed by the Pelicans, who were down to just nine players on the active roster because of injuries. The Raptors shot 53 per cent from the floor and the defence was nearly as good, holding New Orleans to just 43 per cent shooting.
With New Orleans' top five scorers on the bench due to injury, Alonzo Gee led the Pelicans with 18 points.
Cavaliers 107, Knicks 93
LeBron James had 27 points, 11 rebounds and 10 assists for his third triple-double of the season while Kevin Love added 28 points and 12 rebounds as the Cleveland Cavaliers beat the New York Knicks.
James recorded his 42nd career triple-double and moved within three points of Dominique Wilkins for 12th place on the NBA's scoring list.
Even with Kyrie Irving resting, the Cavaliers easily bounced back from a loss in Brooklyn on Thursday, shutting the Knicks down in the first half and pulling away when the lead got down to 10 in the fourth quarter.
Carmelo Anthony scored 28 points after a brutal start for the Knicks, who were coming off a home-and-home sweep of Chicago. Kristaps Porzingis had 19.
Hawks 112, Pistons 95
Paul Millsap had 23 points and nine rebounds as the Atlanta Hawks ended the Detroit Pistons' five-game winning streak.
The Hawks have won 13 of their last 16 and moved a game ahead of Miami atop the Southeast Division.
Tobias Harris scored 21 points, and Andre Drummond had 19 points and 17 rebounds for Detroit but the Pistons couldn't recover from a poor first quarter. Atlanta never trailed and led by as many as 20 in the fourth.
Nets 120, Pacers 110
Brook Lopez scored 23 points and Bojan Bogdanovic added 18 as the Brooklyn Nets beat the Indiana Pacers.
Sergey Karasev scored a career-high 17 points for the Nets, who took a 104-102 lead on Bogdanovic's 3-pointer with 5:41 remaining in the game. Lopez then scored nine consecutive points for Brooklyn before Bogdanovic nailed a contested 3-pointer to put Brooklyn ahead 116-110 with 39 seconds remaining.
Paul George then missed a 3-pointer with 25 seconds remaining, sealing the win for Brooklyn.
Magic 111, Bulls 89
Orlando journeyman centre Dewayne Dedmon scored a career-high 18 points and grabbed 13 rebounds while Jason Smith added 14 off the bench as the Magic dealt the Chicago Bulls a blow to their fading play-off hopes.
Elfrid Payton scored 15 points and had 10 assists and Evan Fournier added 12 points for the Magic, who ended a six-game losing streak.
The Bulls (36-36), fighting to climb back into the eighth and final play-off spot in the Eastern Conference, dropped their third straight game.
Jazz 93, Timberwolves 84
Gordon Hayward scored 16 of his 18 points in the fourth quarter as the Utah Jazz finished a five-game road trip with victory over the Minnesota Timberwolves.
Hayward had just two points on 1-of-6 shooting in the first three quarters. But he shot 6 of 9 in the fourth and Derrick Favours chipped in with 19 points and five rebounds to get the Jazz a much-needed victory as they make a push for the play-offs. The Jazz (36-37) entered tied with Dallas for eighth in the Western Conference and have won seven of their last nine.
Ricky Rubio scored 23 points on 9-of-12 shooting for the Timberwolves, who missed a chance for their first three-game winning streak since November 27. The Wolves shot 38 per cent and fell to 2-12 on the second night of a back-to-back.
Thunder 111, Spurs 92
Kevin Durant scored 31 points and Russell Westbrook added 29 to help the Thunder defeat the short-handed San Antonio Spurs.
Enes Kanter had 20 points and 10 rebounds and Serge Ibaka added 15 points and eight rebounds for Oklahoma City, which won its seventh straight.
Hornets 115, Bucks 91
Nicolas Batum scored 23 of his 25 points in the first half as the Charlotte Hornets used a 3-point barrage to rout the Milwaukee Bucks 115-91.
Marvin Williams added 21 points and Kemba Walker had 18 for the Hornets, who won three of four games in the season series. Charlotte connected on 16 of 29 3-pointers against Milwaukee in this one, a 55 per cent clip.
John Henson had 19 points and Jabari Parker 15 for the Bucks, who have lost five straight and six of seven.
Celtics 102, Suns 99
Isaiah Thomas scored 28 points against his former team as the Boston Celtics held off the Phoenix Suns despite almost blowing a 21-point lead.
Evan Turner added 17 points, 15 of those in the first half, to go with 11 rebounds for Boston, which won its fourth straight. He also blocked the potential tying shot with 3.9 seconds left.
Phoenix had a chance to take the lead twice with under a minute left but Booker and Knight missed shots.
Marcus Smart made two free throws and after Booker's put-back basket with 15.5 seconds left made it 100-99, Thomas and Smart each made one free throw. The Suns missed a shot from beyond half-court at the final buzzer.
Trail Blazers 108, 76ers 105
C.J. McCollum converted a three-point play with 7.6 seconds left to break a tie and lift the Portland Trail Blazers past the Philadelphia 76ers.
Trapped in the corner near the sideline and the midcourt line, McCollum split two defenders, drove through the lane and hit a lay-up as he was fouled and stumbled to the floor, helping the Blazers avoid another embarrassing loss to the worst team.
Related Articles
Jan 08,2016
Raymond Felton scored a team-high 22 points, and Chandler Parsons scored 19 of his 21 points in the first half, to lift the shorthanded Dall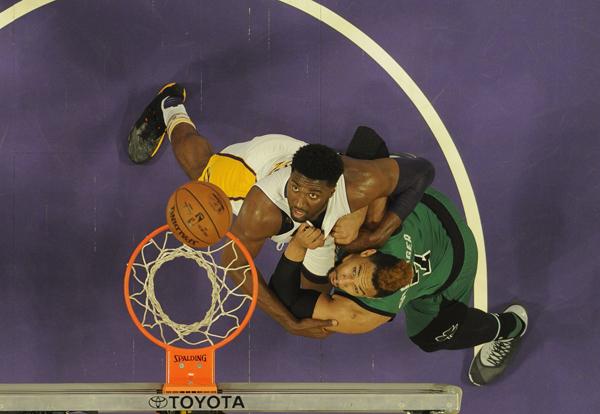 Apr 04,2016
Isaiah Thomas scored 26 points and Jae Crowder added 22 more, leading the Boston Celtics to a 107-100 victory over the Los Angeles Lakers at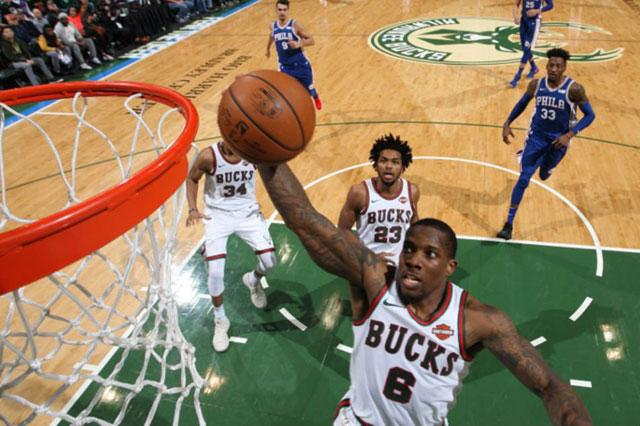 Mar 05,2018
Giannis Antetokounmpo registered 35 points, nine rebounds and seven assists and the Milwaukee Bucks overcame a 19-point third-quarter defici
Newsletter
Get top stories and blog posts emailed to you each day.