You are here
Puzzled Vettel says Ferrari should be better
Mercedes one-two as the Silver Arrows give Ferrari a stinging reality check
By Reuters - Mar 16,2019 - Last updated at Mar 16,2019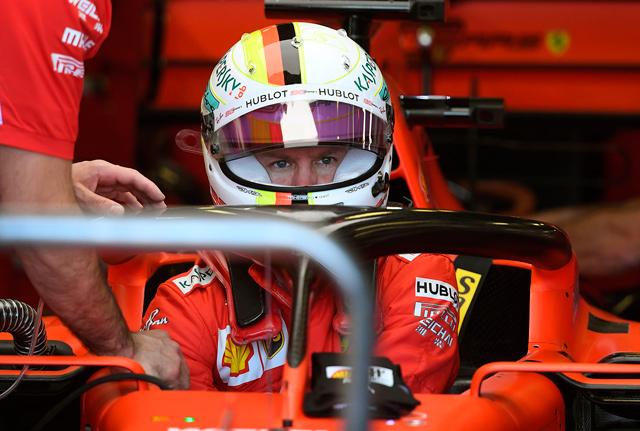 Ferrari's German driver Sebastian Vettel lowers himself into his car during the Formula One practice session in Melbourne on Friday, ahead of the Formula One Australian Grand Prix (AFP photo by William West)
MELBOURNE — A perplexed Sebastian Vettel was left scratching his head after the promise of Ferrari's pre-season performance was shattered by the pace of Mercedes during Australian Grand Prix qualifying on Saturday.
Formula One champion Lewis Hamilton claimed a record-extending eighth pole at Albert Park, edging teammate Valtteri Bottas in a Mercedes one-two as the Silver Arrows gave Ferrari a stinging reality check.
Third fastest Vettel was more than seven-tenths of a second slower than Hamilton, a gap similar to last year's qualifying when the Briton blew former Ferrari driver Kimi Raikkonen out of the water.
Runners-up to Mercedes in the last two constructors' championships, Ferrari arrived in Melbourne with confidence for the new season after being slightly faster during winter testing.
But Barcelona must have felt very far away for Vettel, who was at a loss to explain the sudden and glaring gap.
"I think, there is still a bit of margin [to improve] but certainly the gap is there today, and it was a surprise," the four-times champion told reporters.
"We didn't expect it coming here but now it is that way.
"Obviously there is a lack somewhere, because we are too slow — but didn't feel like it."
German Vettel's new teammate Charles Leclerc qualified fifth fastest behind Red Bull's Max Verstappen but the highly regarded 21-year-old was harder on himself than the car.
"I'm not happy with myself. I didn't do the job in Q3, which is a shame," said the Monegasque, who locked up in turn one of a "messy" second lap.
"I've been struggling quite a lot last year on this track so I'm pretty sure things will get better but I also need to work on my side to put the things together when I have to.
"It's a shame. I think top three was definitely there, top two not. But we will work to get better."
While Hamilton claimed pole for a sixth time in succession at Albert Park, Vettel won the last two races in Australia despite conceding plenty of pace to Mercedes' cars.
Fortune and a safety car deployment helped him pip Hamilton last year and a well-timed pit-stop sealed victory over the Briton in 2017.
Despite the qualifying setback, Vettel said he felt Ferrari had a "good race car" and could still take maximum points on Sunday.
"Obviously Mercedes are the clear favourites after the result today and the pace they have shown so far. But we are here to race," he said.
"This track is very specific, so [I'm] not worried too much, but for sure it's not great.
"I would have loved for it to be the other way round."
Williams' Russell
still smiling
Formula One rookie George Russell had a smile on his face after his first qualifying session with Williams in Australia on Saturday, even if there was little for the once-great team to be happy about.
As predicted, after being slowest in testing, the former world champions were last on the season-opening starting grid with Britain's Russell in 19th place and Polish teammate Robert Kubica 20th.
Kubica, preparing for his first Grand Prix since 2010 as part of an amazing comeback from partially severing his right forearm in a 2011 rally crash, suffered a puncture on his last flying lap.
Even without that, however, the third most successful team in Formula One on race wins would have struggled to do much better.
Russell, last year's Formula Two winner, was still more than 1.2 seconds slower than McLaren's 18th placed Spaniard Carlos Sainz, whose qualifying was affected by Kubica's blowout.
"I enjoyed it. Obviously I would have liked to have been there a bit longer but we know the pace of the car and my job is to go out there and drive the package we've got as fast as possible," commented the Briton.
"I really believe we did that. The three laps I put together were really good, I felt. I crossed the line with a smile on my face."
Russell said beating Kubica for 19th place was hardly a priority, with the main focus being to get the team back on the right track after a woeful 2018 season and late start to testing with the car not ready in time.
"We have no interest in fighting for last," said the 21-year-old. "I think we understand our limitations. We know the issues, but it doesn't mean we can wake up tomorrow and fix it.
"It's going to take time to rebuild what we need to. Unfortunately this is where we are going to be for a couple of races to come."
McLaren debutant Norris thrilled
McLaren debutant Lando Norris looked a wise, old head on young shoulders as the 19-year-old enjoyed a solid qualifying debut for the success-starved Formula One outfit at the season-opening Australian Grand Prix on Saturday.
Britain's youngest F1 driver claimed eighth on the grid for Sunday's race after thrashing his papaya and blue-coloured car into the third and final qualifying session.
While outshining senior teammate Carlos Sainz, who was knocked out in Q1 and will start from 18th, Norris was also the standout for the championship's fresh faces.
Toro Rosso's London-born Thai rookie Alexander Albon was 13th.
Norris was fined 5,000 euros ($5,663) for an unsafe release in the final free practice but otherwise has barely put a foot wrong in his first race weekend.
He said crippling nerves had threatened to contain his joy, however, and he was relieved just to get qualifying done.
"I was so nervous, that almost overrode a lot of the enjoyment," he said.
"The enjoyment comes from once I know I've completed a lap I'm happy with and seeing how happy the whole team were.
"That's what makes me happy, seeing how hard everyone has worked and how it's all come together for qualifying. It's good to get it off my chest."
McLaren, the team of the late Ayrton Senna and Alain Prost, who also took Hamilton to the first of his five titles in 2008, were sixth in the championship last year.
Their title ambitions have largely disappeared during a lean decade but earning recognition as the "best of the rest" — behind Mercedes, Ferrari and Red Bull — would at least be a springboard to greater things.
Lining up behind both of Haas's cars on the grid on Sunday, Norris will have a chance to push McLaren higher in the pecking order.
"I think it's massive," he said of his big day out.
"To see that it is possible to do it and that we have in some ways moved forward from last year.
"Not as much as we need to. I feel like I really maximized everything, not completely but to an extent.
"We do need to do a lot of work to maintain these Q3s. Today wasn't a one-off but it's not going to happen all the time so I need to make sure I treasure this."
Newsletter
Get top stories and blog posts emailed to you each day.