You are here
Kingdom's top athletes honoured at special ceremony
By Roufan Nahhas - Mar 24,2015 - Last updated at Mar 24,2015
AMMAN — The annual Black Iris Sports Media Awards honouring the Kingdom's athletes were announced on Monday at a special ceremony organised by the Jordan Olympic Committee (JOC) at Al Hussein Youth City.
The ceremony, attended by Lana Al Jaghbeer, JOC secretary general, and officials from the JOC and various sports entities in the Kingdom in addition to the media, was a result of voting by members of the local sports media who gave their voice to 11 athletes based on their achievements during the 2014 season.
The voting was followed by the public through the JOC Facebook page and website which attracted more than 125,000 votes with more than 500,000 social media interactions recorded.
Karate champion Abdel Rahman Masatfeh, winner of the silver medal at the Asian Games was named Best Sportsman of 2014 after a heated competition with boxer and silver medallist Odai Hindawi and Muay Thai fighter Mohammad Salameh.
Masatfeh expressed his gratitude to JOC President HRH Prince Feisal, the JOC and all his fans, saying: "I am really honoured and thrilled to receive this prestigious award which will give me more strength to continue with all I have to reach another level."
The Best Sportswoman title went to Rana Qubbaj, winner of the gold medal at the World Jujitsu Masters, who called on all girls to adopt a sport and represent the Kingdom in major events to show the world that Jordanian girls have the ability to be winners.
The Best Young Achiever Award went to boxer Obadah Kisbeh, who won the bronze medal at the Asian Games, beating taekwondo's Zaid Halawani and Hamzeh Qattan.
Kisbeh said that this award means a lot to athletes in Jordan. "It is a dream that came true, to win this prestigious award."
Taekwondo's Eman Adayleh was voted Best Young Achiever (Female) and was labelled "the young phenomenon" due to her young age. She said: "I joined taekwondo at the age of five and now I am 17 years old. I already feel that I can do more for my country."
Meanwhile, winner of the gold medal at World Championship in weightlifting Moutaz Juniadi was named Best Paralympic Athlete after receiving 83 per cent of the votes, beating table tennis player Khetam Abu Awad and weightlifting gold medallist Abdel Kareem Khattab.
In an emotional speech, Juniadi dedicated his win to martyr pilot Muath Kasasbeh, who he called "a true hero", and tackled one of the most important questions an athlete could ask: What happens to athletes after they retire?
"We all are doing our best to win and raise the name of Jordan up high. I have a question that we all seek an answer to. What will happen to all athletes who served their country after retirement? Why don't we establish some kind of programme so that we can make use of their experience and transfer it to other generations?" Junaidi said after winning her second Black Iris Award.
The Black Iris Sports Award was created in 2006 to recognise sporting excellence in the Kingdom.
Related Articles
Mar 22,2015
Jordan's top athletes will be honoured at the Annual Black Iris Sports Awards on Monday, an annual ceremony commemorating 2014 sporting achievements of Jordanian athletes.
Jan 19,2015
The Jordan Olympic Committee (JOC) released the shortlists for the 2014 Black Iris Sports Awards and for the first time, two categories have already been decided with the expert panel revealing that the winners of the Best Sportswoman and the Best Young Sports Achiever – Female awards should be named unchallenged, leaving three categories to be decided through a public vote, according to a statement from the JOC News Service.
Feb 18,2014
The annual Black Iris Sports Media Awards honouring the Kingdom's athletes were announced on Tuesday in a special ceremony organised by the Jordan Olympic Committee (JOC) and held under the patronage of HRH Prince Feisal, president of the JOC.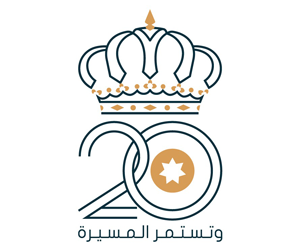 Newsletter
Get top stories and blog posts emailed to you each day.