You are here
Jazira lead with two more weeks to go
By Aline Bannayan - Apr 26,2017 - Last updated at Apr 26,2017
AMMAN — The pursuit of the Jordan Professional Football League title has heated up with two more weeks left in the competition.
Week 21 starts on Thursday with Jazira back atop the standings after a 1-0 win over Ramtha. They next play Manshieh who maintained fourth place after a 2-1 win over Sahab.
Faisali are second on goal difference after holding Hussein 1-1 ahead of their match against Baqa'a who are now 11th after losing 1-0 to Ahli.
Holders Wihdat have dropped to third after holding That Ras 0-0. They next play Sarih who have improved to 9th after a 2-1 decisive win over Shabab Urdun. The latter are now 7th ahead of playing Hussein.
Matches in the Asian Football Confederation (AFC) Cup could have taken their toll on Wihdat who were held 1-1 with Lebanon's Nijmeh while Ahli, Playing in the AFC Cup for the first time, lost their qualifying chances in Round 2 after losing 2-1 to Syria's Jeish.
Wihdat, who exited the Asian Champions League, are looking to win their fourth consecutive and 16th overall league title, while Faisali have not won the league in the past four years and are eyeing their 33rd record title.
Joining the top three this season is Manshieh who joined the pro league alongside Sahab. Former Jordan Cup champ That Ras are at the lower end of the standings, while Baqa'a, a usual top five team, is also struggling in the relegation zone. Jazira's Syrian pro Mardig Mardigian has maintained his scoring proficiency and leads the scorers' list with 14 goals followed by Wihdat's Munther Abu Amara with 8.
Ahli won the first major competition on the 2016/17 football calendar, when they beat reigning league champs Wihdat 2-1 to win the 34th Super Cup.
In the Jordan Football Association Shield — back on the calendar after four years — Shabab Urdun scored a major 5-1 win over Faisali to win their second Shield title after they first won in 2007.
In the Jordan Cup, the semis will see Wihdat face Faisali while Ramtha play Jazira, on May 12 and May 16, before playing the final on May 20.
Last season, Wihdat retained the title with Faisali, Ahli, Jazira and Shabab Urdun in the top five spots. It was Wihdat's third consecutive and 15th league title since they moved up to the Professional League in 1975. Faisali beat Wihdat to clinch the Super Cup while it was Ahli, who after years in the backstage beat Shabab Urdun to win their first Jordan Cup final.
Related Articles
Dec 29,2016
AMMAN — Jazira maintained their leading heading into the final week of 2016 as Week 9 of the Jordan Professional Football League kicks off F
Sep 27,2017
AMMAN — Week 4 of the Jordan Professional Football League kicks off on Thursday after major changes in standings during the past week.
Nov 17,2016
AMMAN — The Jordan Professional Football League enters its third week on Friday after a two-week break as the national team regrouped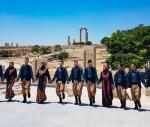 Newsletter
Get top stories and blog posts emailed to you each day.