You are here
Golden State tie series at 2-2, rout Grizzlies
By AP - May 12,2015 - Last updated at May 12,2015
MEMPHIS, Tennessee — Stephen Curry scored 21 of his 33 points by halftime as the Golden State Warriors ended their two-game losing streak Monday by routing the Memphis Grizzlies 101-84 to level the NBA Western Conference semifinal at 2-2.
Atlanta and Washington are also even at 2-2 in their second-round play-off after Jeff Teague scored 26 points, including a key 3-pointer, to lead the Hawks over the Wizards 106-101.
The Warriors hadn't lost three straight games all season, and they never came close as they took back home-court advantage. Curry hadn't scored more than 23 points in this series, and he nearly had that by halftime.
Draymond Green had 16 points and 10 rebounds for the Warriors while Klay Thompson had 15 points, Harrison Barnes 12 and Andre Iguodala 11.
Marc Gasol had 19 points and 10 rebounds for Memphis while Zach Randolph had 12 points and 11 rebounds. Mike Conley finished with 10 points and seven assists but was 4 of 15 from the field. Memphis pulled their starters with 3:00 left.
Game 5 is Wednesday night at Golden State.
The Warriors led by as many as 26 points, and they had their best game shooting outside the arc knocking down 14 3s.
In Washington, Paul Pierce missed a 3-point attempt that would have levelled scores for the Wizards with less than 10 seconds left, just two days after hitting a buzzer-beater to win Game 3.
Al Horford had 18 points and 10 rebounds, and Paul Millsap added 19 points, six assists and five rebounds.
Washington point guard John Wall missed a third consecutive game with a broken left hand.
Game 5 is Wednesday night at Atlanta.
The Hawks led most of the game, but Washington cut the deficit to 101-97 with under 2 minutes remaining. Teague's 3-pointer with 72 seconds left got the margin back to seven.
Still, after Washington's Bradley Beal blocked a shot by Dennis Schroder in the lane to keep Atlanta's lead at 104-101, the Wizards had the ball and called a timeout with 9.5 seconds remaining. They got Pierce an open look at a 3, but it went off the rim.
Beal had a career playoff-high 34 points, seven assists and six rebounds, and Pierce had 22 points, including five of Washington's 12 3-pointers.
Atlanta guard Jeff Teague scored 26 points as the Hawks beat the Washington Wizards 106-101
to square their Eastern Conference semifinal play-off series at 2-2 on Monday.
Paul Millsap scored 19 points and Al Horford had 18 and 10 rebounds for Atlanta, who are top seeds in the East.
Playing their third straight game without injured All Star John Wall, the Wizards trailed by nine with 3:40 remaining and despite getting as close as 104-101 in the final seconds they were unable to grab another last-gasp victory like they did in Game 3.
Paul Pierce, who hit a buzzer-beating winner on Saturday, missed a wide-open three-pointer with 6.9 seconds remaining.
Atlanta's Millsap sank two free throws for the final points with less than a second left to ice the win.
The Hawks led 65-55 at halftime and withstood several rallies by the fifth-seeded Wizards, who got 34 points from guard Bradley Beal. Pierce scored 22 and had made five of six three-pointers before his final miss.
Teague buried a three-pointer with 1:12 remaining to put the Hawks up 104-97 after the Wizards scored five straight points to pull within three.
Dennis Schroder scored 14 points for the Hawks as Atlanta's bench outscored Washington's 32-17.
Related Articles
May 14,2015
Atlanta's Al Horford swooped in to snatch an offensive rebound and dropped in a shot from right under the basket with 1.9 seconds remaining to give the Hawks an 82-81 victory over Washington on Wednesday and a 3-2 lead in the NBA Eastern Conference semifinals.
Dec 28,2017
Anthony Davis scored a team-high 33 points, DeMarcus Cousins had 27 points and 14 rebounds, and Rajon Rondo dished out a career-high 25 assi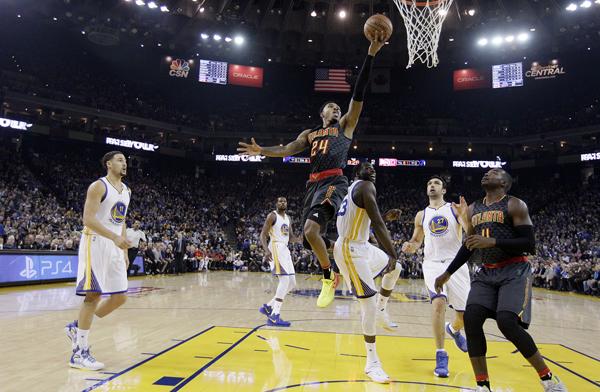 Nov 29,2016
OAKLAND, California — Golden State extended its winning streak to a dozen games by holding off Atlanta in a close finish and winning 105-100
Newsletter
Get top stories and blog posts emailed to you each day.