You are here
Faisali play Wihdat as Jazira still lead ahead of Week 5
By Aline Bannayan - Sep 26,2018 - Last updated at Sep 26,2018
AMMAN — While the top six remained unchanged, major shifts this week moved the standings ahead of Week 5 of the Jordan Professional Football League kicking off on Thursday.
Jazira remained atop the pack after a 3-0 win over Aqaba who dropped one spot. They will next play That Ras who are 9th after they held Baqa 2-2.
Shabab Urdun remained second after they beat Wihdat 2-0 before facing Sarih, who lost to Hussein 2-0 this week as the latter climbed from last ahead of their match against Aqaba.
Baqa are third after their draw and will next face last placed Ramtha who lost 1-0 to Ahli. The latter are now 7th ahead of their match against Salt who are 5th after holding Faisali to a 0-0 draw.
The highlight of the week will be the Faisali-Wihdat match. Although they are regarded as the leading teams and all-time winners of the competition, Jazira and Shabab Urdun are starting to take some of the limelight.
Wihdat have been inconsistent so far. This week's defeat to Shabab Urdun, their second after they lost to newcomers Salt 1-0 and drew 0-0 with lowly Sarih, made them settle for 6th in the standings before Friday's much anticipated match.
Faisali did not fare any better with their only win over Aqaba, and drawing in the rest of matches against relatively weaker teams.
Faisali are 33 time league winners since 1944, while Wihdat have won the title 16 times since 1980. In head-to-head matches, Faisali have won 53 out of 138 encounters while Wihdat have won 46. Thirty-nine matches ended in a draw.
The league will halt after the end of Week 5 matches as the national team regroups to play Albania on October 10 and World Cup runner-up Croatia on October 15 as it gears up for the 2019 Asian Cup. Jordan's coach Jamal Abu Abed has been relieved of his duty by the Jordan Football Association after the team only managed a 0-0 draw with Oman and earlier lost to Lebanon 1-0.
Jazira lost their home match 1-0 to the Iraqi Air Force in the Asian Football Confederation Cup, which was twice won by Faisali and once by Shabab Urdun. Ramtha will host Tunisia's Etoile Sportive Du Sahel in the return leg of the Arab Clubs Championship on September 28 as they seek to makes up for their 3-1 defeat in Leg 1.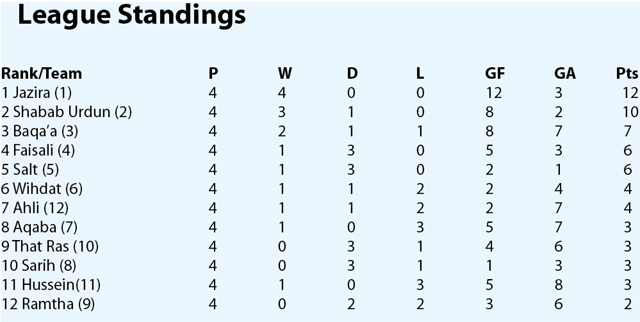 Newsletter
Get top stories and blog posts emailed to you each day.