You are here
Djokovic has no intention of slowing down after Paris Masters win
By Agencies - Nov 09,2015 - Last updated at Nov 11,2015
Serbia's Novak Djokovic poses with the trophy after winning Britain's Andy Murrray during their final match of the BNP Masters tennis tournament in Paris, on Sunday (AP photo by Francois Mori)
PARIS — A long year has taken its toll on some of the world's best tennis players but the relentless Novak Djokovic gives no indication that he is about to slacken the pace, as he heads to the season-ending ATP World Tour finals in London.
The World No. 1 impressed in a 6-2, 6-4 defeat of second seed Andy Murray to clinch his fourth Paris Masters on Sunday, becoming the first man with four titles at Bercy and also the first to win six Masters titles in a season.
While Roger Federer and Rafa Nadal faltered in the third round and quarter-finals respectively a few days after playing the final in Basel, Djokovic cantered through the rounds on the banks of the River Seine, being tested only by Stan Wawrinka in the semis.
"I will continue to do what I'm doing so far. There is no reason for me to decrease the pace of the training, preparations and performances," Djokovic told a news conference.
"It's the last tournament of the year, a very big tournament where I have done very well in the past."
Djokovic has won the last three editions of the season's finale that features the year's eight best players and Sunday's performance suggested it will take an exceptional performance to topple him at the O2 Arena in London.
Yet the Serb insisted: "I try to take nothing for granted... the only way I'm managing to stay successful is by continuing to improve.
"I'm not trying to keep the status quo, because for me that's a regression."
Right now, all stars are aligned for Djokovic, a happy man and obviously a happy player who won three of the four Grand Slams, losing only in the French Open final.
"I'm a married man, and I'm a father, as well," he said.
"I think I have a nice balance and serenity in private life that reflects on the professional life, and vice versa. I have this belief that the holistic approach will definitely get the best out of yourself."
Djokovic's relentless desire for tennis perfection is pushing him to a consistently brilliant level, one which proved far too high for Murray on Sunday.
With 10 titles in 2015, he is four ahead of Roger Federer. Djokovic now has won 26 Masters events altogether, two more than Federer and one behind leader Rafael Nadal.
"If you are going for the perfection, you might reach excellence," the 10-time Grand Slam champion said after dispatching Murray in 1 hour, 33 minutes. "That's the kind of mind set I have."
The only major he did not win this year was the French Open, losing the final to Stan Wawrinka, and it remains the only big trophy missing in his fast-growing collection of 58 career titles.
Chasing success at Roland Garros, and the quest to win all four Grand Slams in one year — he has won three in a year twice — means his motivation level will remain undiminished in 2016.
"I take nothing for granted. I try to work on that all the time, because I know that is the only way I'm managing to stay successful," said the 28-year-old Djokovic after playing in his 14th straight tournament final this year. "I'm not trying to keep the status quo, because for me then that's a regression."
In winning his third straight Paris Masters title, Djokovic clinched a fourth overall — surpassing his own coach Boris Becker's tally to set another record — but wondered how much further he could go.
"I think in terms of physical and mental ability, I have reached my peak," said Djokovic, who has reached finals in all but one tournament this year.
Djokovic extended his winning streak to 22 matches, and will be the favourite to win the season-ending ATP finals for the fourth straight time when that tournament starts in London on November 15.
"There is no reason for me to decrease the pace," Djokovic said. "Hopefully I can finish off the season with another great win."
Despite dropping only one set on the way to the final, the two-time Grand Slam champion Murray simply could not compete.
"It's been an incredible year for him, well done," Murray said. "I missed with my backhand a little bit today, left a few too many in the middle of the court and he was able to dictate a lot of the points from there."
Serving for the match, Djokovic clenched his fist and yelled when Murray's return landed out, giving him match point. When Murray's aggressive two-handed backhand went wide, he turned and blew a kiss to Becker and other members of his team.
In their 30th career meeting, Djokovic improve to 21-9 against Murray, who beat the Serb in the 2013 Wimbledon final.
But since then, Djokovic has won 10 of their 11 encounters. His only loss during that spell was in August, when Murray beat him in the Rogers Cup final in Montreal.
"Since the beginning of last year my results against him and Roger [Federer] haven't been good enough," said Murray, who will attempt to lead Britain to the Davis Cup title against Belgium later this month. "I need to think about why that is and what I can do to turn it around."
The second point of the match lasted 22 strokes, but Murray was rarely able to compete in the rallies after that.
Djokovic broke Murray at love in the third game, and the Briton had to save three break points in the fifth. Djokovic then held at love and broke again before serving out the set in 42 minutes.
Murray dropped his serve again to trail 2-1 in the second set but broke right back, only for Djokovic to get another break in the seventh game as he marched relentlessly toward another title.
Related Articles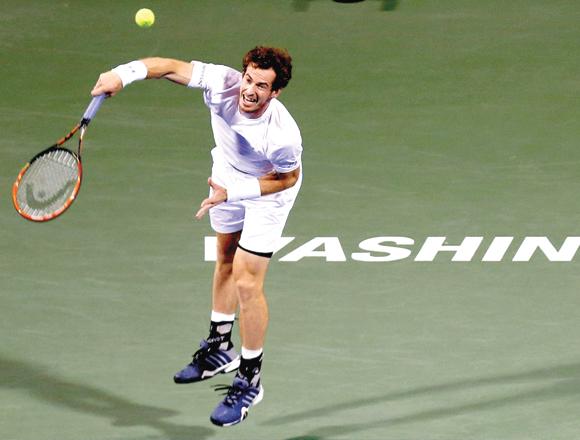 Aug 04,2015
WASHINGTON — Andy Murray is back on hard courts for the first time in four months — and back at the Citi Open for the first time in nine yea
Oct 12,2015
BEIJING — Novak Djokovic flew to the Shanghai Masters on Monday just hours after lifting his eighth trophy of the year in Beijing – and few
Feb 01,2015
Novak Djokovic may have garnered a reputation as the crown prince of pranksters in tennis but on Sunday he firmly established him as the king of Melbourne's blue hard courts with his fifth Australian Open title.
Newsletter
Get top stories and blog posts emailed to you each day.