You are here
Coaching Jordan's coaches
By JT - Dec 16,2014 - Last updated at Dec 16,2014
AMMAN — There is a well-known saying that "success does not come overnight" but a Jordan Olympic Committee (JOC) programme should ensure that when it does come, it will be sustained.
Following a disappointing Asian Games this year, and the fact that Jordan is still one of the few nations without an Olympic medal, the spotlight has fallen on what is being done behind the scenes to move forward positively, according to a statement from JOC New Service.
A JOC investigation is under way to find out what went wrong in Incheon, South Korea, when Jordan sent its largest ever delegation but returned home with just four medals.
The performances draw criticism for sports administrators as a whole, but it has underlined the importance of JOC's National Coaching Certification Programme that was launched in 2009.
"It is never a quick fix for results to change but through careful nurturing of talent by better trained coaches there will be a difference," Narin HajTass, manager at JOC's Knowledge, Education and Training Department, was quoted in the statement as saying.
"We are still in the very early stages of a national programme that can help to improve our performances at all levels. We have to be patient but the wait should be worthwhile."
The journey started back in 2008 when His Royal Highness Prince Feisal, JOC president, commissioned the Coaching Association of Canada to conduct a full review into Jordan sport to identify weaknesses and to propose solutions.
The review outcomes were of no surprise to many. Jordan's coaches as a whole were not of a standard that could produce results on the global stage. It meant that our athletes were not receiving the sort of coaching enjoyed by their counterparts in other parts of the world. How could we then expect them to be winners?
Actions followed immediately with HajTass' department set up to launch the Canadian national certification programme which began with a two-year programme to train up 13 facilitators.
"These are the coaches who drive the programme forward so it took two years to ensure they were fully up to speed and qualified," explained HajTass in the statement. "They were recommended by our National Federations and then trained by the Canadians to cascade their programme across Jordan."
With the basics in place, it was time to put the programme to work and in 2009 the first Level One course was held featuring coaches from across the sporting sector.
"I think the coaches were probably very sceptical at first, but the feedback once they have completed the courses is very positive," HajTass said. "The course does not focus on their technical ability in their individual sport, but the broader picture of bio-mechanics, nutrition, coaching science, leadership and so on.
"Changing the mindset takes time but I would say that from all of the coaches we have trained, more than 70 per cent truly believe in its value. Some coaches have been working for more than 30 years and yet they too have praised the new techniques and training that they have been taught."
The programme takes coaches from a Level One grade through to Level Five, with Level Three split into two stages. So far, more than 150 coaches have followed the programme, with 27 reaching Level Three (advanced).
The results are starting to show on the playing fields too. Several athletes, trained by the newly certified coaches, have excelled at Arab and Asian levels, but HajTass said there is much more to come.
"In 2015 we will hold our first Level Four course featuring 25 coaches. This is extremely high performance stuff with brand new modules introduced. It is a big next step for the programme and for those enrolled."
Also on the horizon as the Jordan team develops its own capabilities is an ambitious plan to create JOC's own long-term athlete development programme.
"We are ambitious and believe in the programme," said HajTass. "It can only help sport develop collectively with more qualified coaches involved. It's a long road but we are well on our way."
It is not often sport gets to see what is going on behind the scenes, but this programme proves that JOC will not settle for anything less than the best and is playing its part to achieve it.
Related Articles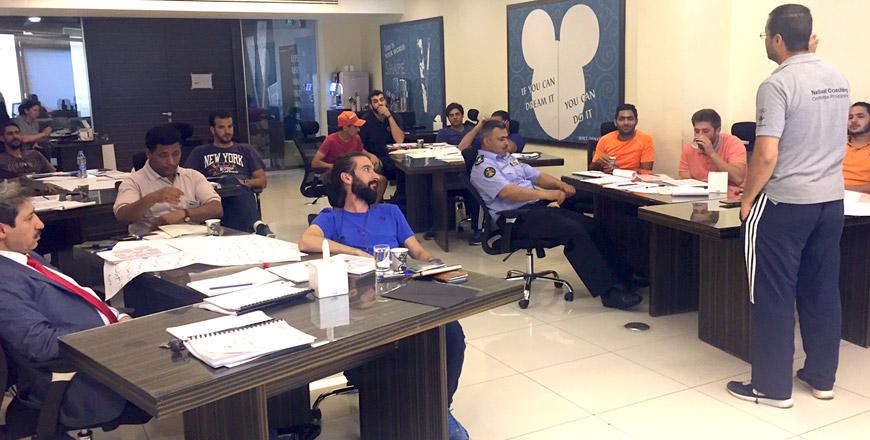 May 17,2017
AMMAN — As 18 more coaches on Wednesday began their bids to become Level Two certified through the Jordan Olympic Committee's National Coach
Sep 10,2017
AMMAN — The Jordan Olympic Committee (JOC) signed an agreement with German sportswear manufacturer JAKO to clothe their national teams takin
Oct 19,2017
AMMAN — HRH Prince Feisal, president of the Jordan Olympic Committee (JOC), called on the sporting community to make the well-being and need
Newsletter
Get top stories and blog posts emailed to you each day.