You are here
Cavaliers beat Warriors to go up 2-1 in finals
By AP - Jun 10,2015 - Last updated at Jun 11,2015
Matthew Dellavedova of the Cleveland Cavaliers signals as Stephen Curry of the Golden State Warriors looks on in the third quarter during Game 3 of the 2015 NBA finals on Tuesday in Cleveland, Ohio (AFP photo by Mike Ehrmann)
CLEVELAND — Cleveland's chances of taking a long overdue championship rest largely upon the shoulders of LeBron James, and he carried the load impressively Tuesday, scoring 40 points to lead Cavaliers to a 96-91 win against Golden State, and a 2-1 lead in the NBA finals.
With Kevin Love and Kyrie Irving out injured, James takes on even more responsibility than is standard for one of the all-time greats, and he and city of Cleveland — which has not won a major sports title for 51 years — now stands two wins from the championship.
Pushed by an expectant home crowd and aided by gritty Australian sidekick Matthew Dellavedova, James and Cavaliers survived Golden State's furious fourth-quarter comeback led by league MVP Stephen Curry.
James added 12 rebounds and eight assists in 46 minutes, his third stellar performance in his fifth straight finals. Cavs, who won Game 2 at Golden State for their first ever finals win, got their first at Quicken Loans Arena, which shook from start to finish. They'll have a chance to take a commanding 3-1 lead in the best-of-seven series in Game 4 on Thursday.
Through three games, James has played 142 of 154 possible minutes, scored 123 points and taken 107 shots.
"I'm just trying to do whatever it takes to help our team win," he said. "It's the finals, and it's whatever it takes. This is a totally different challenge."
Cleveland, which led by 20 points in the third quarter, nearly threw the game away. Cavs looked certain winner when they led 92-83 with 51 seconds left, but then came a scoring flurry by Curry.
Warriors star found his shooting touch in the fourth quarter, scoring 17 points. Golden State got a huge lift from reserve David Lee, but they rode Curry, who made five 3-pointers — his last with 18.9 seconds to pull the Warriors within 94-91.
The visiting team looked capable of pulling off an amazing comeback after it appeared to force a turnover with 17.5 seconds to go. However a review of the play showed Klay Thompson was out of bounds when he made contact with the ball that Dellavedova was holding in his hands.
From the inbound pass, James was fouled and made two free throws with 16.8 seconds left. On Golden State's last possession, Andre Iguodala appeared to get fouled on an errant 3-point attempt and Cavs pulled down the rebound to close out a win that nearly slipped away.
"We're a young group," James said, "and like I told the group, 'It's OK.' We haven't been in a lot of these situations, if any, with this group."
Curry finished with 27 points but had three turnovers in the final minute. Iguodala scored 15, Thompson, 14 and Lee, who didn't play in Games 1 or 2, had 11.
Despite the loss, Curry feels he's now in a rhythm.
"I found something when it comes to how I'm going to be able to attack their pick-and-rolls," Curry said. "I'll keep that in the memory bank going into Game 4."
James once again was helped by Dellavedova, who hounded Curry for three quarters, dived on the floor for loose balls and came up with a huge three-point play, flinging in a layup as he fell with 2:27 left to put the Cavs up 84-80.
Dellavedova was treated for cramps and did not appear at the postgame news conference. Cavs said he was on an intravenous drip before being taken to the Cleveland Clinic for further procedures.
After two overtime games in Oakland, Game 3 didn't have quite the same last-second drama, but it didn't lack any intensity as players were sprawled on the floor fighting for loose balls.
Cavs seemed to take control in the third, building their 20-point lead with a breathtaking 12-0 run that included 3-pointers by James and J.R. Smith. Curry ended the spurt with a 3 and the Warriors opened the final period with a 13-2 blast to make it 74-68.
Curry, who went just 2 of 15 on 3s in Game 2, hit a couple of 'did-he-really-just-do-that' 3s in the fourth before the Warriors ran out of time.
Still, they're confident they can come back again.
"I'm telling you that right now," Thompson said, "if we get our offense back, which we will, we're going to win this series."
As if Cleveland didn't have enough injuries, Iman Shumpert, one of the team's top defenders, hurt his left shoulder in the first quarter. It's the same shoulder Shumpert injured while he was with New York earlier this season, sidelining him for six weeks.
Shumpert returned midway through the second quarter, knocking down a 3-pointer to put Cavs ahead by seven but he played virtually with one arm the rest of the way.
"We can't afford another injury," James said, forcing a smile.
Related Articles
Jun 08,2015
OAKLAND, California — The final buzzer sounded and LeBron James wasn't done.As fans filed out of the quieting arena, James grabbed the ball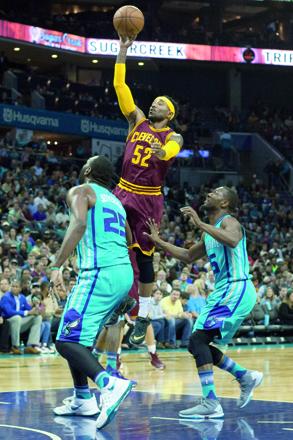 Nov 28,2015
CHARLOTTE, North Carolina — LeBron James had 25 points and 13 rebounds to lead the Cleveland Cavaliers to a 95-90 victory against the Charlo
Jun 08,2018
CLEVELAND — Kevin Durant scored 43 points, and the Golden State Warriors overcame a slow start on Wednesday night to defeat the Cavaliers 11
Newsletter
Get top stories and blog posts emailed to you each day.