You are here
Bayern needs a miracle to overcome Barcelona
By AP - May 11,2015 - Last updated at May 11,2015
FRANKFURT, Germany — Bayern Munich must score and hope to contain football's most efficient attack, led by Lionel Messi, when it meets Barcelona in their Champions League semifinal return leg on Tuesday.
Bayern is seeking to become only the second team in the 23-year-old history of the Champions League to overcome a three-goal deficit. Bayern lost the first leg last week 3-0 to coach Pep Guardiola's old team, with Messi contributing two superb goals and assisting on Neymar's final strike.
Only Deportivo la Coruna managed to wipe away a three-goal deficit, beating AC Milan 4-0 at home in the 2004 quarter-finals after losing the first leg 4-1.
Five-time champion Bayern, seeking its 11th final on June 6 in Berlin, can feel some optimism due to its unblemished record at home this season in the competition, with 19 goals scored and one conceded in five games. In its last two Champions League home matches, Bayern has scored 13 goals, including a 6-1 rout of Porto after a 3-1 away defeat.
But Bayern has lost four straight matches across all competitions and has not scored in its last three matches — for the first time in 17 years.
Four-time winner Barcelona is one leg away from an eighth final.
Here are some things to know about Tuesday's match:
Messi's men
Messi won the first duel with his former manager with a pair of breathtaking goals that ignited the Camp Nou before setting up Neymar to make it 3-0.
Messi leads Barcelona with 53 goals this season, including a Champions League-leading 10.
But what sets this Barcelona apart from recent years is that the club has found the two perfect wingmen for Messi and Bayern will have to find a way to stop all three if it wants to keep the clean sheet required to even dream of a comeback.
Neymar has scored in his last six appearances, and took his season tally to 35 goals on Saturday, scoring Barcelona's first in a 2-0 win over Real Sociedad that left it one win away from the Spanish league title.
"I'm very comfortable with my teammates because we are having an excellent season," Neymar said.
Luis Suarez has added 24 goals despite missing first two months of the season as he completed a four-month ban for biting an opponent at the World Cup.
That's 112 goals between the strikers, and yet another reason Barcelona is poised to reach the final.
Enthusiasm curbed
Barcelona coach Luis Enrique is not taking anything for granted, and has reminded his players this is the Bayern that responded to a 3-1 defeat at FC Porto with a 6-1 comeback in the quarter-finals.
"We will suffer in Munich," Luis Enrique said. "Bayern is a one-of-a-kind rival and they know what it is to fight for comebacks this season. We will never think that this is done nor even that it is looking good. We will have to make sure we defend far from our area."
Luis Enrique rested midfielder Ivan Rakitic over the weekend, and only played Andres Iniesta and Sergio Busquets as second-half substitutes. That means he will likely repeat the same starting 11 that outplayed Bayern in their first meeting.
Luis Enrique will have his entire squad at his disposal after Jeremy Mathieu recovered from a right Achilles injury that sidelined him for the first leg.
Goetze factor
When Germany played Argentina in the final of last year's World Cup final, Germany coach Joachim Loew sent on Mario Goetze as a substitute and told him to show the world that he can be better than Messi. Goetze responded by scoring the winning goal for the title with wonderful touch.
But while Messi is enjoying a prolific season, Goetze has remained mostly under the radar. He is often used as a substitute and has had few outstanding moments despite scoring nine goals.
Former Bayern great Franz Beckenbauer last week sharply criticised Goetze, saying he had to show more of a presence on the field.
With Frank Ribery and Arjen Robben injured, Guardiola may decide to start Goetze as a forward. Perhaps he needs to give him some extra motivation, just as Loew did.
Pep's aura
Guardiola's guru-like aura since his arrival in Bayern last season is beginning to evaporate. The media are beginning to question some of his tactics, including a back-three defence attempt in Barcelona that lasted 15 minutes.
Critics are pointing out that Bayern has won four of 11 matches in the Champions League knockout phase in two seasons under Guardiola.
In the Bundesliga, Bayern has struggled against higher-ranked teams, losing to Wolfsburg and Borussia Moenchengladbach and also going out against Dortmund in the German Cup.
Guardiola has called it a "super season" despite the setbacks, but there is already speculation whether he will remain for the last season on his contract.
"Oh lads. I've said it 200 million times... I have another year on my contract. I will stay here next season," Guardiola said Monday.
Real Madrid-Juventus
Madrid just needs a 1-0 win at home over Juventus on Wednesday to put the Champions League titleholders back in the final — and probably set up the first "clasico" in club football's biggest game.
Not so fast, say the Italian champions.
Juventus will aim to protect its 2-1 advantage on Wednesday at the Santiago Bernabeu, after former Madrid forward Alvaro Morata and Carlos Tevez scored in their first meeting in Italy.
But Cristiano Ronaldo snatched a valuable away goal to salvage an otherwise poor performance by the 10-time champions. That was the Ballon d'Or holder's 54th goal of the season.
Juventus received a boost when Paul Pogba returned from an injury-absence of 52 days and marked his comeback with a goal to secure a 1-1 draw against Cagliari on Saturday.
Pogba, who had been out since tearing a right thigh muscle at Borussia Dortmund in the Round of 16, was involved for an hour and the talented young midfielder could play a key part at Madrid.
"Ready for Madrid? I'm always ready," the 22-year-old Pogba said. "We know it's going to be really difficult. They're playing at home as well so it's going to be even harder for us but we want to win and we'll do everything we can to win this match."
Massimiliano Allegri has a full squad to choose from and had the luxury of resting most of his regular players over the weekend, having won the Italian league the previous week.
Related Articles
Apr 25,2015
In a pairing of coach Pep Guardiola's past and present teams, Barcelona will play Bayern Munich in the Champions League semifinals.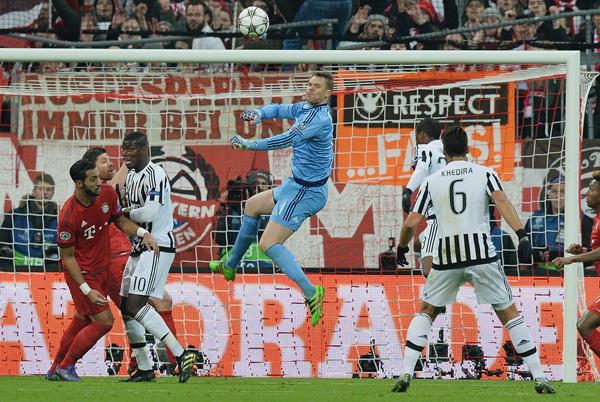 Mar 17,2016
MUNICH — Thomas Mueller equalised in the first minute of injury time and Bayern Munich scored two more goals in extra time to complete a thr
Apr 14,2015
One team won nothing last season. The other is closing in on winning everything this season.
Newsletter
Get top stories and blog posts emailed to you each day.