You are here
Amman Marathon Children's Race concludes
By Roufan Nahhas - Oct 03,2015 - Last updated at Oct 04,2015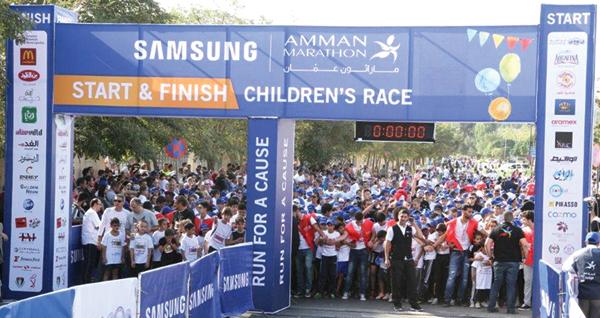 Kids gather at the start of the Amman Marathon Children's Race on Friday at King Hussein Park (Photo courtesy of Run Jordan)
AMMAN — The 4.2km Amman Marathon Children's Race concluded on Friday with the participation of 1,500 children between the ages of 6-14 at King Hussein Park.
Lina Al Kurd, Run Jordan general manager, told The Jordan Times that it was a family focused event.
"We are really happy with the positive response we received from the families and their children. The event included many entertaining activities such as warm up sessions, a magic show at the celebration area and medals and a goody bag of surprises greeted every participant at the finish line,' she said.
"The most important thing is that children are aware of the benefits of sports, in having a healthy lifestyle and that daily exercise should be part of their routine.
"The Children's Race is a chance for children to take part in this monumental event, as the Samsung Amman Marathon has helped to position Jordan on the international athletic map. We at Run Jordan aim to help create a nation of healthy athletes who will bring glory to our nation, and therefore, we encourage families to join us and take advantage of this great opportunity to start a tradition of regular physical activity that is fun, exciting, rewarding and great for self-confidence," she added.
Meanwhile, Kurd stressed on the benefits of the Junior Runners Program representing 20 schools from Amman, Madaba, Zarqa, Salt and Russeifeh.
"Around 300 children from the Junior Runners Programme, one of Run Jordan new activities that was established to improve the health of children by providing them with the tools, motivation, and support to live happier, healthier lifestyles, and to promote long distance running at both private and government schools throughout Jordan, took part in the race free of charge and they did well in their categories," she said.
The Marathon Village will stay open for late registration for the Samsung Amman Marathon which will be held October 9 with the participation of thousands of runners in the 42km Marthon, the 21km Half Marathon and 10km Fun Run.

6-8 years
Males
Saleh Ali12:56.5m
Rayan Owaidah13:02.4m
Zaid Alkhaldi13:36.2m
Females
Zainab Abdel Wahab16:50.0m
Raneem Aboudi16:57.9m
Salam Ghraybih17:26.8m
9-11 years
Males
Ali Zain 10:32.8m
Sulaiman Abdullah 10:55.6m
Mohammad Abu Hamid 11:15.7m
Females
Ghazwa Owaidah 12:28.6m
Hala Abu Kalem 12:47.0m
Aya Karaja 13:11.6m
12-14 years
Males
Mohammad Al Arabi 09:14.1m
Ahmad Zain 10:40.6m
Mohammad Hlayel 10:40.7m0
Females
Hiba Fuad 11:55.5 m
Hiba Hussain 12:01.0m
Waed Ahmad 13:20.0m
Related Articles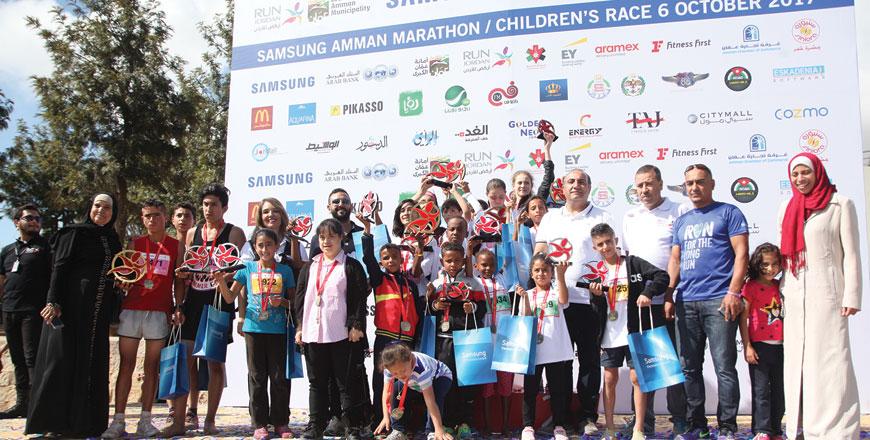 Oct 07,2017
AMMAN — More than 3000 young runners took part in the Children's Race of the 9th Samsung Amman Marathon which concluded on Friday and was he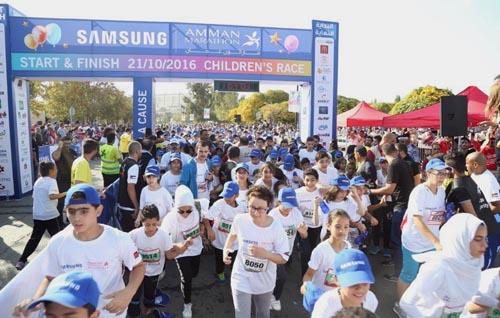 Oct 22,2016
AMMAN — The Children's Race of the 8th Samsung Amman Marathon concluded on Friday with the participation of 2,700 children representing vari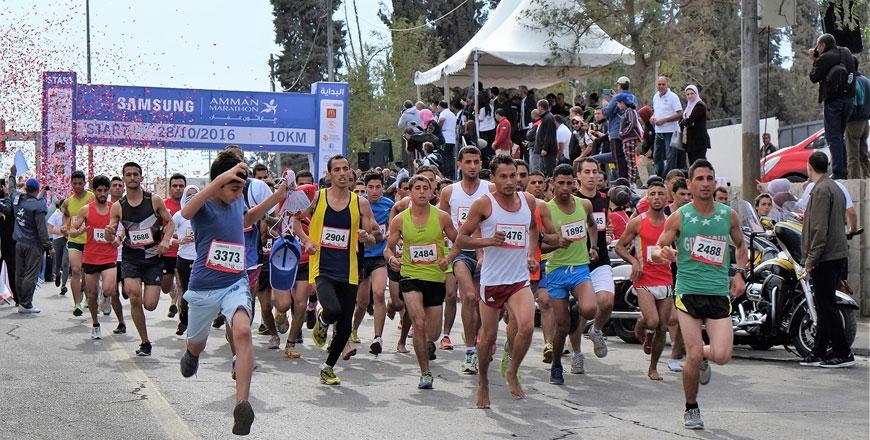 Sep 19,2017
AMMAN — The 9th edition of the Samsung Amman Marathon will be held October 13 under the slogan "Run to The Heart of The City of Amman"
Newsletter
Get top stories and blog posts emailed to you each day.