You are here
Alonso pessimistic about podium appearances for rest of season
By Reuters - Jul 26,2016 - Last updated at Jul 26,2016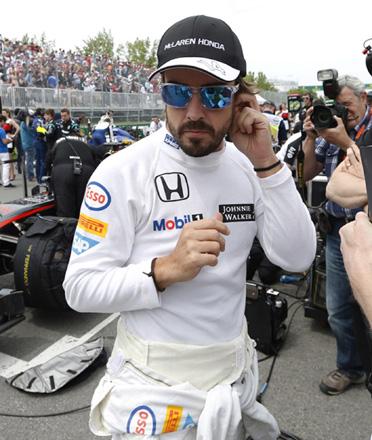 McLaren driver Fernando Alonso (Photo courtesy of f1.sk)
BARCELONA — Former world champion Fernando Alonso doubts he will make it onto the Formula One podium this season after also enduring his worst points tally last year, but has no immediate plans to retire.
The Spaniard is 13th in the 2016 driver standings on 24 points, 168 behind leader and former McLaren teammate Lewis Hamilton.
Alonso, 34, picked up only 11 points in 2015, and although he has already surpassed that this year, Alonso is sceptical about his chances of getting a first podium appearance since 2014 and since rejoining McLaren.
"It's very difficult for us to get a podium this season," Alonso told Spanish radio station Cadena Cope on Tuesday.
"In normal conditions we still wouldn't deserve a podium. I hope we improve next year but this is Formula One, anything can happen. We are still waiting for things to happen with this McLaren Honda project but we are on the way up."
Honda were McLaren's engine partners when they were dominant at the end of the 1980s and returned to the British team last year — the second year of the new V6 turbo hybrid era with Mercedes already dominant.
McLaren, eight times constructors' champions, have not won a race since 2012.
Despite another torrid campaign and a huge crash in the Australian Grand Prix in March, Alonso said he had no plans to retire.
"My future in Formula One will not depend on this car. Even in these last two difficult years I've been enjoying myself a lot," added Alonso, who won the world drivers championship in 2005 and 2006.
"If the cars are as fun as they were in the past, I'll have no problem continuing. I'm aware that I'll never be 20-years-old again but I have more experience and more knowledge now."
The Spaniard finished seventh in last week's Hungary Grand Prix and is now preparing for this weekend's German Grand Prix.
Meanwhile, Jolyon Palmer was left "gutted" after a chance to score his first points of a woeful rookie Formula One campaign got away from him in Sunday's Hungarian Grand Prix.
The Briton was on course to finish tenth and score a point after a quick pitstop by his Renault team allowed him to leapfrog the Force India of Nico Hulkenberg.
But the 2014 GP2 champion dropped down the order with a spin on the 40th lap and eventually crossed the line outside the top-ten points paying positions in 12th.
"Everything was perfect, the car was feeling nice, the strategy was good, the pitstop was good and then I don't know what but I lost the car in turn four," said the 25-year-old.
"Obviously it's a disaster because I was running 10th, we had no pitstops and better pace than the guys behind so it was there today but we didn't get it," Palmer said.
Palmer, who drove in several practice sessions last year for his current Enstone-based team then known as Lotus, has had a tough rookie season.
He has retired in four of the 11 races so far with a best finish of 11th in the season-opening Australian Grand Prix.
His Renault team has struggled for pace with an outdated car, having completed their buyout of Lotus late last year, and teammate Kevin Magnussen's sixth-place finish in May's Russian Grand Prix is the outfit's only points result so far.
The squad lie ninth in the constructors' standings ahead only of Manor, the smallest team on the gird, and Sauber who are yet to score any points.
Magnussen and Palmer are 16th and 20th, respectively, in the drivers' standings.
"It was the best drive of my career but I spun it and we didn't get any points so I'm gutted," said Palmer.
"That should have been my first Formula One point. Everything was perfect, the whole team. I was driving easily the best race today."
Related Articles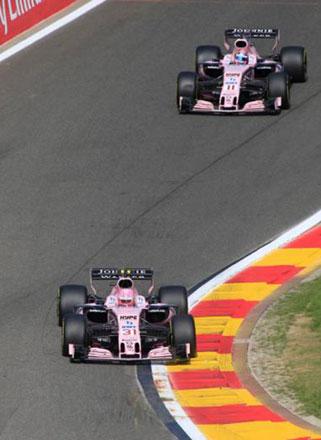 Nov 07,2017
LONDON — Force India are prepared to let Sergio Perez and Esteban Ocon race more freely in the last two races of the season now that the tea
Jul 24,2014
Lewis Hamilton may not be putting the Buddha into Budapest this weekend but he could be tempted to seek divine assistance if luck goes against him in Sunday's Hungarian Grand Prix.
Apr 11,2015
For a team that got knocked out of the first round of qualifying for the third straight Formula One race, McLaren drivers Jenson Button and Fernando Alonso seemed improbably upbeat at the Chinese Grand Prix on Saturday.
Newsletter
Get top stories and blog posts emailed to you each day.