You are here
Allegri delighted with fluid Juventus performance
By Reuters - Mar 13,2019 - Last updated at Mar 13,2019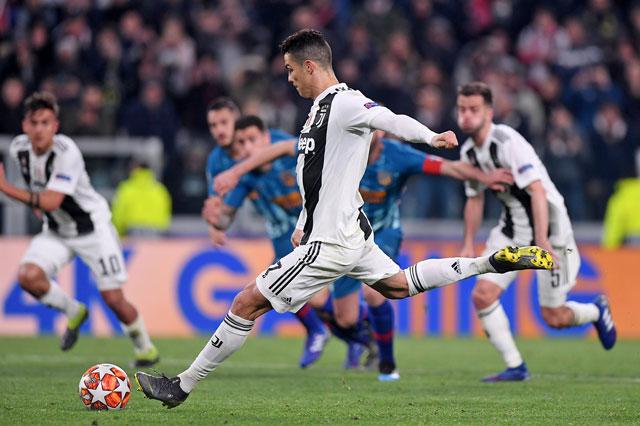 Juventus' Cristiano Ronaldo scores their third goal from the penalty spot to complete his hat-trick against Atletico Madrid in their Champions League Round of 16 second leg match in Turin, Italy, on Tuesday (Reuters photo)
TURIN — Juventus coach Massimiliano Allegri praised his team's fluid performance after they beat Atletico Madrid 3-0 on Tuesday to reach the Champions League quarter-finals.
Allegri was worried his side could lose their cool as they trailed 2-0 from the first leg but his fears were unfounded.
"The boys read the game in the best possible way, playing at a high tempo and exploiting the width of the pitch," he said.
"I wanted to us play like that also in the first leg, but then I changed something and it did not go the right way.
"It was a fluid, cool and calm performance. We had been waiting for this evening for a long time and we risked having a frenetic game, instead we had to pressure them whilst also keeping a balance, and we did it."
His opposite number Diego Simeone, who had set his team up to defend their lead, had no complaints about the result.
"Juventus were better and deserved to win the game. They pushed us back," he said.
"You must congratulate opponents when they play a game like that and you are beaten like today. We made many mistakes, for sure, but I mean me not the players. They were better tactically and on second balls. That is why they won the game."
The Argentine added: "It was not about commitment, work rate or effort... they beat us because they were better and when that happens, all you can do is take your hat off, work harder and draw conclusions."
Ronaldo does what is needed
Juventus have never before overturned a two-goal deficit at home in an European competition — but then they never had Cristiano Ronaldo leading their attack.
If the aim of buying the five-times World Player of the Year really was to make a difference on big Champions League nights it certainly paid off.
The 34-year-old achieved his eighth Champions League hat-trick, two headers and a late penalty, as Juve overturned the 2-0 last-16 first leg deficit.
"It was meant to be a special night and it was, not just for my goals but for the attitude we showed," said Ronaldo. "That is the sort of mentality you need to win the Champions League.
"This was why Juventus brought me here," he added. "To help do things that they have never done before."
It was all very different to the first leg where former Real Madrid forward Ronaldo was jeered by Atletico fans and the home side's second goal took a deflection off him.
Angry at the barracking, the Portuguese replied by holding up five fingers to remind them of the five times he had won Europe's elite club competition.
Ronaldo, who one year ago scored a memorable bicycle kick goal for Real at Juve in a Champions League match and was applauded off the field by the home fans in Turin, had also begun to look stale in recent Serie A matches.
But he was rested against Udinese on Friday and was raring to go on Tuesday.
Atletico, who had not conceded a goal in their previous four Champions League games, packed their defence believing they could shut Ronaldo out again.
They made no serious attempt to get an away goal which could have put a different complexion on the tie and paid the price
With Federico Bernardeschi pumping crosses into the area, Atletico were never able cope with Ronaldo's aerial threat.
"Atletico are a really tough team to face, but we are strong too and proved we deserved to go through," said Ronaldo.
Newsletter
Get top stories and blog posts emailed to you each day.