You are here
Yemen rebels on defensive after strike takes out leader
By AFP - Apr 24,2018 - Last updated at Apr 24,2018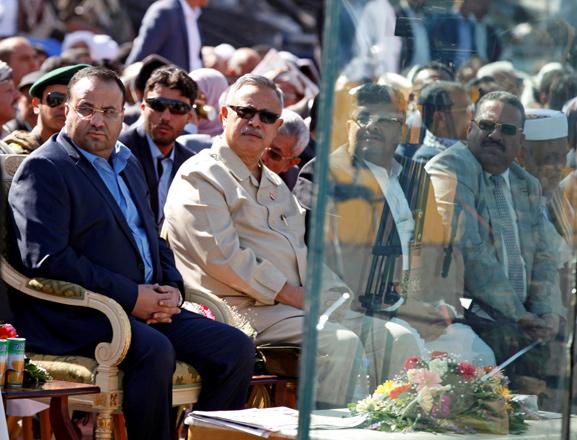 The late Saleh Al Samad (left), a senior Houthi official who was killed by a Saudi-led coalition air strike last week, sits behind a bullet-proof glass during a rally marking the third anniversary of the Saudi-led intervention in the Yemeni conflict in Sanaa, Yemen, on March 26 (Reuters photo)
DUBAI, United Arab Emirates — Yemen's Houthis suffered a major setback with the killing of their political chief in a Saudi-led air strike, analysts say, in a signal of Riyadh's determination to pursue its military campaign against the rebels.
Saleh Al Sammad, the head of the Iran-backed Houthis' main political body, died on Thursday in a strike in Yemen's western province of Hodeida.
He was the most senior Houthi official killed since a Saudi-led coalition launched its intervention against the Shiite insurgents in March 2015, after they seized control of large parts of Yemen including the capital Sanaa.
Analysts say that despite renewed efforts to find a negotiated solution to the conflict, the latest strike shows not just Riyadh's willingness to continue on the military path, but the coalition's increasing effectiveness.
"There is no other option at this stage," says Mustafa Alani, an analyst at the Gulf Research Centre. "The Houthis are not flexible on the political settlement and — people are not noticing — there is real progress on the ground for the coalition."
While not often in the spotlight, Sammad was no minor figure. As head of the Houthis' supreme political council, he was in effect the president of the vast areas of Yemen under rebel control.
"This is certainly a key setback," says Adam Baron of the European Council on Foreign Relations. "With regards to targeting Houthi leaders, it represents the biggest hit for the coalition so far — and suggests their intelligence capabilities are improving."
Increasing pressure
Sammad was killed along with six others in the strike, which the Houthis' overall leader, Abdulmalek Al Houthi, said "won't go unanswered".
Another Western expert, speaking on condition of anonymity, says Sammad was a "reasonable" person who had taken part in peace negotiations and that his death is "a setback for prospects for productive talks".
Alani says the hit was part of a trend of targeted strikes by the coalition, with at least 25 field commanders also recently killed.
"It is important," he says. "Those people always have a way to protect themselves and their movements are always top secret because they know they are being targeted. So it is an achievement."
Much international attention has focused on the coalition's air raids, which have been criticised for hitting civilians.
A strike on a wedding on Sunday that rebels blamed on the coalition killed at least 23 people.
But Alani says coalition forces — who include Saudi and Emirati troops in support of pro-government fighters — have also been making discreet progress on the ground.
"There are not big victories but they are slowly moving towards four major cities in Yemen," he says, including Sanaa, Saada in the Houthis' northern heartland, the economic capital of Taez in the southwest and the Red Sea port city of Hodeida.
The Houthis in the meantime have intensified ballistic missile attacks into Saudi territory, including several intercepted attacks on Riyadh.
Alani says this is a sign of the increasing pressure on the rebels.
"They are now in a purely defensive position on the ground. They are just trying to maintain their control and there are problems. So the easiest way is to fire missiles... to answer to the pressure on the ground."
Hope for peace talks?
The coalition is backing forces loyal to President Abed Rabbo Mansour Hadi who was forced into exile by the Houthi advance. His hold on the country is tenuous and there have been suggestions Hadi could be forced out, but for now Riyadh and its allies seem content with their ally.
The Houthis suffered another setback last year with the collapse of their alliance with ex-president Ali Abdullah Saleh, who was gunned down in December following accusations he was ready to strike a deal with Saudi Arabia.
Yemen's civilians meanwhile continue to suffer through one of the world's most devastating conflicts. More than 10,000 people have died since the start of the Saudi-led intervention and tens of thousands have been wounded.
Widespread shortages of food and medicine — in a country already among the poorest — have caused what the United Nations has described as the world's worst humanitarian crisis.
A new UN peace envoy, Briton Martin Griffiths, vowed earlier this month to make a new push for peace, though all previous efforts at negotiations have failed miserably.
Alani said the latest developments on the ground could finally give some hope of progress.
"He might have more chance now than his predecessors. The Houthis are feeling now they are losing the military battle.... With increasing military pressure, they will be ready to compromise politically."
Related Articles
Mar 14,2016
SANAA — Yemen's Shiite Houthi rebels on Monday confirmed carrying out a prisoner exchange with Saudi Arabia and said they were open to negot
May 30,2015
DUBAI — Yemen's ex-president Ali Abdullah Saleh said in an interview broadcast Friday he had rejected "millions of dollars" Saudi Arabia off
Apr 28,2018
SANAA, Yemen — A Saudi-led coalition air strike has killed dozens of Yemeni rebels, including two commanders, state media said on Saturday,
Newsletter
Get top stories and blog posts emailed to you each day.