You are here
Yemen faces catastrophe without vital supplies — Red Cross
By Reuters - May 27,2015 - Last updated at May 27,2015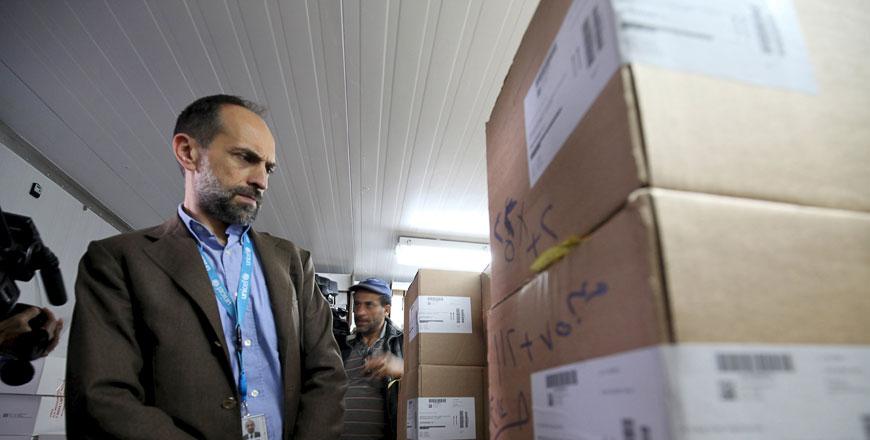 UNICEF representative in Yemen Julien Harneis visits a vaccination storage centre at the ministry of health in Sanaa on Wednesday (Reuters photo)
GENEVA — Yemen faces a humanitarian catastrophe unless the Saudi-led coalition allows it to import and distribute vital food, fuel and medicines, the International Committee of the Red Cross (ICRC) said on Wednesday.
"Humanitarian agencies can do things, but it will be the tip of the iceberg," said Cedric Schweizer, outgoing head of the ICRC's delegation in Yemen.
"Most things are political decisions — access to fuel, ensuring that the importation of normal medicines for chronic diseases can be allowed, and food because 90 per cent of food is imported in Yemen."
Saudi-led forces began air strikes on Houthi forces in Yemen two months ago. They are enforcing inspections on ships entering Yemeni ports, saying they want to stop arms reaching Iran-backed Houthis.
Commercial fuel tankers must have access to ports and the distribution system for fuel must function, Schweizer told Reuters. Fuel is vital to run hospital generators and water pumping stations in the country of 26 million.
Only 5-10 per cent of usual imports has entered Yemen over the past two months of the conflict, which has killed more than 2,000 people, he said. Food prices have soared.
"If there is no fuel there will be no water very soon and if this is the case we have thousands of people, if not millions, at risk because there is no access to water," Schweizer said.
"If a solution is not found today it will be a big humanitarian catastrophe."
Schweizer was speaking after holding talks on the Yemen crisis with US officials and before heading for meetings in Tehran and Moscow.
"What we need is to mobilise these different countries who have an impact or who belong to the coalition to ensure that they take into consideration the needs of the civilian population," he said.
Saudi-led air strikes killed at least 80 people near Yemen's border with Saudi Arabia and in the capital Sanaa on Wednesday, residents said, the deadliest day of bombing in the war.
"We identify all of our movements to the coalition to make sure we are not targeted," Schweizer said.
The ICRC has 250 aid workers in Yemen. An ICRC surgical team is treating war wounded in Aden and the agency is providing food to 20,000 displaced families.
The ICRC is in touch with all tribes, clans and armed groups, including Al Qaeda in the Arabian peninsula, Schweizer said.
Related Articles
May 02,2015
The UN Security Council failed Friday to back a Russian appeal for an immediate ceasefire or humanitarian pauses in war-torn Yemen, where critical fuel shortages threatened relief efforts and doctors described desperate scenes, Agence France-Presse reported.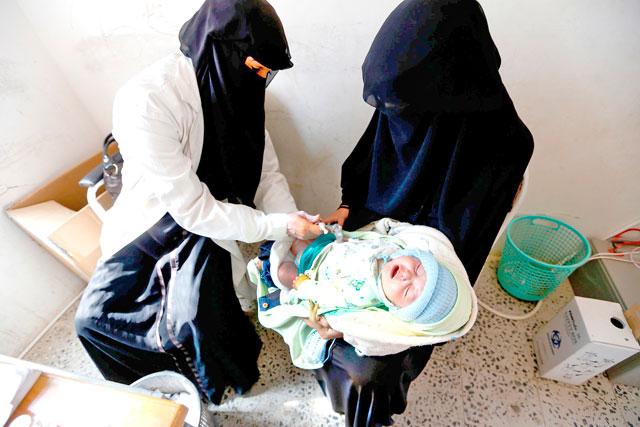 Dec 13,2017
WASHINGTON — There are no signs that a blockade of Yemen's ports by a Saudi-led military coalition has eased to allow aid to reach com
Dec 23,2017
DUBAI — The Saudi-led coalition fighting in Yemen said on Friday an announcement by the International Committee of the Red Cross that choler
Newsletter
Get top stories and blog posts emailed to you each day.