You are here
Yemen critically short of food, fuel imports as war cuts supply lines
By Reuters - Jul 09,2015 - Last updated at Jul 10,2015
A man last week sells black-market fuel amid an acute shortage of fuel in Sanaa (Reuters photo)
DUBAI/LONDON — Yemen is running critically short of imported food and fuel as war has cut internal supply lines and a near-blockade by Saudi-led naval forces has held up shipping to the country, the Arab world's poorest, even before fighting erupted.
Ground combat between various Yemeni armed factions and Saudi-led air strikes have deepened the plight of civilians in Yemen, with the United Nations saying more than 80 per cent of its 25 million people need some form of emergency aid.
Before Saudi Arabia intervened in March to try to restore Yemen's president to power and roll back the Iranian-allied Houthi militia now controlling large areas of the country, Yemen imported more than 90 per cent of its food, mostly by sea.
Since then, many shipping companies have pulled out. Those still willing to bring cargoes face incalculable delays and mandatory searches by coalition warships hunting for arms bound for the Houthis, the dominant warring faction.
According to a humanitarian aid assessment compiled by the US navy and obtained by Reuters, just 42 ships reached Yemen with goods in June compared with 100 in March.
Further data was not available. Before the crisis, the number of ships making calls to Yemen's major southern port of Aden alone averaged over 1,000 annually in recent years.
The 15-page report, which bears the insignia of the US Navy's Central Command and the Saudi flag, has been circulated among coalition militaries and humanitarian agencies which send in aid with the Saudi alliance's approval.
The report said imports into embattled Aden's terminals had halted almost completely, with port calls by cargo, container ships and fuel tankers down over 75 per cent between January and June versus the same period of last year.
Aid agencies have called for an immediate humanitarian truce and warned that their efforts alone cannot meet Yemen's vast needs. More than half the population lacks proper food, and commercial imports of fuel, food and medicine are "severely" below pre-crisis levels, the UN agency OCHA said on Wednesday.
"Whatever we bring ... is clearly not sufficient. What you need for Aden in particular and for the country as a whole is to resume commercial imports into the country. Whatever we do as humanitarian workers is only a fraction of what is actually needed," Antoine Grand, the head of the International Committee of the Red Cross in Yemen, said on Tuesday.
"This is clearly deteriorating by the day, and that's what makes this situation so catastrophic," Grand told a UN briefing in Geneva by telephone from Sanaa.
The Saudi-led Arab campaign aims to reinstate Yemen's exiled government of President Abed Rabbo Mansour Hadi, but has yet to loosen the Houthis' grip on the capital Sanaa or overcome their upper hand in fighting stretching across the country's south.
Over 3,000 people have died in the conflict.
Fuel crisis
Nationwide fuel shortages have spread disease and suffering in arid Yemen, where access to water mostly depends on fuel-powered pumps. Aid and commercial assessments show Yemen needs to import over 500,000 tonnes of fuel every month.
The US aid report said Yemen had managed to import only 11 per cent of its monthly fuel needs in June versus 18 per cent in May, 1 per cent in April and 23 per cent in March, with the country facing a 1.8-million-tonne shortfall in fuel imports.
"On average [there is] less than one hour of electricity per day," it indicated. "The lack of storage capacity and fuel for milling of grain into flour is discouraging traders from taking orders for more grain."
Despair reigns among residents of Aden largely pinned down by artillery battles between Houthi fighters and local militia in one of the country's deadliest and most deprived war zones.
"Nothing remains of normal life for people here because of the siege imposed by the Houthis and because food and fuel are not coming in," retiree Abu Bakr Ahmed said.
"On top of this, there's indiscriminate shelling by mortars and Katyusha rockets almost all the time. Water and electricity are cut, all while temperatures range from 40-45OC. The state of people's lives and health here is awful," he added.
up
9 users have voted, including you.
Related Articles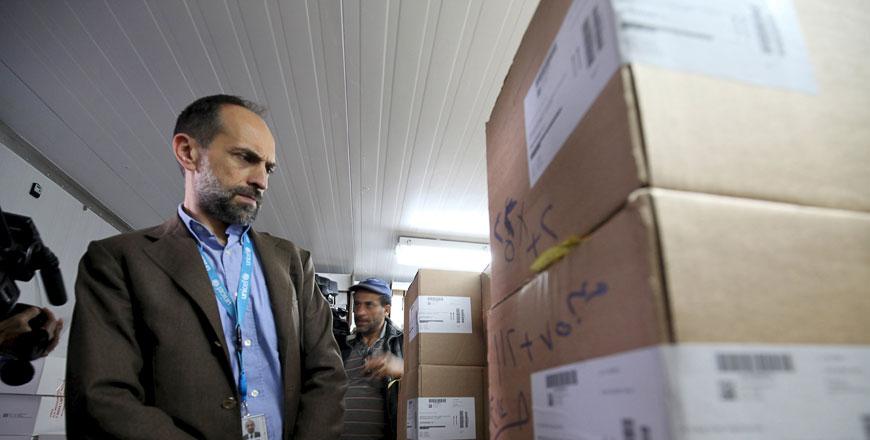 May 27,2015
GENEVA — Yemen faces a humanitarian catastrophe unless the Saudi-led coalition allows it to import and distribute vital food, fuel and medic
May 22,2015
LONDON — A trickle of aid, medicine and commercial food cargoes is reaching Yemen yet the process remains slow as more ships await clearance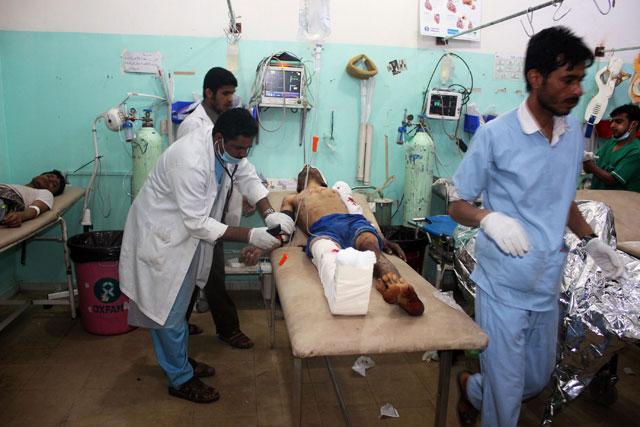 May 26,2018
GENEVA — The United Nations aid chief urged the Saudi-led military coalition that controls Yemen's ports to expedite imports of food and fue
Newsletter
Get top stories and blog posts emailed to you each day.