You are here
US raises pressure on Saudi Arabia over missing journalist
By Reuters - Oct 11,2018 - Last updated at Oct 11,2018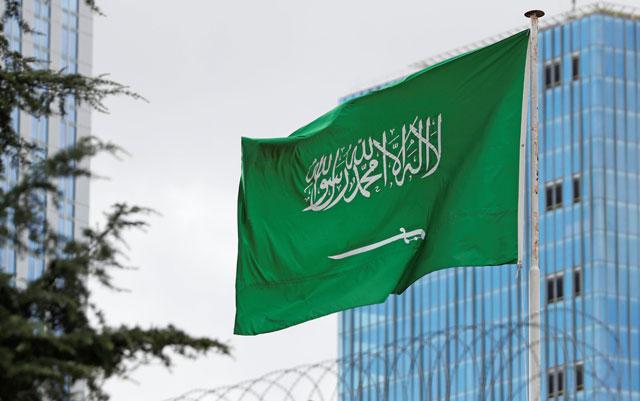 A Saudi Arabian flag flies over the Saudi Arabian consulate in Istanbul, on October 7 (AFP photo)
WASHINGTON/ISTANBUL — US President Donald Trump increased pressure on Saudi Arabia on Wednesday to provide information on what happened to missing Saudi journalist Jamal Khashoggi and said he wanted to get the bottom of what he called "a very serious situation".
In a fresh clue, a pro-government Turkish daily on Wednesday published preliminary evidence from investigators it said identified a 15-member Saudi intelligence team involved in Khashoggi's unexplained disappearance on October 2.
Pressure appeared to be building worldwide on close US ally Saudi Arabia on the whereabouts of Khashoggi, a prominent critic of Saudi policies, who was last seen entering the Saudi consulate in Istanbul to get documents for his planned marriage.
His Turkish fiancée, Hatice Cengiz, who was waiting outside, said he never reappeared. Turkish sources said they believe Khashoggi was killed inside the building and removed, allegations that Riyadh dismisses as baseless.
Trump, in comments in the Oval Office, told reporters he had raised Khashoggi's case with Saudi Arabia "at the highest level" and more than once in recent days.
"We're demanding everything," Trump said when asked if he was demanding information from the Saudis. "We want to see what's going on. It's a very serious situation for us and for this White House... We want to get to the bottom of it."
He said he and his wife, Melania, expect to invite Cengiz to the White House soon.
"People saw him go in and didn't see him come out. We're going to take a very serious look at it. It's a terrible thing," Trump said. "This is a bad situation. We cannot let this happen, to reporters, to anybody. We can't let this happen."
And in another sign the White House was stepping up pressure, White House National Security Adviser John Bolton and White House Senior Adviser Jared Kushner, Trump's son-in-law, spoke to Saudi Crown Prince Mohammed Bin Salman on Tuesday.
The White House also said US Secretary of State Mike Pompeo followed up with his own call to the Crown Prince, who had forged close ties to the administration, especially Kushner.
"In both calls they asked for more details and for the Saudi government to be transparent in the investigation process. We will continue to monitor this situation and provide updates as available," White House spokeswoman Sarah Sanders said in a statement.
Khashoggi's fiancée Cengiz was surprised when an American friend told her of Trump's comment about inviting her to the White House, the friend told Reuters. "I think she's in shock, now even more," her friend said.
In an essay in The Washington Post on Tuesday, Cengiz implored the president and Melania Trump to "help shed light on Jamal's disappearance".
Trump made Saudi Arabia the first stop on his first foreign trip as president in May 2017, but in recent weeks has appeared to sour a bit on Riyadh, complaining directly to King Salman about the cost of American support for the Saudi military and for OPEC oil price increases.
Newsletter
Get top stories and blog posts emailed to you each day.